In the midst of "making the most" of what we have this year, fermenting is a humble offering to ourselves and our world.
About this event
INTRODUCTION TO FERMENTING FOODS
In this workshop, you will learn the basics of fermentation with Lorraine from South London Ferments. Welcoming the seasonal shift, we will explore this preservation process with a slow cook-along together! The process is a nurturing one, you will use your hands to create and tend to the live ferment over a few days, before putting it into your fridge.
With the base that you learn in this workshop, you'll be able to create many ferments of your own - the varieties are truly endless.
A low-cost, no-waste process, it is a collective homage to our elders who knew the necessities of preservation.
What's needed?
- 1L/2L jar – sterilized beforehand
- Chopping board
- Sharp knife
- Mixing bowl
- Kitchen scale
- Mallet or potato masher
Ingredients
- ½ a white cabbage or red cabbage (for the brilliant colour!)
- ½ cauliflower
- ½ scotch bonnet pepper (optional)
- 1 large carrot
- 2 spring onions
- 1 tbsp. turmeric fresh or powdered
- 1 tbsp. ginger fresh or powdered
- 1 tsp. yellow mustard seeds and ½ tsp. nigella seeds (recommended)
- sea salt - 3% of the weight of all ingredients
PDF for participants afterwards:
+ Recipe from the workshop and further reading links for fermentation history.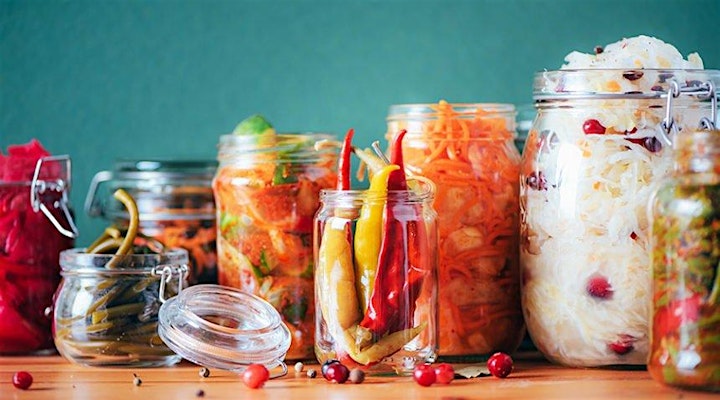 Organiser of Introduction to Fermenting Foods
Urban Growth is a social enterprise creating green spaces and green communities in London to improve the health of people and our planet. 
Discover the healing power of nature, connect with others and learn new skills by becoming a gardening volunteer at our various sites across London.
Fancy learning about urban gardening, growing food, or designing your own garden from the comfort of your armchair? Then sign up for our online learning programmes!
We can't wait to meet you :)