Description
UK Fundraising presents a half-day course designed especially for those people who are new to fundraising or who are volunteers who have heard about Gift Aid but don't really know what it is about.
People who work in other areas such as events, administration and finance and even trusts and corporate fundraising will also benefit from getting a better understanding of the basics of Gift Aid as well as other aspects of tax efficient giving such as payroll giving, legacies and donations of shares and land.


Trainer: Barry Gower, MD of Gift Aid recovery specialists GAIN
The half-day course will include:
1. The history and background to 'new' Gift Aid
Covenants and the crusades
'Get Britain Giving' Gordon Brown and Gift Aid 2000

2. The purpose and effect of Gift Aid
Increase donations from individuals
Give donors more say and control of their taxes
Increase value of donations for charity

3. Basic Gift Aid
What does it mean?
Who can use it - Individuals, taxpayers?
Relationship between charity the donor and HMRC

4. The Gift Aid declaration
What a Gift Aid Declaration must include
The three different types of Gift Aid Declaration
Keeping records

5. The benefit rules
What can you give a donor as a 'thank you' for her/his donation?
How to make sure that the benefit rules are not broken
The special case of connected persons and sponsorships

6. The importance of keeping records
The reasons for keeping records - the Gift Aid Audit
The reasons for keeping records - the Gift Aid Audit
What happens if you get it wrong - fines, claw backs and penalties
How you can actually get HMRC to pay you Gift Aid on donations you forgot to claim, and even pay you interest on this!

7. Recent developments
Gift Aid Small Donations Scheme
Gift Aid Online
HMRC's focus on tackling fraud
Refunds etc

We reserve the right to cancel or postpone this event at our own discretion. In such case we shall refund fully your ticket cost. We do not however accept responsibility for any other costs you might have incurred in regard to the event. For example, we always recommend you book a flexible travel ticket, one that can be refunded if necessary.

How we look after your personal data

Want to know how UK Fundraising looks after your privacy and personal data? Have a look at our privacy and cookies policy.
Feedback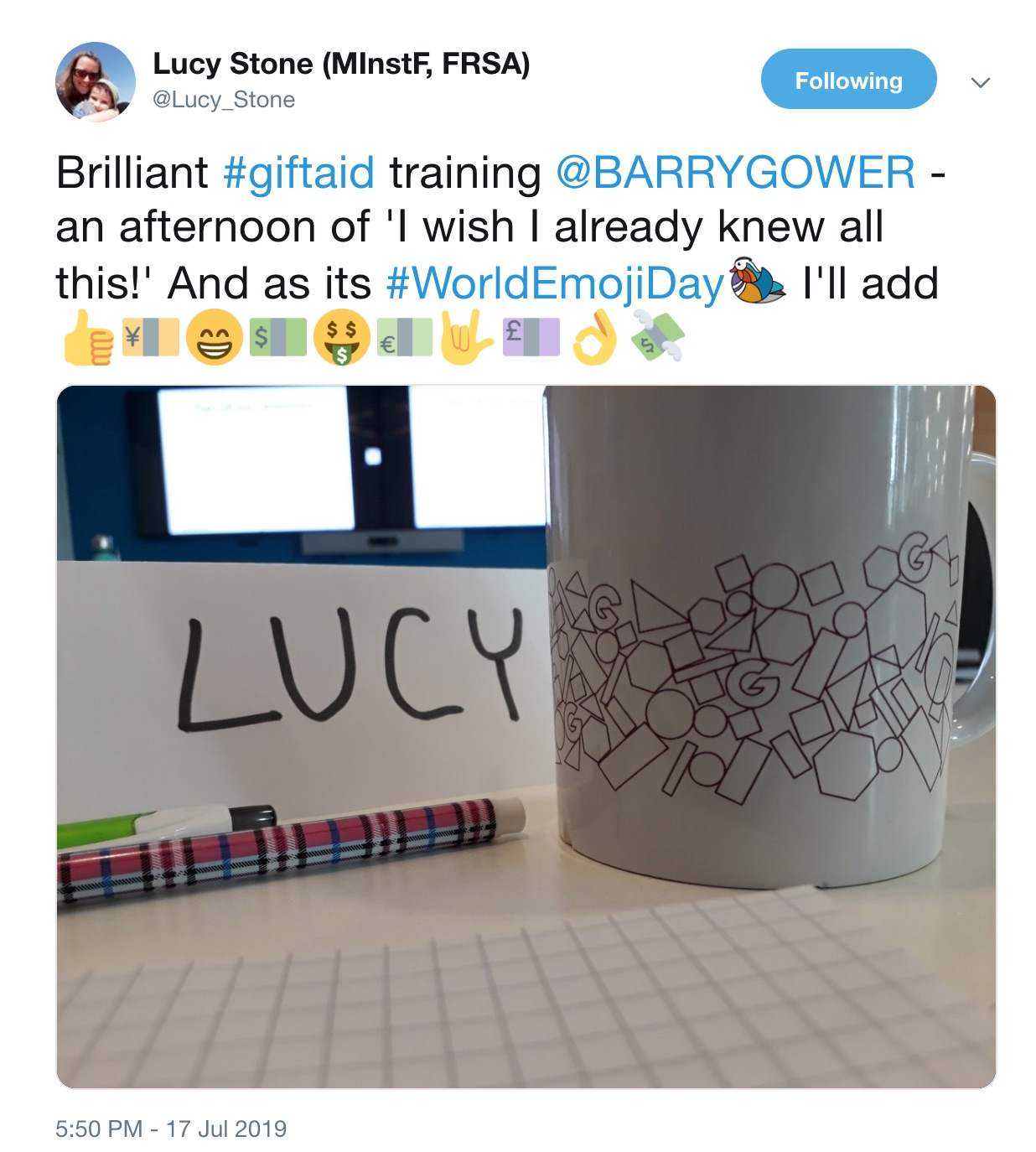 Source: https://twitter.com/Lucy_Stone/status/1151534750563282944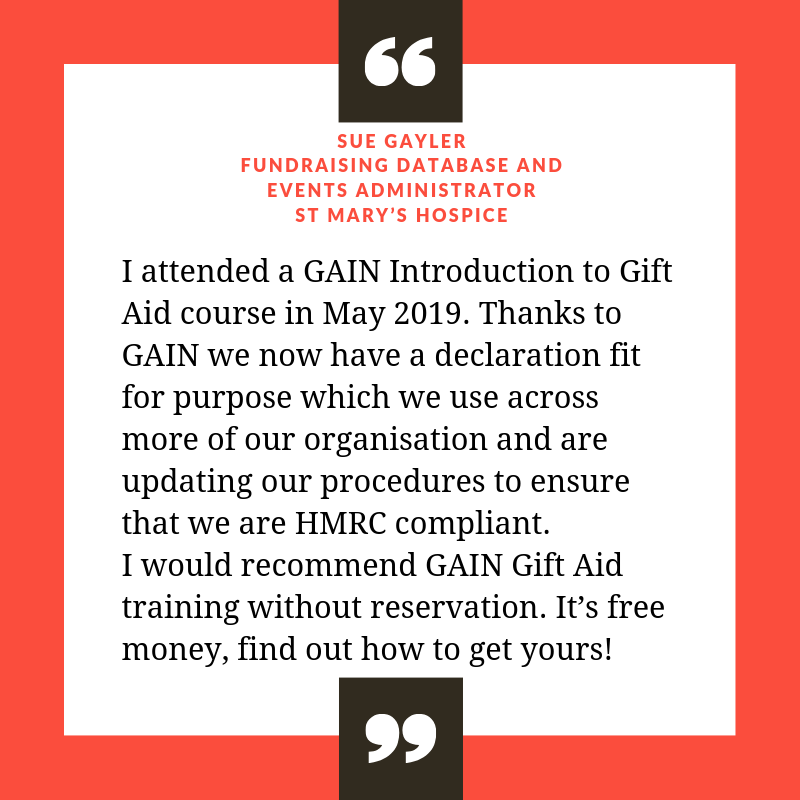 Kindly hosted by Blackbaud - fundraising tools for nonprofits
Organiser of Introduction to Gift Aid
Publisher of UK Fundraising, online resource and community for professional charity fundraisers since 1994.
Provides practical training in digital fundraising, helps charities and fundraising companies make the most of digital, and runs the Fundraising Camp series of one-day 'unconference'-style events for fundraisers.