Learn Something Extraordinary: Discover the Power of Hypnosis and Hypnotherapy
About this event
Are you someone who likes a challenge? Someone who is a natural carer and loves to make a difference?
How about a rewarding career supporting people to overcome fears, phobias, and addictions?
Want to know more?
As a thank you for attending we will refund your £5.00 ticket!
Join us for a two-hour informal and interactive session on November 9th, 2021, 18:30-20:30 at The Jury's Inn Exeter to learn and discover;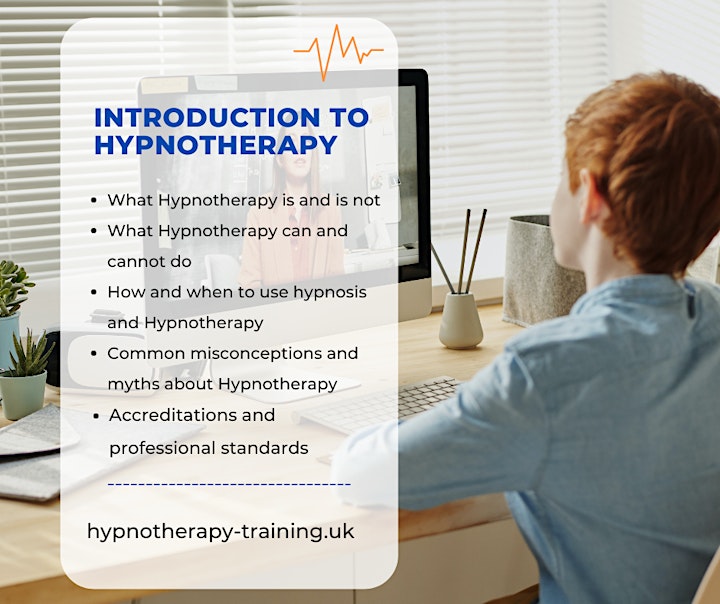 Our Introduction to Hypnotherapy events are your first step towards understanding Hypnotherapy and hypnosis.
Hosted by the school's founder and working professional hypnotherapist Chris Fleet, these two-hour sessions delve into the subconscious mind, hypnosis's long history, and explains why Hypnotherapy is fast becoming a top alternative to mainstream medicine.
This is your opportunity to feed your curiosities and have your questions answered.
Furthering your knowledge and expanding your potential.
Hypnotherapy is a life-changing career as well as a life-changing therapy.
Are you interested in hypnotherapy or becoming a hypnotherapist?  
Would you like to find out more without the commitment?  
Our introduction to hypnotherapy session will provide you with insight into what hypnotherapy really is, how it works, the different parts of the mind, and how you too can become a professional hypnotherapist in just ten months.
Join us live for a two-hour interactive look into hypnotherapy, discovering the subconscious mind and try suggestibility tests.
As a thank you for attending we will refund your £5.00 ticket!
For more details, please see our website or telephone us:
www.hypnotherapy-training.uk | 01803 896888
Organiser of Introduction to Hypnotherapy
Founder and tutor Chris Fleet began training as a hypnotherapist in 2002. He passed his Advanced Structured Hypnotherapy Diploma with 96%. Each year Chris undertakes CPD courses to maintain his knowledge and accreditations.
Details of Chris Fleet's qualifications can be found on our website.
During his training Chris realised the many facets to hypnosis and hypnotherapy including its vast uses in treating clients.
Today, Chris not only treats clients in his private practice, Fleet Hypnosis but also teaches students at The Devon School of Hypnotherapy.
"I am passionate about hypnotherapy and how it can change people's lives. I see it as my duty to train people to the best of my ability. My aim is to pass on as much knowledge as I can without holding anything back just in order to gain more money from students." Chris Fleet