Want to know more about Hypnosis and Hypnotherapy? Our Introduction to Hypnotherapy weekend course is a two-day immersive programme.
About this event
Our Introduction to Hypnotherapy weekend course is a two-day immersive programme providing you with knowledge of hypnotherapy and hypnosis. This fully interactive course covers everything from history to hypnotherapy's varied uses and teaches you how to hypnotise your friends and family safely and effectively.
Hosted by one of Devon's most decorated hypnotherapists, Chris Fleet, with support from his most successful students, the weekend brings together individuals from across the southwest to explore hypnotherapy and hypnosis.
Upon completion of the weekend, we will present you with a certificate of achievement.
You can then use this course as module One towards the Diploma in Hypnotherapy, a ten-month, one weekend a month professional hypnotherapist course.
Please note: The £65.00 ticket is the DEPOSIT ONLY for the weekend, and the full cost of the course is £165.00.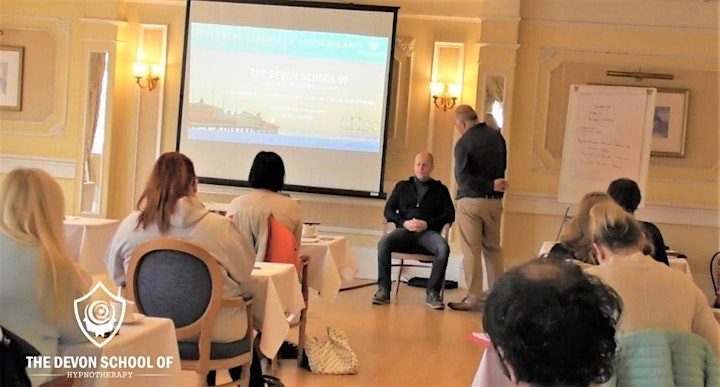 During the weekend you will learn;
The many practical uses of hypnotherapy
The three main types of inductions
How and when to use hypnosis and hypnotherapy
The history of hypnosis
The difference between stage hypnosis and hypnotherapy
How and when to use different scripts
How to bring someone out of hypnosis safely
Discover how to find out how to gauge which type of induction to use for which person
Common misconceptions and myths about hypnotherapy
The different uses of hypnotherapy
The main contra-indications to hypnosis
What abreactions are and what to do if a client has one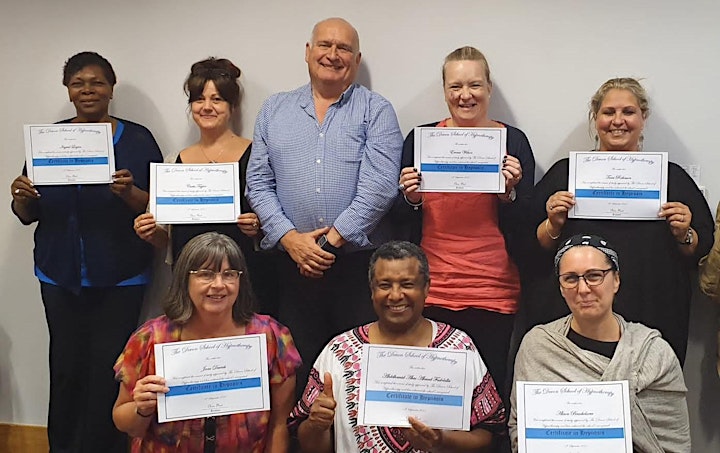 Frequently asked questions;
Do I need to do anything like research, read hypnotherapy books or prepare for the weekend? -No. Just bring yourself a pen and an open mind; we will provide all materials, including the inductions and scripts you will be using during and after the course.
How many and what are the other students like? -they range from 12 to a maximum of 25 (for larger groups, previous Diploma students will be on hand throughout). We do not have a main set of students like many other colleges. Our students come from all walks of life, and their ages vary widely from 20 to 75! At the start, most students are somewhat nervous about meeting everyone for the first time, but you will always be made to feel welcome, listened to and supported. By the end of the weekend, you will have made new friends.
What if I can't do it? –Rest assured, you can do it, and there is no such thing as passing or failing on our weekend course. If you ever feel unsure, overwhelmed, or defeated, please speak to either myself or one of the classroom assistants-We have all been there with these feelings.
Do I have the right voice for Hypnotherapy? -There is no right or wrong voice. Over the weekend, you will learn to understand how the tone of your voice rather than your accent or pitch can affect hypnosis and how you can change the outcome by tweaking it slightly.
What if I do not like the course? It is ok if you do not like the course-we are all individuals. If you find yourself in this position, please let us know; we might be able to adjust to improve your comfort.
How can I take my training further? -Once you have completed the weekend course, you will have the opportunity to progress to our practitioner level Diploma course and can use your certificate as module one of the ten-month course.
If you have a question, please do contact us, and we will be happy to answer.
Organizer of Introduction to Hypnotherapy Weekend
Founder and tutor Chris Fleet began training as a hypnotherapist in 2002. He passed his Advanced Structured Hypnotherapy Diploma with 96%. Each year Chris undertakes CPD courses to maintain his knowledge and accreditations.
Details of Chris Fleet's qualifications can be found on our website.
During his training Chris realised the many facets to hypnosis and hypnotherapy including its vast uses in treating clients.
Today, Chris not only treats clients in his private practice, Fleet Hypnosis but also teaches students at The Devon School of Hypnotherapy.
"I am passionate about hypnotherapy and how it can change people's lives. I see it as my duty to train people to the best of my ability. My aim is to pass on as much knowledge as I can without holding anything back just in order to gain more money from students." Chris Fleet