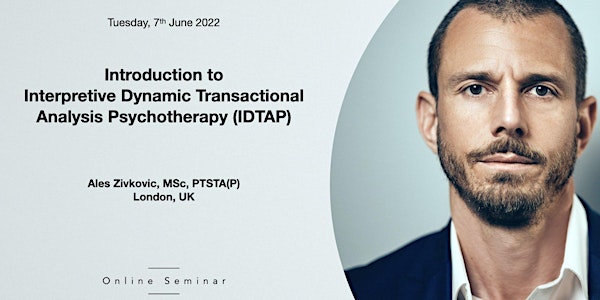 Introduction to Interpretive Dynamic TA Psychotherapy (IDTAP)
This is an introduction to Interpretive Dynamic Transactional Analysis Psychotherapy (IDTAP), a 3-person approach to psychotherapy.
About this event
*Spaces are limited.*
Interpretive Dynamic Transactional Analysis Psychotherapy (IDTAP) is a 3-person approach to psychotheraputic treatment, focusing on transference and countertransference work. It combines Berne's foundations in conceptualising transactional analysis (TA) with the contemoproary psychodynamic and psychoanalytic approaches.
It includes modern perspectives on transference and countertransference and integrates the latest research findings into the theory and practice. Transference and countertransference work is at the core of IDTAP—both in terms of diagnosis and treatment. In terms of treatment, IDTAP is focused on structural integration and enhanced level of personality functioning.
The talk will consist of placing IDTAP in the context of Eric Berne's TA roots and also in terms of modern psychotherapeutic approaches. It will consist of the theory part, which will include some examples. There may also be an opportunity for integrating the theory with clinical practice through discussion of the participants' clinical work.
Content:
Conceptualisation of interpretive dynamic transactional analysis (IDTAP) through Berne's TA foundations.
Recent research findings on transference interpretations and their use in IDTAP.
Introduction of the dynamic ego state model.
Intrapsychic and interpersonal defensive strategies.
Etc.
The participants are advised to read the following article prior to the event:
Zivkovic, A. (2022). The Use of Interpretive Dynamic Transactional Analysis Psychotherapy (IDTAP) in Facilitating Structural Integration When Working With Reenactments of Developmental Trauma in the Psychotherapeutic Setting. Transactional Analysis Journal, 52(2), 120–133. https://doi.org/10.1080/03621537.2022.2046318
The talk will be given by Ales Zivkovic, MSc, (TA Psych), PTSTA(P), CTA(P). It will run online over Zoom platform. It will run in the form of a large group with interaction and contributions from anyone who wishes to participate in the discussion or with questions.
Pricing: This is an international seminar. For it to be accessible despite the diversity in affordability, the attendees are welcome to pay according to their means.
Important:
Please make sure you have an account with Zoom as only registered users will be able to access.
Because, in the case of potential difficulties in accessing the session, the source of such difficulties may not be clear, there will be no refunds in the case you are unable to attend or access the session for any reason.
Refunds will only be issued in the case of cancellation of the event from the side of the organiser. In such case, Eventbrite processing fees are non-refundable.