Description
Introduction to Letterpress workshop
On our one-day introduction to letterpress course, you will learn the basics of letterpress; set wood type, ink & print by hand. The letterpress course is split into morning & afternoon sessions.
We have 83 different wood types & 74 metal types, plus a wide selection of borders. We have a wide range of paper for you to use including Japanese, Chinese & GF Smith colorplan. Our wood type collection dates from 1840s - 1950s.

Morning session: print size SRA2 450mm X 640mm
The group will work together to design an SRA2 (450mm x 640mm) print as a group on our Large Farley Proofing Press (dated 1940).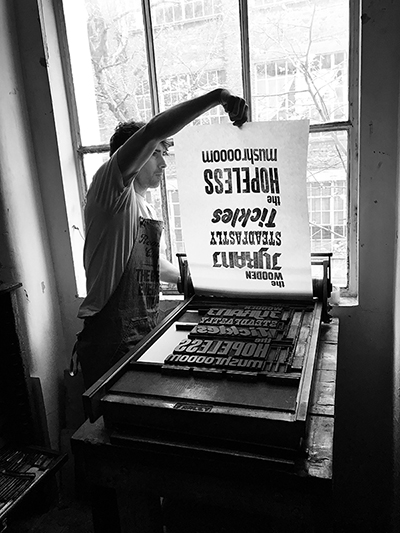 Afternoon session: print size SRA3 320mm x 450mm
Each member will produce their own print (320mm x 450mm) using the Stephenson Blake proofing press. They can also print a small A6 name card using the Adana 8x5 press
By the end of the day, each member will have produced 2 prints & one card to take home with them.

We have guest aprons but please don't wear anything to smart for the workshop.
We look forward to working with you!
Please call Stephen on the number below when you reach the workshop on Dace Road, the outside door is usually locked & there is no bell for the first floor:
07786640053