Learn how to paint on water in this mesmerising Marbling workshop. A beautiful free-flowing craft that creates stunning one of a kind print
About this event
Marbling is a beautiful free-flowing art form that is perfect for those who struggle to let go and switch off.
This ancient craft with origins in Turkey and Japan involves floating coloured inks on the surface of a marble bath to form unique eye-catching patterns. 
The beauty of marbling is that you never truly know what kind of design you will get, so you are forced to stop overthinking, release control and let the creativity naturally flow.
During this 2-hour workshop at our East London studio, you will learn how to make dynamic marble patterns to create your own bespoke stationery and homeware pieces.
All skillsets are welcome | Tickets include light refreshments and vegan sweet treats.
Tickets Include;
All marbling materials and tools.
Hot and cold refreshments
Seasonal plant-based vegan cookie box by Hackney Bakery Lovely Buns.
COVID 19 INFORMATION
You will be required to wear a face mask during the workshop.
Workshop tools will be sterilised before and after the workshop. We're following government COVID-19 guidelines to make sure we offer you the safest and most enjoyable visit to Recess Living workshops.
Full workshop COVID-19 Information can be found here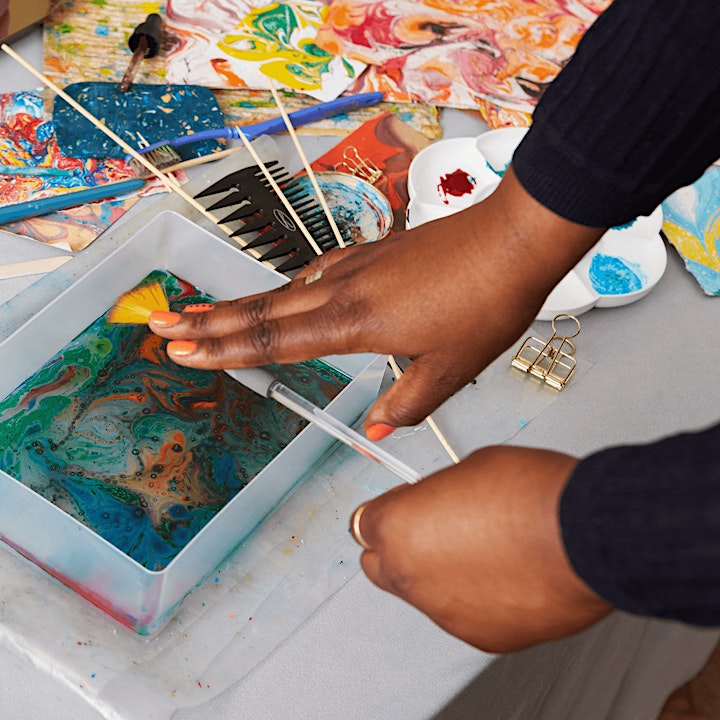 ABOUT RECESS LIVING CREATIVE WELLNESS WORKSHOPS
Recess Living craft workshops are designed as a safe space for you to hold time for yourself, whilst gathering with like-minded people who enjoy crafting.
I create a heightened holistic experience, using sound, scent, taste and textures to provide a relaxing environment for you to craft in and experience mindfulness whilst making.
Self exploration and creative play is encouraged, you can create pieces as you please or create one of the example pieces. The aesthetics of the piece you make doesn't matter, what matters is how the process makes you feel; energised, light and uplifted
Organiser of Introduction to Marbling Workshop| East London
Recess Living is a London-based, events and lifestyle company that creates experiences, stories, and connections to inspire you to enjoy a guilt-free timeout.
Focusing on a 360° approach to wellness; Recess events are diverse experiences that will encourage the exploration of self and wellbeing.
With on and offline events we host talks, workshops and retreats designed to bring people together to meet, learn and share.