Location
Oak Tree House ECO demonstration property
1 Oak Tree Road
Knaphill
Woking
GU21 2RN
United Kingdom
Description
Name of course: Introduction to Permaculture
Course Ref: ITP0610
Duration: one day
Course Outline
This course covers the basics of Permaculture, the design process that helps us to make more sustainable choices - from making lunch through to designing an eco house. The day will introduce participants to the core design principles and showcase inspiring examples of Permaculture in action. It assumes no previous knowledge, and can be taken by itself, or as a sampling before going on to a full 90 hour Design Course.
The areas covered on the course will be:
What is Permaculture? - its origins and definitions.

Permaculture ethics.

The design process.

Introduction to the principles used in Permaculture design.

How to apply Permaculture to our lives.

Design principles in action.

Some tools for designing and decision making.

Permaculture and food.

Inspiring stories and techniques.

How to get more involved - contacts, next steps and resources.
Host: Peter Cow

Background on Host:
Peter Cow is an experienced Permaculture teacher and designer based in Surrey. He was awarded the 'Diploma of Applied Permaculture Design' by the UK Permaculture Association in 2007, and has been teaching on Permaculture courses since then, from 1 hour taster sessions to 2 week residential courses, to mentoring apprentices through the 2 year+ Diploma.
He has been involved with Permaculture since 1998, co founding the Steward Community Woodland sustainable living project in Devon, where he lived for 7 full and happy years. He has designed and implemented many Permaculture projects including low impact buildings, edible landscapes, community events, Permaculture training courses and forest gardens in both the UK and Portugal.
Peter's teaching style is inclusive and engaging, mixing media, learning styles and content to create a rich experience of inspiration, fun and information.
Peter is a keen musician, cyclist and nature lover, his website address is www.livingincircles.com.
Location
This fun and engaging course is being held in one of the only fully functional low carbon retrofit show homes in the South of England. Oak Tree House is an existing property that has been renovated with a wide range of low carbon technology, energy efficiency measures and renewable technology. Whilst taking your course at the house, you will have the opportunity to look around the property and learn what you could do in your own home to further reduce your carbon footprint or find out more about a renewable technology.
-see map- or download directions here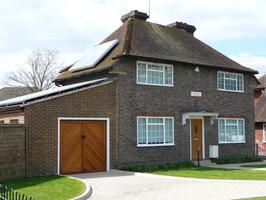 Course Times
Arrive: 9.15am
Start: 9.30am
Finish: 5.30pm - 6pm
Lunch arrangements: please pack a lunch (although we are opposite a large Sainsbury's store and a 10 min walk from Knaphill/Brookwood village)
Course equipment includes
The course is supported by a downloadable set of digital resources, which can be copied on the day if you bring a USB stick or external hard drive with you, and there will be a small library of Permaculture books and magazines available on the day to look through, alongside all the existing resources at Oak Tree House(examples of eco-retrofitting techniques and materials, low maintenance water-wise landscaping and an array of information boards and leaflets).
Please bring
• Sun hat & sun screen (weather depending)
• Warm/waterproof clothing & sturdy outdoor footwear
• Warm socks or slippers for indoors
• Gardening gloves if you want to get involved in the practical demonstrations
• Pens, pencils, a notepad and a waterbottle to refill if required
• Maybe a camera, you are welcome to take pictures
• USB stick/hard drive
Additional information:
info@actionsurrey.org with the Course Reference in the subject line.
Unfortunately the property is unsuitable for wheelchair users due to the layout of the property.
Should you need to change or cancel your booking please contact us as soon as possible and request the cancellation policy.
Please check what you should bring with you on the day above.
Refunds
------------------------------------------------------------------------------------------------------------------------------------------

Fees can be refunded minus a £30 administration fee up to 14 days before the start of an event. Please see our refunds policy page for more information.
VAT
-----------------------------------------------------------------------------------------------------------------------------------------
Our prices include VAT charges.

About Action Surrey
--------------------------------------------------------------------------------------------------------------------------------
Action Surrey is a local council partnership scheme, designed to help residents across Surrey live low carbon lifestyles. The project is managed by ECSC Ltd, a subsidiary of Thameswey Ltd. Thameswey Ltd is wholly owned by Woking Borough Council.
The registered office of ecsc Ltd is 51 Eastcheap, London, EC3M 1JP

Company registration no. 3835131 VAT registration no. 917 9263 93

Privacy Policy
-------------------------------------------------------------------------------------------------------------------------------
For further information on our privacy policy and how we will look after your personal details, please click here
Contact Information
---------------------------------------------------------------------------------------------------------------------------------
Tel: 0800 783 2503 / 01483 799954 (on the day)
Email: info@actionsurrey.org