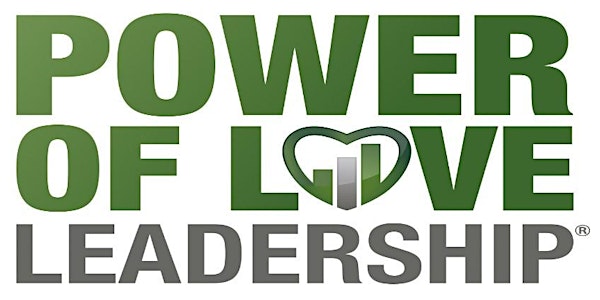 Introduction to Power of Love Leadership® - Independent Businesses Leaders
3 monthly on-line workshops with the author of 'Power of Love Leadership®' How will you implement the 7 strategies to achieve success ?
About this event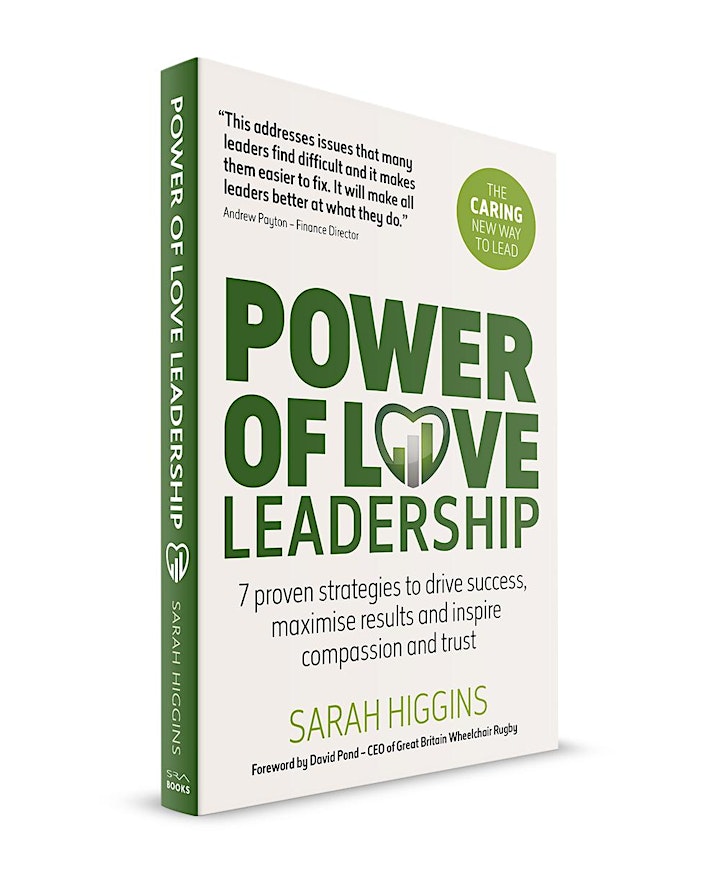 Based upon her book: Power of Love Leadership®, join the author and successful leadership coach, Sarah Higgins on an Introduction to Power of Love Leadership®.
In a series of 3 online workshops (1 per month for 3 months) with a small group of like minded leaders of their own businesses, learn how you can use the strategies to help you achieve even more business success.
Sarah will enable you to learn how fear is impacting you and how you influence your key stakeholders and customers, as well as taking you through the detail of each of the 7 powerful strategies.
In each online workshop, Sarah will provide practical and engaging insights into how you can implement the strategies, bringing each one to life, with hints, tips and actions that you can implement and start to practice straight away.
The workshops will take place online for 2 hours between 5.00pm and 7.00pm GMT on the following 3 dates between February, March and April 2022:
Workshop #1 - Tuesday 22nd February 2022, 5-7pm GMT:
- What do you want to achieve?
Understand your vision and what success looks like for you? What are your goals and when do you want to achieve them by?
- What's getting in the way?
Understand the way in which Fear impacts you and how you make decisions in your business. What are the main challenges you are facing and what would help you the most to achieve your goals?
Workshop #2 - Tuesday 29th March 2022, 5-7pm GMT:
- How can Power of Love Leadership® help to get you there?
Understand the main elements of each strategy and how they can apply to you in your situation. What strategies will you apply and how will you apply them?
Workshop #3 - Tuesday 26th April 2022, 5-7pm GMT:
- How can you continue to benefit from using the Power of Love Leadership® strategies?
Understand what challenges that might get in your way when you practice the strategies. How can you overcome the barriers that get in your way? What actions will you commit to?
Limited Places
The workshops have limited capacity, as Sarah will be working with only 6 like-minded individuals. If you would like to be one of the 6, please secure your place now.
Once you have booked
Sarah is looking forward to working with you and guiding you on this next exciting stage of your development. Once you have secured your place, you will be sent a confirmation and the zoom links will be made available. This is a private event with small numbers so that attendees can gain the most learning and impact. Only those who have registered and paid via Eventbrite will be able to gain access.
Recordings available, but please commit to the dates if you can
Each of the three workshops will be recorded, so if you are unable to make a session, you will be able to catch up. However, please commit to the dates as much as possible, as Sarah will adapt her guidance and coaching to suit you within each session. You will gain more benefit and value from attending each workshop in person online.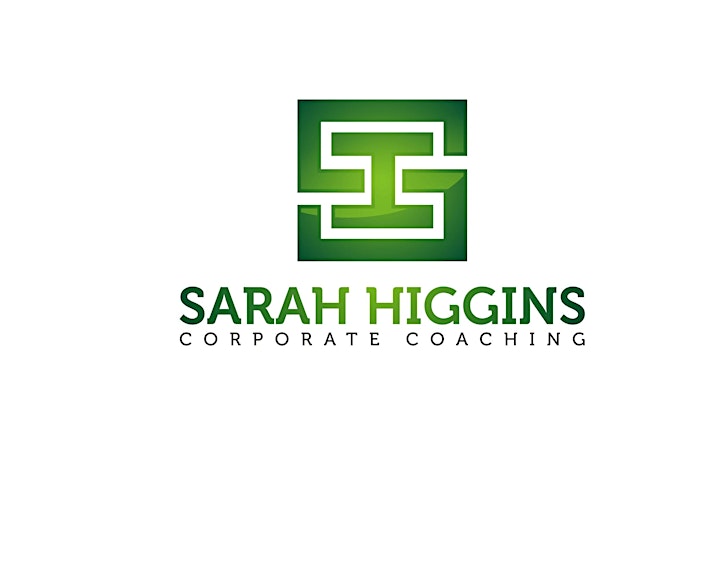 Date and time
Location
Refund policy
Organiser of Introduction to Power of Love Leadership® - Independent Businesses Leaders
Sarah Higgins enables executives and leadership teams to be the best they can be and achieve their goals. Sarah uses 1-2-1 executive coaching, psychometric assessment and leadership development to maximise her client's effectiveness and leadership skills. Sarah is passionate about encouraging leaders to take responsibility for overcoming challenges; build other's creativity, develop trust and build higher performing teams.
Sarah is a nationally respected leadership consultant and executive coach. She is a Fellow of the Chartered Institute of Personnel and Development and a Member of the International Coach Federation. She is known as an expert in leadership, emotional intelligence and personal effectiveness and is the creator of the successful Power of Love Leadership, as well as the author of the soon to be published book of the same name.
An ex-HR Director, Sarah has over 20 years experience of working with small and large national and international businesses including Royal Bank of Scotland, Boots and Astra Zeneca, assisting their leaders and the senior leadership teams to enhance their effectiveness and maximise their results through people. Prior to establishing her own Executive Coaching and Leadership Development business in 2011, Sarah was a Board level Director, responsible for HR and Leadership Development within the Financial Services Industry.
As Group HR Director for the Oval Group (Insurance Broking and Financial Advisory business), she created and led the implementation of a HR and Change Management strategy which was critical to the success that saw turnover and employees multiply more than x5 times via organic growth and 32 acquisitions in 5 years. As a Board Director, her role included mentoring and coaching senior leaders as part of the investment in their leadership development.
Sarah is a Board Trustee of Lamp - a charity suporting mental health and she is passionate to raise their profile and fundraise so that they can help more people as well as businesses. Sarah has also raised over "£2,500 to help in the fight against cancer as a proud member of the Hope Against Cancer Business Club.
Some of Sarah's clients have said...
Head of HR – National Engineering and Environmental Consultancy:
"Sarah's been with me every step of the way on my personal journey over the last 18 months. She's listened deeply and challenged me to succeed in the goals that I have set myself. She's enabled me to see new perspectives, understand myself and others more and supported me to adapt my behaviour. In addition, her 'Power of Love of Leadership' model has enabled me to understand the emotions that go hand in hand with challenging situations and how to let go of these and use more effective strategies. As a result of Sarah's coaching I have more effective working relationships, I'm a more influential and strategic leader and I'm successfully achieving my career goals."
Head of Department, City Council:
"It's my absolute pleasure to recommend Sarah. She is an exceptional, very knowledgeable, detailed and dynamic coach. She has been truly inspirational and very helpful in my journey of self-discovery and mastery. I found her coaching style to be direct, honest, challenging and engaging. I came away each time wanting and feeling motivated to excel. Her use of the Power of Love Leadership Model and method of coaching was very helpful as it dealt with real everyday feelings, emotions and challenges. This I found most useful on so many levels and able to use in both my personal and professional life. Sarah has got a natural ability to bring out the best leader in anyone and it was a real pleasure and blessing to work with her!"
Managing Director and Associate General Counsel, US Global Investment Bank:
"I went through a very successful coaching programme with Sarah over 9 months. Sarah is a highly experienced and insightful coach and mentor. Combining careful listening with acute prompting Sarah elicited much worthwhile self-analysis and reassessment of goals, strategies and management style. Her collaborative manner developed trust quickly. Sarah was very effective in guiding me to see strengths and weaknesses objectively and find quite varied keys to unlock better performance and working approaches for myself and my team. She was also a mine of resources, short exercises, practical tips and thought-provoking articles/texts that helped achieve results, and got me to do things differently with a high performing team and resolve team issues. I thoroughly recommend her."
Finance Director, Financial Services:
"I have been working with Sarah for five years and throughout it all Sarah has been fully engaged and supportive. She is one of the easiest people to deal with that I have come across and her approach has always been wholly non-confrontational. However, she is about as far from an easy touch as it is possible to get. She has caused me to address various behaviours that were holding me back and making working relationships more difficult than they needed to be. She has made me re-assess my interactions with difficult, occasionally hostile people. Understanding (without excusing) their behaviour has enabled me to manage my relationships with them in a far more productive manner. She simply refuses to let me get away with ways of thinking or behaving that are unproductive. The benefits have been tangible and transformational as further opportunities in my career present themselves. I am happy to endorse her wholeheartedly."
Head of Leadership Consulting, International Executive Search:
"What I like about Sarah's coaching is that she commits to you. I know that she is actively listening and has my best interests in mind. She truly cares about my success, and continuously goes above and beyond to ensure that I see noticeable change in my behaviour and subsequent impact in my organisation. Her utter dedication to support my development is most admirable – she both motivates and inspires me. I am grateful for her candour and constructive challenge, and her ability to help me determine my priorities and create order amongst the chaos. Her Power of Love Leadership model has been most useful, as it has helped me to take control of my decisions and approach difficult situations with confidence and clarity. Sarah's coaching has been an invaluable and transforming experience. Her perceptiveness and insight led to a great amount of personal learning in terms of understanding myself and how to actively make changes in a sustainable manner. Her in-depth knowledge of her field has led to marked changes in my professional brand, contributing to the advancement of my career."