About this Event
All you need to know about maintenance, security, use and financing your building and grounds. For all Head Teachers, Deputy Heads, Business and Site Managers, Bursars or Finance Officers who are responsible for property matters.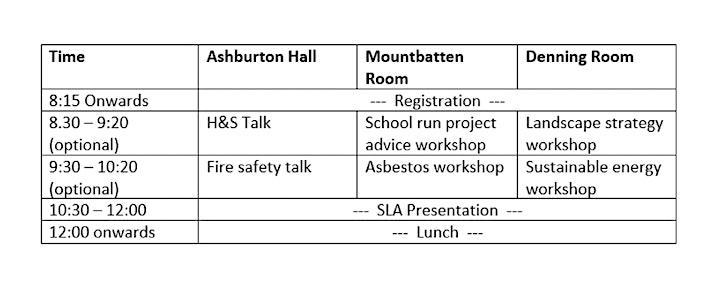 SLA Presentation (10:30 - 12:00) topics:
Explaining the Service Level Agreement
Repairs and maintenance
Your key contacts in Property Services
How to fund building works
Outline of the HCC Planned Programme
Choice of optional talks for you to attend (sign up NOT required):
Fire safety management: Advice on key responsibilities and actions required
Health and Safety (H&S): Understanding of the legal duties placed on clients by CDM2015
Choice of optional workshops for you to attend (sign up required):
Asbestos management: Looking at Corporate Asbestos Procedures
Sustainable energy: How to buy it, save it and monitor it to reduce carbon and costs
Landscape strategy: How to develop a strategy for your school grounds
School run project advice: How to run a building or refurbishment project at your school
The event is taking place in;
Ashburton Hall, EII Court, Sussex Street, Hampshire County Council, Winchester, SO23 8UJ.
Please allow sufficient time to park as the nearest car park is often full by 9 a.m. There are additional car parks within a 10/15 minute walk from EII Court or park and ride options, if you would like a copy of the car parking map please contact Wendy Lucas via (wendy.lucas3@hants.gov.uk). The first 10 people who sign up for this event, will get reserved free parking in Tower Street Car Park.
Please note if you are not a member of the Property Services SLA tickets will be £100 each. Tickets are free for SLA members.