As part of this year's initiative to remain open and accessible to all, Key fund has launched our exciting open for business series.
About this event
Key Fund: FREE ZOOM EVENT - Introduction to Social Investment P2
Will commence at 11am on the 16th September 2021 - PLEASE NOTE ZOOM LINKS WILL BE SENT OUT AFTER TICKET IS RESERVED.
Session two is aimed at those who are thinking about social investment as an option.
Key points from the session will cover:
What is the purpose of the investment?
Clarity on what a client needs to borrow
Talking about each fund. NCRF, NIF, Property, MTAP, PTC with real examples!
The numbers (amount, APR, term, interest ...)
If you are on a journey looking for or thinking about looking for Investment for your Social Enterprise of Charity then this is a great opportunity for you.
This session will operate on Zoom and we encourage you to bring a big cup of tea or coffee your questions and a notepad.
PLEASE NOTE ZOOM LINKS WILL BE SENT OUT AFTER TICKET IS RESERVED.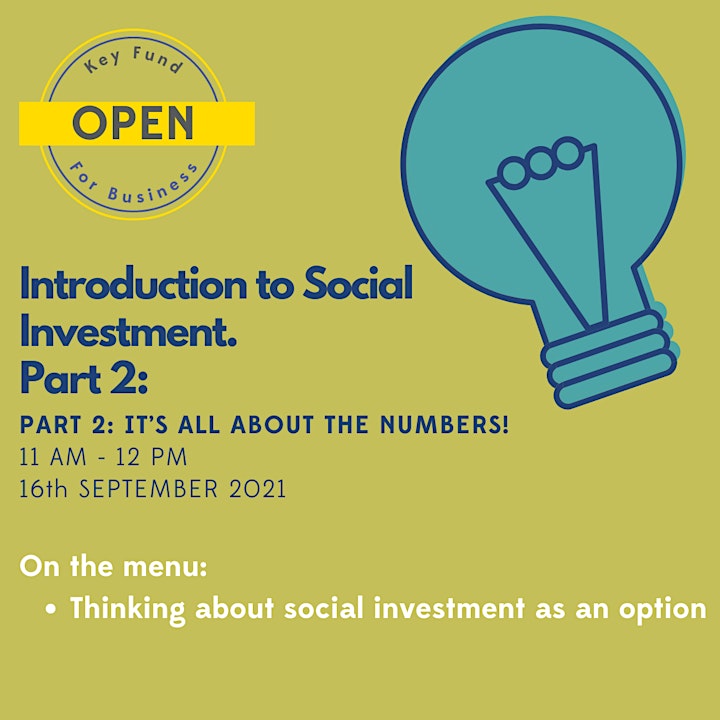 Organiser of Introduction to Social Investment PRT2
We invest in the community and social enterprises that have traditionally been excluded; turned down by mainstream banks and building societies. Particularly those in disadvantaged areas. Key Fund believes in the power of people to find solutions to the challenges facing their communities. Our mission is to remove barriers to finance. Our investees have one crucial thing in common – the ambition to build and strengthen local communities.