Sales Have Ended
Registrations are closed
Sales have ended for this event, however we are still taking enquiries, so please email J.Bach@uea.ac.uk and speak to Jenny Bach who will be able to give you more information. Please give details of the event you wished to attend, as we have similar events in future and can give you specific information or the recorded session.
INTRODUCTION TO THE SENIOR LEADERS APPRENTICESHIP / MBA 2021 TUESDAY 23 MARCH - ONLINE EVENT
About this event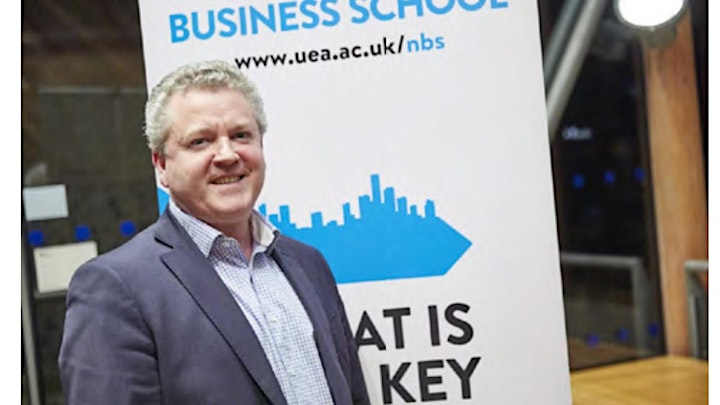 This event is hosted by Julian Campbell, MBA Programme Director and Associate Professor at Norwich Business School.
* FREE ONLINE EVENT - BOOKING IS ESSENTIAL *
* PLEASE NOTE THIS EVENT WILL BE RECORDED *
Why study for an MBA at UEA?
With over 25 years of experience, our MBA will challenge and change the way you think about business. At UEA you will enjoy an altogether different, personalised programme that gives you more time to participate and share expertise with your peers. The programme is led by a team of leading academics and industry practitioners at the forefront of research and commerce. Our programmes are accredited by the Association of MBAs (AMBA) – an international and impartial organisation providing the only accreditation which focuses solely on MBAs.
What do we offer?
As well as our Executive (part-time) MBA programme, the UEA will be delivering the Senior Leaders Apprenticeship (SLA) from September 2021, which will be compliant with the new SLA standard and lead to the award of a Postgraduate Diploma in Strategic Leadership. We will also be offering a top-up route (at an additional cost outside of the levy) giving candidates the opportunity to achieve the full UEA MBA, alongside their apprenticeship.
Want to find out more?
Our MBA Open Evenings are a great way to find out more about our MBA programmes – and, for the time being, we are moving these online. Come and find out if the UEA MBA and leadership programme suits you and your career plans?
How does the event work?
Our online Open Evenings are informal events which will give you an opportunity to hear a presentation from Julian Campbell, Executive MBA Programme Director. You will also be able to ask questions about the structure of the programme, including the timetable.
We will also be joined by Sharon Davies, UEA's Degree Apprenticeship Manager, to talk through funding via the government apprenticeship levy, if this is of interest?
There will also be an opportunity to hear from MBA alumni.
The online event will give you the opportunity to learn much more about the Executive MBA programme, and Senior Leaders Apprenticeship than you can from just reading our brochure or visiting our website.
Cost
This is a FREE online event. Booking is essential and you will be sent the online event link.
Further information
For further information about the MBA and Leadership Programmes, please contact MBATeam@uea.ac.uk
Please REGISTER above to receive the online session joining instructions
* A recording will be forwarded to those who register to attend. *