Introduction to Theatre Lighting Workshop - Gweithdy Cyflwyniad i Golau The...
Description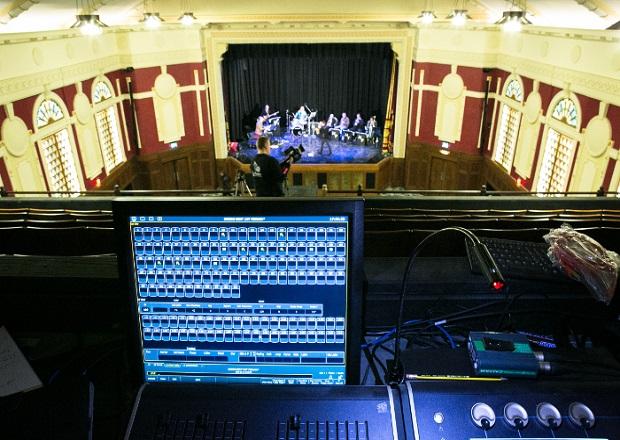 This 3 hour workshop will reveal the secrets of theatre lighting in a way that is accessible, stripping back the jargon and enable participants to gain an insight into the lighting process.
This is an entry-level course aimed at those who participate in theatre production at any level and would like to get a better understanding of lighting and lighting design.
This course is ideal for directors, writers and designers who know how they want the lighting to look but aren't sure how to communicate their ideas to a lighting designer and for anyone interested in basic hands on experience of lighting.
By the end of the session you will be able to:
identify different lanterns and know their purpose

describe how a lighting designer works

interpret design ideas from scripts

communicate lighting ideas to a designer

describe the different lighting positions and what they are used for

list what paperwork a lighting designer creates

explore paperwork examples and discuss ideas for future productions
Important Information:
Please wear sensible clothing as this workshop will involve some practical work and use of ladders.
Please bring a notebook.
Please read this very short scene and think about the following (it doesn't need to be technical):
Macbeth Act 1, Sc 1 - the Witches on the Heath - set in a traditional fashion.
http://www.shakespeare-online.com/plays/macbeth_1_1.html
(Please note no knowledge of Shakespeare's Macbeth is required but this short scene from the play will be used as the basis of the workshop - i.e. as a practical exercise to light the scene and to try out different sound effects.)
Lighting:
How would you light it? What atmosphere do you want to create?

What feeling does the scene convey? What colours represent those feelings? What effects might you use?

How do you want the scene to feel and how do you want that to come across to an audience?
Refreshments will be supplied and is included in the price.
Please contact enquiries@newbridgememo.co.uk if you require support in paying for this session or have any access requirements or require further information about this workshop.
CULT Cymru workshops are delivered in a friendly and safe environment where participants will have the opportunity to ask questions and raise issues during the day.
Trainer details: Ceri James
Ceri has worked as a Lighting Designer, Production Manager and Producer for 25 years for a diverse range of companies from Wales, the UK, Europe and the USA.
Ceri has designed over 20 productions for the Sherman Theatre Company and has designed lighting for Theatre Centre, Dalier Sylw, Theatr Clwyd, Wales Theatr Company, Theatr na n'Og, Salisbury Playhouse, Unicorn Theatre, Haymarket Theatre Leicester, The Royal Derngate Northampton, New Theatre Stoke, Theatr Bara Caws and Wales Theatre Company to name just a few. Ceri is also a visiting lecturer at The Royal Welsh College of Music and Drama and Guildford School of Acting.