Introduction to TRE® - In Person (& 1 Online space) Workshops near Bath, UK
TRE® (Tension, Trauma & Stress Release Exercises), is a physical, non-verbal approach that gently relieves tension, stress, trauma & pain.
About this event
TRE® relieves tension, stress, trauma and pain at the root cause, and involves simple stretches and exercises (modified to any ability) to create movement (known as therapeutic tremors) in the body.
Once the tremors start, we relax on a mat and allow the body to move organically. As the tremors start deep in the core muscles, they can release tension very quickly in the core and lower back. TRE® also works deeply into the myofascia. The release of tension is communicated back through the nervous system to the brainstem and the body, mind and brain can all move from an anxious state of "fight/flight or freeze" into "rest/digest". This restores and relaxes us. The relief can be profound, often described as "liberating" and "life-changing".
TRE® has positive benefits on our mental, physical and emotional health. It is our innate stress release system and we can all benefit from learning it to improve resilience on these three levels of wellbeing.
This workshop covers the theory behind TRE®, and you will receive and introductory presentation before the session, as well as a verbal introduction from Deborah at the session. The main part of the workshop is experiential, and in addition to the TRE you will learn "neural exercises" that improve vagal tone, and help your nervous system to regulate (these can be used any time any place at all so are vital life skills on their own). The workshop ends with tea, snacks and Q&A time.
After the workshop, you will also receive further information, including a TRE guide sheet and guided audio session to support home practice.
Payment is donation of £39 Full Fee, or £25 Concessionary Rate.
Cancellation and refund policy
My Healing Space studio is a haven of peace and tranquillity, surrounded by trees and birdsong. I look forward to welcoming you here. We can fit a maximum of 4 people, whilst maintaining social distancing, so workshops here are small and contained. There is also just one zoom space available for those who can't make it in person.
The studio has mats, blankets and pillows, however you are also welcome to bring your own. Before booking, you may wish to read the "Health, Care, Safety & Covid" guidelines for the Healing Space Studio.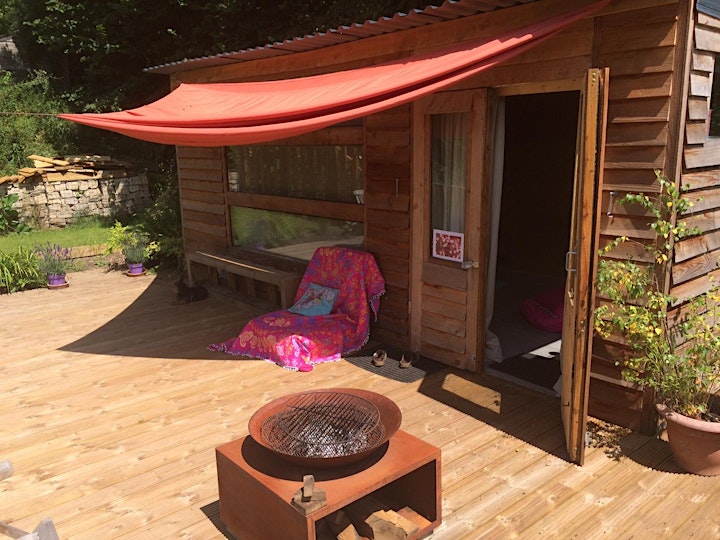 Organiser of Introduction to TRE® - In Person (& 1 Online space) Workshops near Bath, UK