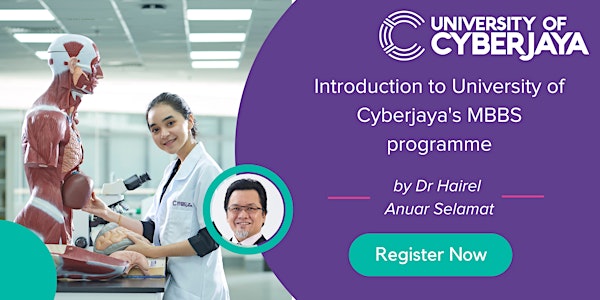 Introduction to University of Cyberjaya's MBBS programme
Learn all about the University, and what sets our Medicine degree apart from the others.
About this event
This event is both an on-campus and online event. You can submit questions for our lecturer to answer during the talk here: https://pigeonhole.at/UOCMEDIC
The university's fully accredited medical programme, running since 2005, has produced over 1,000 doctors. The MBBS programme provides an impactful and excellent education and training in medicine. It uses a student-centered and problem-based approach to learning which should apply throughout the physician's career.
The 5-year programme is divided into two phases namely the Basic Medical Sciences phase (Years 1-2) and Clinical Sciences phase (Year 3-5). The first two years, taught mainly in the Cyberjaya campus, serve as a foundation for basic medical knowledge and is organised in sequential courses/blocks with early clinical exposure.
Students must successfully complete the Basic Medical Sciences phase prior to beginning clinical clerkships. From the third year, theoretical training is extended with clinical practice, where students learn in the various hospitals and health centers affiliated with the Ministry of Health and Ministry of Defence. Successful graduates are granted a Bachelor of Medicine & Bachelor of Surgery (MBBS) degree, fully recognized by the Malaysian Medical Council.
About the Speaker:
Dr Hairel is the Deputy Dean of Student Affairs and have been teaching Medicine at the University since his says as a trainee lecturer. He has held posts within the faculty which include Head of the Family Medicine Unit, Head of Affective Domain Unit, Year 4 Coordinator and Principal of the University Hostel.
As Deputy Dean, he is directly involved in moulding the University's medical students to be not only good, but safe doctors in the future. He also leads a team to support the students in any issues they may face during their university journey as they train to become doctors.
He is also an active member of the Academy of Family Physicians of Malaysia (AFPM). His current posts include Member of the Board of Examiners, Member of the Board of Censors, Member of the Chapter of Teachers. He is also a member of the Royal College of the General Practitioners of Australia (International Member).
His last article was published in the Malaysian Family Physician – Official Journal, July 2022, titled "Recommendation and Tips For Passing The Key feature Problem Examination".