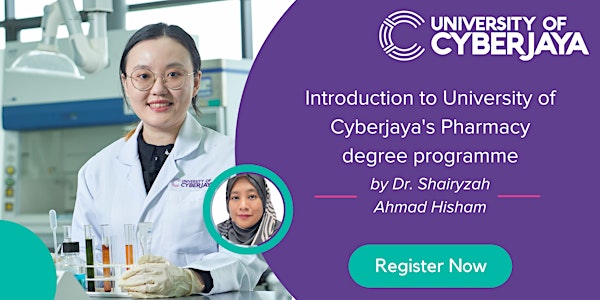 Introduction to University of Cyberjaya's Pharmacy degree programme
Learn all about what it takes to be a Pharmacist, and how to become one through our undergraduate degree programme at UoC!
About this event
This event is both an on-campus and online event. You can submit questions for our lecturer to answer during the talk here: https://pigeonhole.at/UOCPHARM
The Bachelor of Pharmacy (Hons) programme at UoC is a four-year course (8 semesters) that prepares students in becoming qualified and competent pharmacists, knowledgeable in all aspects related to drugs therapy, medicine and pharmaceutical care.
The programme aims to prepare students for different pharmaceutical fields such as hospital, community, industry, academia, research and enforcement. Students also receive extensive exposure to the military pharmacy as well as pharmacy management in disaster and humanitarian relief situations.
Find out what it takes to be a Pharmacist, and what the University of Cyberjaya has to offer to take you through and achieve this career goal.
About the Speaker:
Dr. Shairyzah Ahmad Hisham is a senior lecturer in the area of Hospital & Clinical Pharmacy and is currently holding the post of Deputy Dean of Academic Affairs at the University's Faculty of Pharmacy. Prior to joining University of Cyberjaya, Dr. Shairyzah practised as a clinical pharmacist at teaching hospitals in the United Kingdom as well as in Malaysia. She obtained her Bachelor of Pharmacy (Hons.) degree from School of Pharmacy, University College London (UCL), Postgraduate Diploma in Clinical Pharmacy and Masters in Clinical Pharmacy from Queen's University Belfast, Northern Ireland and Doctor of Philosophy (PhD) in Medical Sciences from University of Cyberjaya. Dr. Shairyzah strongly believes that pharmacists can play major roles in various healthcare settings from the discovery of new drugs to patient care in order to enhance the health of the nation.