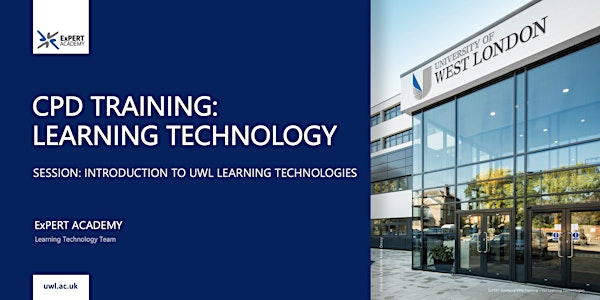 Introduction to UWL Learning Technologies (for new staff)
Sales Have Ended
Registrations are closed
Thank you for signing up. The session will take place in Blackboard Collaborate. The link to join the event will be sent to the email you used to register for this event prior to its commencement. You will also receive guidance on how to use Collaborate to participate in the training.
Learn how to access and use all learning technologies used at UWL. Each technology is dedicated for a specific purpose.
About this event
This is an introductory workshop to UWL Learning Technologies.
UKPSF - Dimension of Practice: A2, A3 and K4.
Attending this workshop will provide you with an overview of what learning technologies are, which technologies we use at UWL and their main purpose of use.
Attendance to this workshop is mandatory for all new members of staff and optional for existing members of staff or those who have some knowledge of and experience in using UWL's Learning Technologies.
In this session, we will show you how to access and use the learning technologies we have at UWL. Upon completion, you will:
Have accessed all learning technologies.
Learnt the main purposes of use of each technology
Practiced creating a file, folder, and assignment/assessment in Blackboard, a session in Collaborate, a blog in CampusPress, an assignment in Turnitin, an activity in Poll Everywhere and learnt how to include an activity in your PowerPoint slides, and uploaded, recorded and shared a video in UWL Replay.
Upcoming events are usually held at different locations. Currently, due to COVID19 restrictions, the workshops will be online.
Joining instructions and any supporting documentation for this event will be sent in advance of the session by email after you have registered.
Please note: this workshop may be canceled or postponed if a minimum of 5 delegates are not registered. Decisions to cancel will be taken in advance of the workshop is due to take place. If you are unable to attend, please ensure you cancel at least one week before the event as this can affect decisions regarding cancelation.