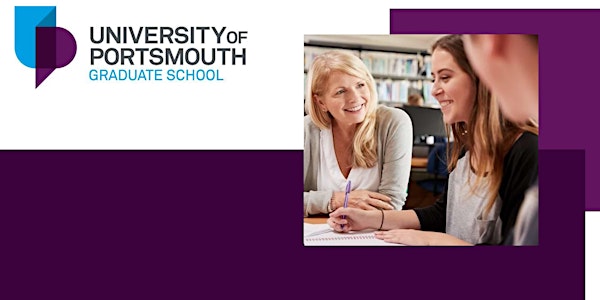 Introductory Workshop for Research Supervisors
Location
Online OR Training room 4.09, Graduate School, St Andrew's Court
St Michael's Road
Portsmouth
PO1 2PR
United Kingdom
PLEASE NOTE: Research Supervision Events may be delivered virtually.
About this event
Introductory workshop for research supervisors
Three separate sessions offered as follows:
September 20th 2021,   January 20th 2022, June 30th 2022
Whether you're a new supervisor, you plan to be one, or you have experience but are new to the University, this workshop is for you.
The workshop, which is mandatory for new supervisors, offers a general introduction to issues involved in research supervision, and to University of Portsmouth procedures. It will give you an overview of the developing national agenda for research degree programmes, along with an account of supervision practices at the University. You'll gain a valuable overview of essential University regulations and procedures. You will also have the opportunity to hear what makes an effective supervisor – from both a supervisor and a student's perspective during the Q & A session and you'll explore the most effective ways of dealing with issues that can arise as part of the supervision process.
PLEASE NOTE: This event is currently open to Portsmouth University affiliated staff only. If you have any further queries please email louisa.howard@port.ac.uk