Inventing Your Future – Business Planning for People Who Hate Planning
About this Event
Inventing Your Future – Business Planning for People Who Hate Planning
South East Creatives is part funded by the ERDF
Course details
With creative entrepreneurs and freelancers very much alert to the fact that Covid 19 is going to impact our lives and livelihoods for many months to come, and require us to flex, improvise and think differently more than perhaps we've ever done, this course is designed to help you invent your future.
Perfect for those of you who need to re-imagine your business or career in light of the pandemic, or who simply need some help focusing on strategy amidst all the uncertainty we face, this is business planning training for a different time.
Course leader Julia Payne will help you think about how you can live well and make a living in this 'new normal' we – and all our audiences and customers – are having to adjust to.
What we cover
You'll get inside the following:
Why a plan, and how to make planning less daunting
What business planning is, and how on earth we can do it now
Messy thinking and tidied up plans: right brain vs left brain planning
How to make sure it starts with you, where you want to go, what's important to you, and what you are for
Superheroes in disguise – strengths, weaknesses and making a change
Sketching your landscape and finding your tribe… looking around to get ahead
The strategy stuff… debunking the strategic jargon and getting the ideas down
Belt and braces risk… What are the risks? And how would you deal with them?
Making the money work – how to budget not fudge-it
Making this work for you…how to turn your plan into action.
About Julia
Julia is Director of the hub, a creative social enterprise she founded in 2002 with an aim of doing innovative work and building the capacity of the creative sector.
Known for being curious and generous, she's worked with hundreds of artists, creative freelancers and entrepreneurs to help them build their careers and businesses and identify what 'good growth' looks like for them.
Structure
Over four 3-hour modules, Julia will share a host of useful insights, resources, tips and tricks and real life examples. Playful and creative but designed to make a real difference, there'll also be an emphasis on small group work, peer learning and sharing collective experiences.
Dates
Session 1: 30 June 2020
Session 2: 7 July 2020
Session 3: 14 July 2020
Session 4: 21 July 2020
All sessions will happen on Zoom, on a Tuesday, between 9.30am-12.30pm, with plenty of screen/comfort breaks.
Notes on booking
Please note:
When you sign up for this individual Event, you are signed up to all four workshops.
Your business needs to have passed South East Creatives' eligibility process.
Priority for places will be given to those who have not yet received 12 hours of training support or a grant from South East Creatives.
Only one place per business.
If you are not already eligible for the Programme but are interested, please email SECCADS@Thurrock.gov.uk or visit the South East Creatives website.
Please do not sign up for this training if you intend to apply for a South East Creatives' Grant. Applicants need to choose between 12 hours of training OR a Grant.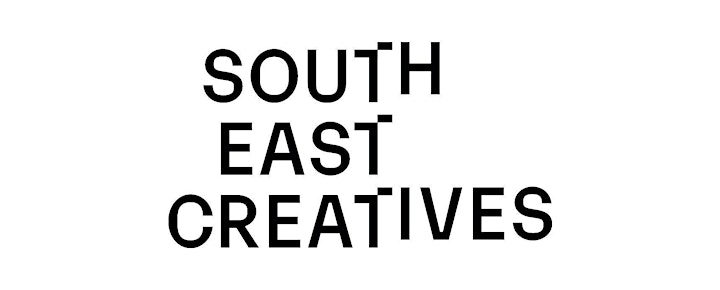 South East Creatives is a business development programme for small and medium sized businesses in the creative, cultural or digital sectors.
Between now and December 2020, South East Creatives aims to help more than 370 companies and sole-traders with business support such as training or match-funded grants of up to £20,000, contributing a major boost to the creative economy in the South East.