Inverclyde Remembrance Event - International Overdose Awareness Day
Inverclyde Alcohol and Drug Partnership are hosting a Remembrance Event to commemorate International Overdose Awareness Day on 31st August
About this event
Inverclyde Alcohol and Drug Partnership are supporting a Remembrance Event to commemorate International Overdose Awareness Day on Tuesday the 31st August. This will be an outdoor event, at the Wellpark in Greenock.
International Overdose Awareness Day is the world's largest annual campaign to end overdose, remember without stigma those who have died and acknowledge the grief of the family and friends left behind.
The event will begin at 7pm at the Cenotaph in the Wellpark, and will feature some guest speakers, including well known 'Inverclyders': Ronnie Cowan, MP, and Ian Arthur, superintendent at the church in King Street in Port Glasgow from the Salvation Army.
At 7:45pm we will then lead a procession from the Wellpark to the Harbour. At sunset, 8:15pm, we'll place roses in the Clyde as a mark of remembrance, followed by a short, silent, candle-lit vigil to remember those we have lost.
The event is free and open to all friends and family of someone we have lost, including children.
We are asking people to sign up in advance to help us plan out attendance numbers, but it's also okay to turn up on the night.
Inverclyde is a community of kind and compassionate people, and as a community it is it time to show that compassion to those who have lost someone to alcohol or drug use.
PROCESSION NOTES
Please note part of this event includes a Procession which will proceed down Bank Street, which is a steep hill.
If you feel this route may be too difficult, you are invited instead to come along to join the Procession at it's end-point, Greenock Custom House Quay. We will arrive there between 8pm and 8:15pm and a Steward will be posted to meet you there.
COVID-19 NOTES
Please note that we have completed a COVID-19 Risk Assessment and we will be using the following measures to minimise possible transmission of the virus:
- We will by complying with Test and Protect guidance to keep a record of the names and contact numbers of attendees.
- All our Stewards will be using hand sanitiser regularly and we would encourage you do to the same.
- Although there are no mandatory restrictions on mark wearing or social distancing, we would encourage participants to wear a mask if this feels safer for them.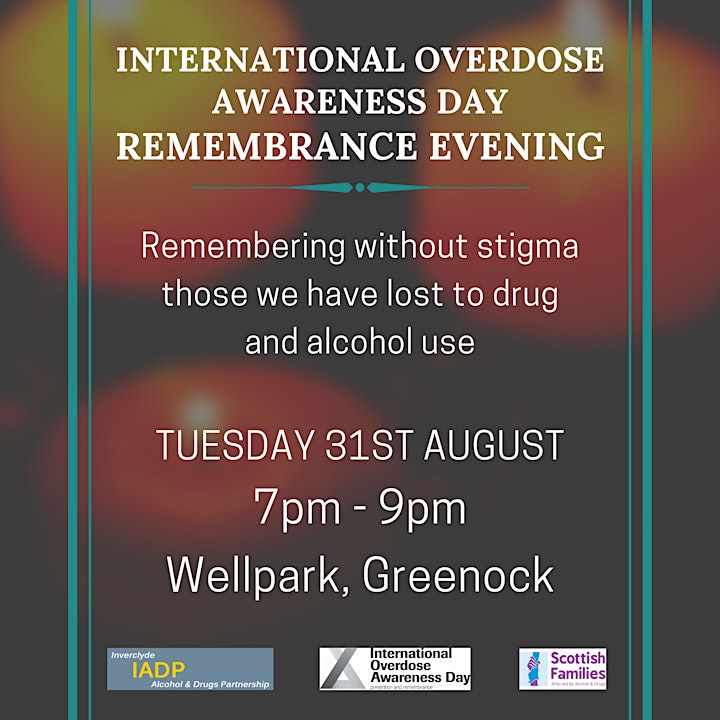 Organiser of Inverclyde Remembrance Event - International Overdose Awareness Day