Get the lowdown on creating and managing an investment portfolio that works for you in 2020.
About this event
Investment Portfolios 📈 | Webinar | 90 mins
In Partnership with Claro Money
Clueless about investing? Curious about how investing works and want to make it work for you?
Join us to chat with three successful investors with extremely different portfolios to gain a fresh perspective and a whole host of new ideas on how you can invest your own money to watch it grow.
Meet The Money Gurus
👉 Kia Commodore | Connect
Founder and Financial Educator - The Pennies to Pounds platform
👉 Charlie Fleming | Connect
ESG Ethical Investing Expert and Retail Investor
👉 Ellie Austin- Williams | Connect
Founder and Financial Educator - thisgirltalksmoney
What our panellists will be breaking down for you
See how our experts built a diversified portfolio that works for them
Find out the opportunities our experts have their eye on in 2020
Discuss the current trends in investing
Topics we'll be breaking down
Expert insight from an incredible panel of event hosts
Learn how you can start building a diversified portfolio
Get insight into saving and investment opportunities in 2020
Find out the trending financial products right now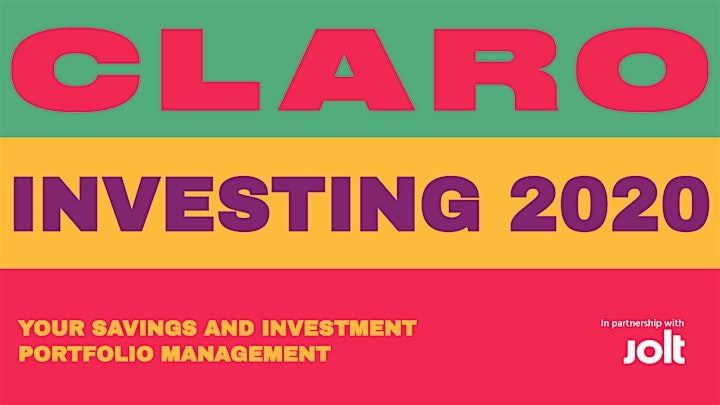 More about Claro
We're Claro and we believe that investments don't have to only be for the privileged or already wealthy. They can be for everyone. We want to create a new generation of investors who are both ethically and financially informed, inspired and confident.
We provide a platform and community that guides non-investors through a tailored journey of empowerment and planning, allowing them to create and execute personal investment goals.
FAQs about Claro
I can't find anything about Claro online. Why is that?
Claro is just starting out and our focus has been on creating as many great courses and content as possible to support you in your journey to better managing your money. T
I can't find the Claro App
Claro is busy building and testing our App! We'll be in the App store later summer 2020. If you'd like to sign up to get early access - you can here