Description
Il mercato immobiliare inglese è tra i più ambiti al mondo in quanto gode di una crescita costante da decine di anni. Con le conoscenze giuste e le persone giuste si possono davvero trovare delle grandi opportunità.
In questo seminario Windsor&Patania Consulting, un'azienda nata dalla collaborazione tra Ryan Windsor, esperto investitore immobiliare inglese e Giovanni Patania, investitore e Former Lead Architect di Foster+Partners, verranno spiegate le strategie e modalità chiave per create un "Property Business" in Inghilterra, gestito dall'Italia, che possa garantire la tua libertà finanziaria, beneficiando dei generosi ritorni di investimento delle aree chiave Inglesi.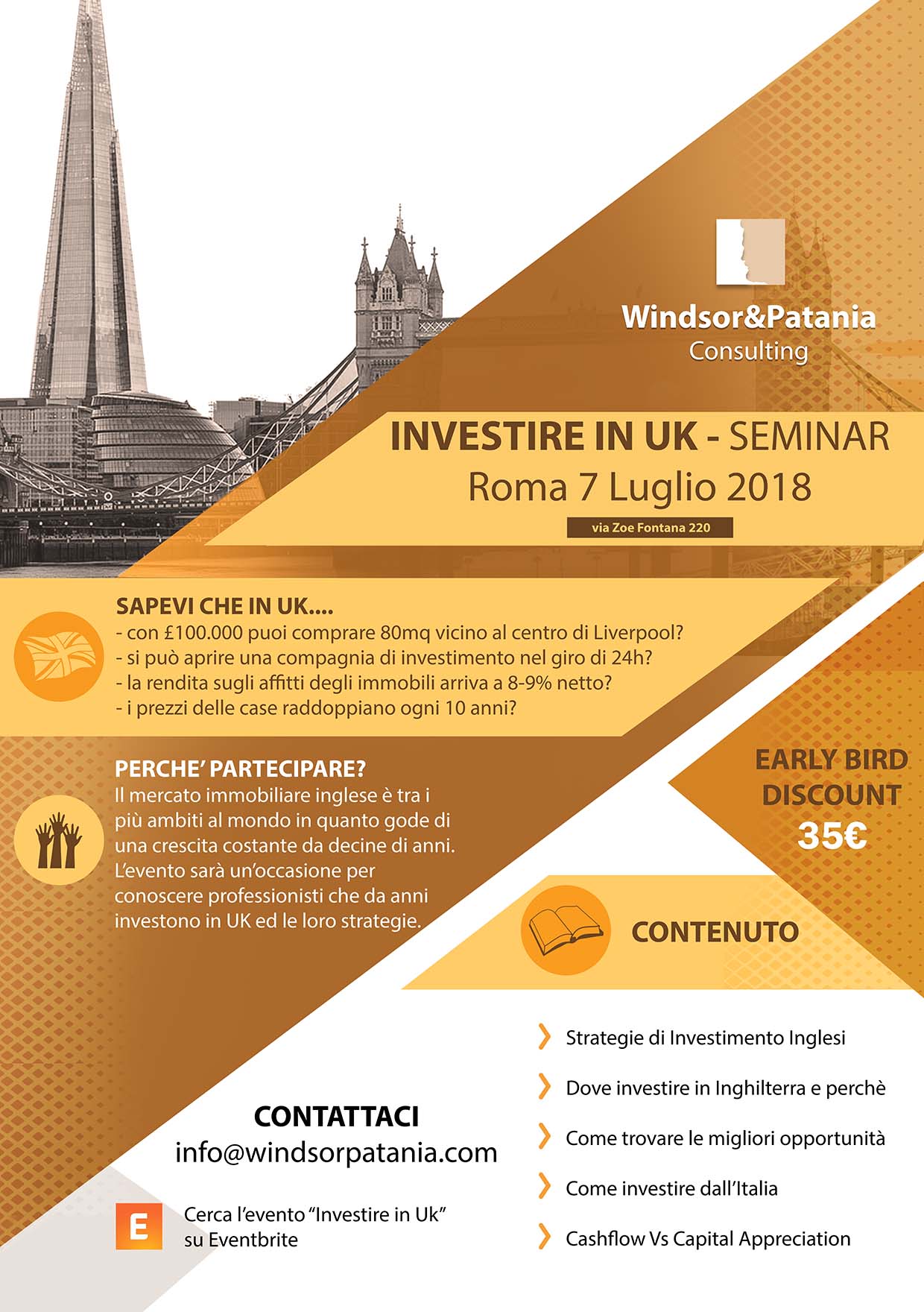 PROGRAMMA DEL SEMINARIO
8.30am: Registrazione e Networking
9.30am: Avvio Seminario
Introduzione alla giornata

Presentazione degli speakers

Argomenti del giorno
10.30am : Mercati a confronto
Perchè adesso è un buon momento per investire in Inghilterra

Problematiche e soluzioni nell'investire all'estero

Mercato Italiano a confronto col Mercato Inglese
11.30am: Strategie di Investimento Inglesi
Tipologie principali: differenza tra Cashflow e Capital Appreciation

Strategie per Cashflow: BTL, HMO, Rent to Rent

Strategie per Capital Appreciation: Fix and Flip, Change of Use, New Built
12.30am: Pranzo Business
1.30pm: Dove investire in Inghilterra e perchè
La differenza tra Nord e Sud

Ad ogni area corrisponde una diversa strategia

Londra, Birmingham, Liverpool, Manchester: Città a confronto
2.30pm: Come trovare le opportunità di investimento
Gli strumenti di ricercar inglesi ( Rightmove, Zoopla )

Differenza tra Real Estate Agents, Letting Agents e Sourcing Agents

Trovare proprietà sul suolo Britannico
3.30pm Come costruire il tuo Power Team
I componenti del tuo team in Inghilterra

I componenti del tuo team in Italia

Gestione del Team
4.30pm Implicazioni nell'investire dall'Italia
Tassazione Estera

Gestire un team a distanza

Gestire le proprietà a distanza
5.30pm Casi Studio
Caso Studio 1: BTL

Caso Studio 2: HMO

Caso Studio 3: Fix and Flip
6.30pm Domande e risposte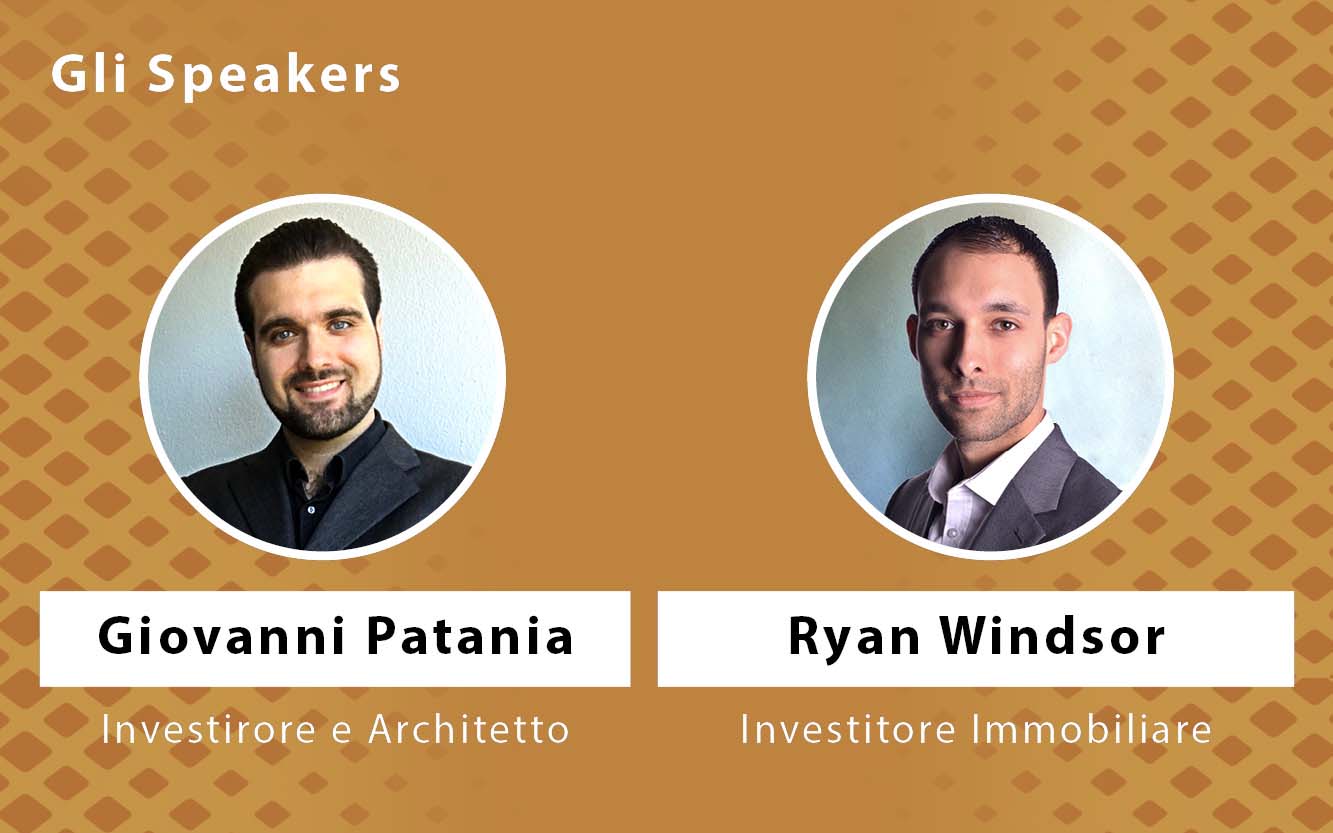 Ryan Windsor è un investitore immobiliare Inglese con un portfolio dal valore di diversi milioni di pound. Tra le numerose menzioni in riviste di settore inglese è anche apparso sulla copertina della sezione "Money" di Telegraph.
Links chiave:
http://ryanwindsor.co.uk/
http://www.telegraph.co.uk/finance/personalfinance/investing/buy-to-let/11767771/I-own-most-of-my-street-buy-to-let-investor-26.html
https://www.linkedin.com/in/ryan-windsor-49148336/
Giovanni Patania è stato Lead Architect a Foster+Partners, prestigioso studio inglese, dove ha gestito lo sviluppo del design del nuovo Apple Store sulle Champs Elysees a Parigi, uno sviluppo immobiliare dall'importo di all'incirca 60 Milioni di Dollari. Dopo l'esperienza a Foster, Giovanni ha aperto il suo studio di Architettura a Londra, specializzato nel collaborare con investitori inglesi per la realizzazione di sviluppi immobiliari di vario genere. La passione per gli investimenti lo ha portato a sviluppare un portfolio di proprietà per studenti a Liverpool e a fondare un evento di property networking di successo nel cuore di Londra.
Links chiave:
https://www.holbornpropertymeetuk.com/
http://windsorpatania.com/
https://www.linkedin.com/in/giovannipatania/