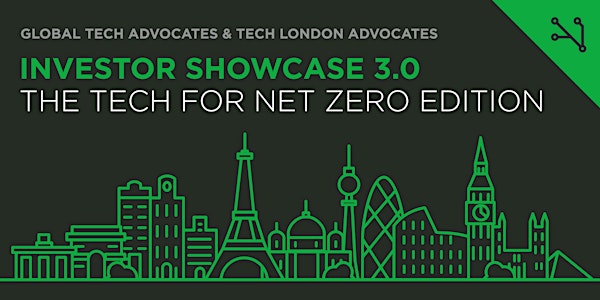 Investor Showcase 3.0: The Tech for Net Zero Edition
The Investor Showcase is back. IS3.0: The Tech for Net Zero Edition, is brought to you by Global Tech Advocates and Tech London Advocates.
About this event
The Investor Showcase 3.0 is returning in 2021 to discuss the single biggest challenge facing humanity – climate change.
Unlike previous iterations of the Investor Showcase, this will be a pan-European event that examines the role technology startups and scaleups can play in creating a net zero future, and the significant investment opportunities that will fuel the growth of green tech, clean tech, sustainability and circular economy innovations.
The Investor Showcase 3.0 will bring together the largest investors, most exciting entrepreneurs and most influential business and Government leaders from across Europe to discuss the opportunity for tech startups and scaleups to create a net zero future. Whilst COP26 is the world's intergovernmental conference on climate, the Investor Showcase will explore how growth capital and innovative firms can unlock a more sustainable tomorrow.
Speakers will include representatives from government, academia, and some of the UK's top technology investors including Bethnal Green Ventures, Lakestar and Beringea.
Here East is the headline partner for the event. Future Energy Ventures is the event sponsor.
Sign up now to register.
What is your company doing to combat the climate crisis? Take our survey here: https://www.surveymonkey.co.uk/r/TechforNetZero