Description
Investors Unplugged is a unique oppurtunity for you to gain direct connections to investors, practice your pitch and receive first-hand feedback.
firstminute capital will help you understand whether VC funding is right for your startup, what type of companies they invest in and what founders they are looking for.


Meet firstminute capital
firstminute capital was founded in 2017 by Brent Hoberman and Spencer Crawley. Brent was co-founder and CEO of lastminute.com, co-founded in 1998 with Martha Lane-Fox. The business went public in 2000, after being operational for 21 months, in an IPO offering 43x oversubscribed. In 2005, lastminute.com was acquired by Sabre for $1.1bn, one of Europe's first exited unicorns.
The following year, Brent co-founded an initiative to convene successful technology founders in Europe, to brainstorm about big ideas. Twelve years later, Founders Forum has become one of tech's deepest and most long-standing ecosystems, attracting superstar founders, heads of state, academics, thought-leaders and investors.
In the years that followed, ancillary businesses were spawned under the 'Founders' umbrella. Today that group encompasses a digital consultancy (Founders Intelligence), a recruitment firm (Founders Keepers), a charitable arm (Founders Pledge) and Europe's largest incubator-accelerator (Founders Factory), as well as initiatives to help talented young people found businesses (Founders of the Future) and to champion women in technology (Accelerate-Her). These businesses have partnered with and advise a global network of founders, governments, corporates and non-profits.
firstminute sits as an independent cousin to these businesses, all situated together in the same open-plan office in High St Kensington in London. It looks to contribute to and benefit from the reach provided by this wider group.
Lina Wenner is the first member of the firstminute investment team which she joined from the Boston Consulting Group, where she worked alongside global corporates across Consumer, Energy and Heavy Industrials, advising on digital strategy, restructuring and M&A as a member of the corporate finance team. She gained an MPhil in Management from the University of Cambridge and a Bachelor's degree in Psychology, Economics and Statistics from the University College Utrecht, the Netherlands, where she graduated with Summa Cum Laude.
At firstminute, Lina leads on sourcing for the Nordic and German-speaking regions and has a strong interest in digital health, robotics, direct-to-consumer brands and femtech. She sits as a board observer of Evolution AI (an NLP business), Infraspeak (a facility management SaaS company), and two stealth businesses.
Pitch your startup
The event will enable you to practice a 3 min investment pitch and receive honest feedback from the investor. There are 5 pitching slots available.
If you would like to pitch or have any general questions please email: taylor@bloomingfounders.com.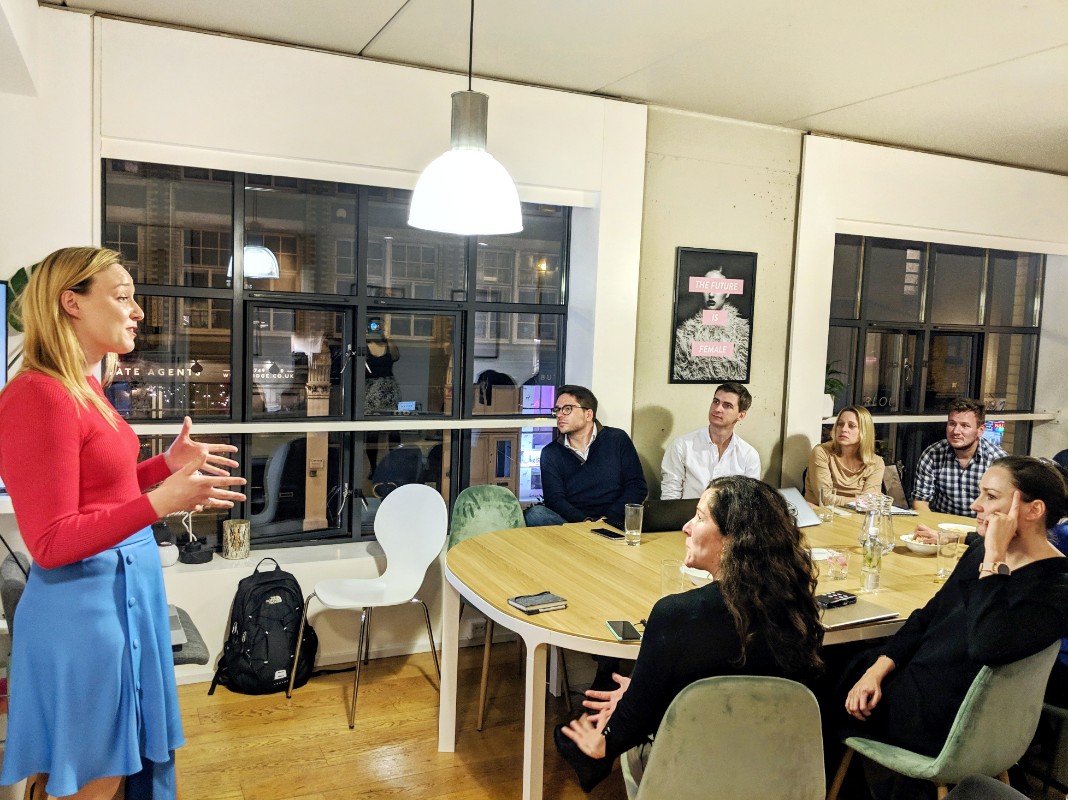 BROUGHT TO YOU BY



Blooming Founders is London's leading networking platform and coworking space designed for female founders.
Our vision is to break down the barriers that hold female entrepreneurs back and enable them to build big businesses.
We do this by helping them to expand their networks, by providing helpful business education, by facilitating access to investors and many things more.
We welcome people of all genders to be part of our community. Our network is industry agnostic and includes startups, small businesses, freelancers and charities alike.