Event Information
Location
Liberty Christian Ministries
1A Norbury Crescent
London
SW16 4JS
United Kingdom
'Invisible Chains Conference' London UK. Refuse to be bound any longer and walk in greatness!
About this event
Psalm 107:14 tells us 'He brought them out of darkness and the shadow of death And broke their bands apart'
Are you tired of walking in darkness? Are there areas of your life that have kept you bound. At times do you feel like a prisoner of circumstance or life happenstance. Are these chains visible or invisible that nobody can see apart from you and GOD? Do you even know what these chains are? How do you define them? Commence the journey to true liberation in Christ and refuse to be bound any longer. Join us for what promises to be a life changing experience. Restored And Walking In Greatness will welcome Women Who Pray Ministries as we Co-Host this event. One of our guest speakers will be Bishop Roger Kirksey, Mobile Alabama. Please look out for further guests.
If you would like to book a vendor table please do email your enquiry to Restoredtogreatnessaw@outlook.com.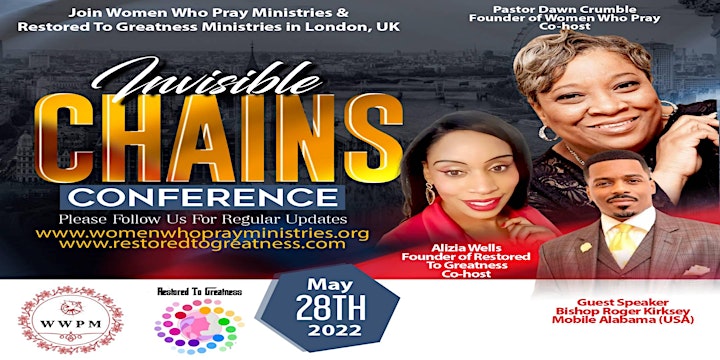 Date and time
Location
Liberty Christian Ministries
1A Norbury Crescent
London
SW16 4JS
United Kingdom