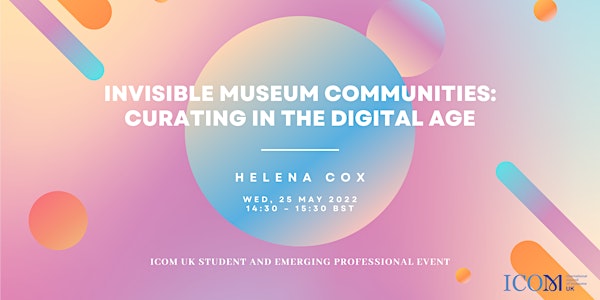 Invisible Museum Communities: Curating in the Digital Age
Celebrate International Museum Day with ICOM. Curator Helena Cox will touch upon methods, opportunities and challenges of digital practice.
About this event
Museum Talk
The post-covid era opens up a new field for museum workers to extend virtual connections online, which also processes new forms of social impact. However, how can we make 'invisible' audiences involved and generate conversations for making voices 'visible'? For ICOM Students and Emerging Professionals' meeting in May, art curator Helena Cox will touch upon the topics of different aspects of working with the University of York's art collection. With a focus on public engagement through digital practices, this talk will explore methods, opportunities and challenges for embracing unknown audiences via social media's power of connection.
Speaker
Helena Cox is an art historian and curator, recently appointed the inaugural Art Curator at the University of York, overseeing over 900 artworks from the University's collection, including works by renowned artists such as Barbara Hepworth, Keith Vaugh, Sidney Nolan and Aubrey Williams. Prior to this Helena worked as a Curator at Beverley Art Gallery in East Yorkshire where she cared for a collection of Victorian and Edwardian art and curated contemporary art shows with regional, national and international artists. Before moving to the UK, Helena worked as Curator at the National Museum in Prague, Czech Republic, where she was responsible for a collection of over 25k items of Japanese art and craft, and conducted an extensive series of research trips to Japan, the US and across Europe. Helena is currently finishing her PhD in History of Art at the University of York.
Calling for interest
ICOM UK Student and Emerging Professional Event, is a series of online events to bring together people of new generations in cultural studies and industries, aiming to circulate new ideas, create conversation, confront challenges and share opportunities.
We are building a network to bring together students and emerging professionals. If you would like to share your ideas or work with us, please let us know by filling the form. We look forward to meeting many of you soon. Google Form Link
Celebrate International Museum Day with ICOM
This online event is part of ICOM UK's programme for International Museum Day 2022: The Power of Museums. The themes for IMD 2022 are: (1)the power of achieving sustainability, (2)The power of innovating on digitalisation and accessibility, (3)the power of community building through education.
For more information, visit the International Museum Day 2022 website.
Co-organisers
Huaiyuan (Robert) Ren, ICOM UK Student and Emerging Professional Representative: hr262@kent.ac.uk
Louise Yang, PhD candidate, University of York: louise.yang@york.ac.uk