Invitation to west London -Ugadi and Sri.Sita Rama Kalyanam festival

Sunday, 9 April 2017 from 10:00 to 17:00 (BST)
Event Details
Jai Srimannarayana,
TeNF and JET UK cordially request you and your family to UGADI 2017  and *Sri Sita Rama Kalyanam 
Use this link https://goo.gl/pUUt65 to be part of this grand kalyanam event .
We are inviting 108 couples to be part of Kalyanam -marriage ceremony of Lord Rama and goddess Sita , It will be a life time opportunity to be part of this event outside India and represent one side of Groom or bride. kalyanam participation contribution will be £31 only .
We invite all the devotees to attend the grand celebration and take the blessings of the divine couple.
For Sponsorship /seva /service (Volunteering) use this link - https://goo.gl/hlo686
ఉగాది ఉత్సవాలు మరియు శ్రీ సీతా రాముల కల్యాణ మహోత్సవం (09/04/2017) 
మొదటి సారిగా 108 జంటలను రాముల వారి కళ్యాణం లో అవకాశం కలిపించ ప్రయత్నం. 54 జంటలు స్వామి వారి తరపున 54 జంటలు అమ్మ వారి తరపున కల్యాణ మహోత్సవం లో పాలుపంచుకునే అవకాశాన్ని వినియోగించు కోవాలని ప్రార్ధన . ప్రతి కుటుంబానికి ప్రత్యేక పూజలు ,ఆశీర్వాదములు,
ఉగాది పచ్చడి వితరణ ,పంచాంగ శ్రావణం
శుచి ,శుభ్రత తో తయారు చేసిన ప్రసాద వితరణ ( శాఖాహారులచేత తయారు ).
కళ్యాణం లో పాల్గొనే భక్తులకు శ్రీ సీత రాముల ప్రతిమ కానుక ఇవ్వబడును  https://goo.gl/pUUt65
రండి, శ్రీ సీతా రాముల కళ్యాణం చూదము రారండి .
క్రింది పోస్టర్ లో సంబంధిత వివరాలు పొందగలర
With best Regards
Team TeNF & Team JETUK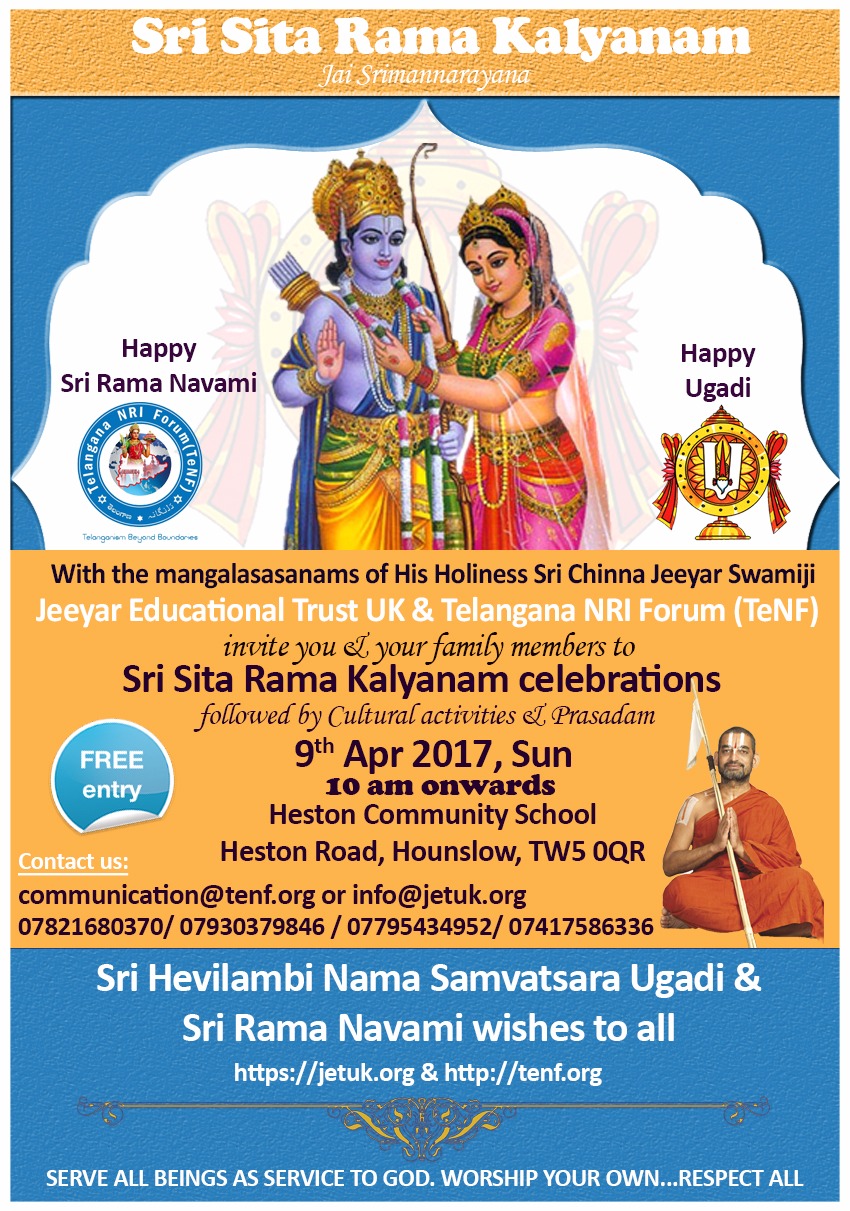 Do you have questions about Invitation to west London -Ugadi and Sri.Sita Rama Kalyanam festival?
Contact Team TeNF
When & Where

Heston Community School
Heston Road
TW5 0QR Heston
United Kingdom


Sunday, 9 April 2017 from 10:00 to 17:00 (BST)
Add to my calendar