Invitation to west London -Ugadi and Sri.Sita Rama Kalyanam festival

Sunday, 9 April 2017 from 10:00 to 17:00 (BST)
Who's Going

Loading your connections...
3 of your friends are going.
Share it to get more people on board.
Share

Sara Haughty
San Francisco, California

Luke Picard
London, United Kingdom

Rick Vespucio
Florence, Italy
Event Details
Jai Srimannarayana,
TeNF and JET UK cordially request you and your family to UGADI 2017  and *Sri Sita Rama Kalyanam in west London on Sunday 9th April 2017 at Heston Community School, Heston Road, Hounslow, TW5 0QR* from 10.am onwards .
Sri Sita Rama Kalyanam will be done as per the Vedic Culture.
We are inviting 108 couples to be part of Kalyanam -marriage ceremony of Lord Rama and goddess Sita , It will be a life time opportunity to be part of this event outside India and represent one side of Groom or bride.
Please call 07942939291 or use this link https://goo.gl/pUUt65 to be part of this grand kalyanam event and for Sponsorship /seva /service (Volunteering) use this link - https://goo.gl/hlo686
 Please register yourself for this FREE event so as to make the necessary arrangements.
We invite all the devotees to attend the grand celebration and take the blessings of the divine couple.
Look forward to see you .
ఉగాది ఉత్సవాలు మరియు శ్రీ సీతా రాముల కల్యాణ మహోత్సవం (09/04/2017) 
మొదటి సారిగా 108 జంటలను రాముల వారి కళ్యాణం లో అవకాశం కలిపించ ప్రయత్నం. 54 జంటలు స్వామి వారి తరపున 54 జంటలు అమ్మ వారి తరపున కల్యాణ మహోత్సవం లో పాలుపంచుకునే అవకాశాన్ని వినియోగించు కోవాలని ప్రార్ధన . ప్రతి కుటుంబానికి ప్రత్యేక పూజలు ,ఆశీర్వాదములు,
ఉగాది పచ్చడి వితరణ ,పంచాంగ శ్రావణం
శుచి ,శుభ్రత తో తయారు చేసిన ప్రసాద వితరణ ( శాఖాహారులచేత తయారు ).
కళ్యాణం లో పాల్గొనే భక్తులకు శ్రీ సీత రాముల ప్రతిమ కానుక ఇవ్వబడును
రండి, శ్రీ సీతా రాముల కళ్యాణం చూదము రారండి .
క్రింది పోస్టర్ లో సంబంధిత వివరాలు పొందగలర
Sri: Ra:ma Navami is one of our most important festivals. According to the Lunar Calendar, this festival is celebrated on the 9th day of Chaithra month that comes during 'Vasantha Ruthu', the spring season. It was on this day that Lord Vishnu was born as Lord Ra:ma. The sage Va:lmi:ki revealed the whole story to us in his book, Sri: Ra:ma:yana. This is the story in its short form.
$ Dasaratha was the king of Ko:sala and ruled the kingdom for 60,000 years. He had 3 wives Kausalya, Sumithra, and Kyke:yi. The King was very worried because he had no children. Sage Vasishta was his guru and as per his instructions, Dasaratha wanted to perform the Aswame:tha Ya:ga followed by Puthra Ka:me:shti. Sumanthra suggested that the king to bring Sage Rushya Srunga to perform Puthra ka:me:shti.
$ Under the guidance of sage Rushya Srunga, the king Dasaratha performed the Aswame:dha Ya:ga and the Puthra Ka:me:shti. At the conclusion of the ceremony, angel from the homa kunda(fire altar) presented the king with a divine gold vessel with rice pudding, pa:yasam, and king distributed it among his 3 wives. After 12months, Dasaratha was blessed with 4 wonderful children.
$ Kausalya gave birth to a baby boy in the Lunar month of Chaithra, on rising Navami, the 9th day, and under the star Punarvasu. This baby was Lord Vishnu himself. The next day, on star Pushyami, Queen Kyke:yi gave birth to another baby boy. Garuda was incarnated as this boy. Queen Sumithra gave birth to twin babies under the star A:sle:sha. A:dise:sha incarnated as the first baby and Vishwakse:na as the second baby.
$ On the 12thday, their guru, sage Vasishta, performed the rituals and the naming ceremony. The sage observed that Kausalya's son would be Ra:ma, because of 'ramayathi', he made everyone happy including demons. Kyke:yi's son was named Bharatha, because of 'ra:jyasya bharana:th', he was going to be forced to take the responsibility of the whole kingdom.
$ The twins of Sumithra were named Lakshmana and Sathrughna. Lakshmana meant the wealthiest one because Vasishta knew that Lakshmana was going to have the real wealth, which was constant service to Lord Ra:ma. The last one Sathrughna, means one who can destroy all his enemies.
$ The 9th day of Yuga:di was renamed as 'Sri Ra:ma Navami' in the memory of Lord Sri Ra:ma's birth. Ra:ma went to the forest along with sage Viswa:mithra to guard the Yajna when he was twelve years old. To show his gratitude, sage Viswa:mithra took Ra:ma to Mithila and performed the marriage of all four brothers with the consent of their father. So, we celebrate the Si:tha Ra:ma Kalya:nam, the divine wedding function also on this Navami day.
$ Rama ruled the country for 11,000 years and everybody loved Ra:ma for his human values. People celebrate Sri: Ra:ma Navami under the name of "Vasantha Nava Ra:thri". During the 9 day festival, Sri: Ra:ma:yanam is chanted every day and Ra:mali:la is displayed to the audience every night. His birthday and the Kalya:nam are both celebrated on the final day, Navami.
With best Regards
Team TeNF & Team JETUK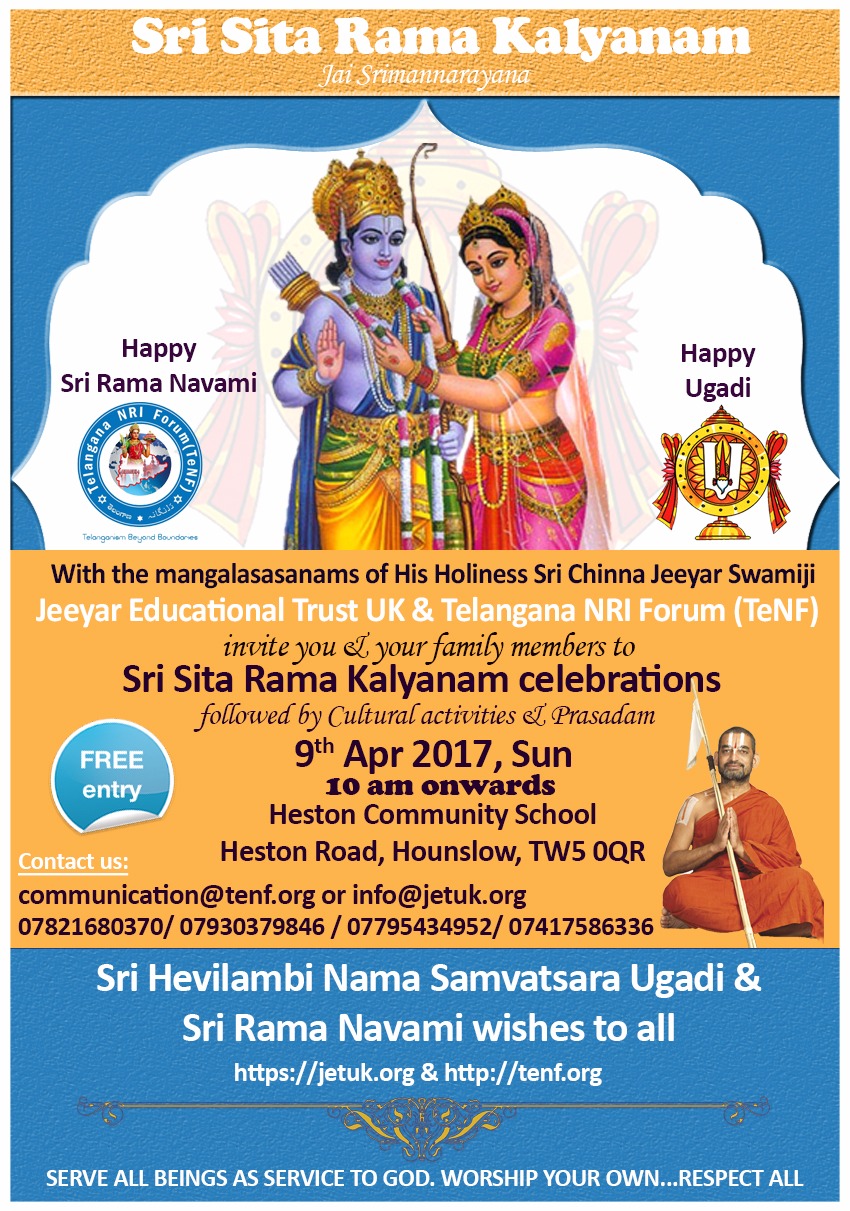 Do you have questions about Invitation to west London -Ugadi and Sri.Sita Rama Kalyanam festival?
Contact TeNF and Jet uk
Save This Event
When & Where

Heston Community School
Heston Road
TW5 0QR Heston
United Kingdom


Sunday, 9 April 2017 from 10:00 to 17:00 (BST)
Add to my calendar
Invitation to west London -Ugadi and Sri.Sita Rama Kalyanam festival