Involving the public and patients in research - sharing global practice and...
Description
This pre-AAIC one day conference brings together delegates from different countries to discuss how persons with dementia and their care partners can become a more essential part of research processes. Following a successful event last year in Toronto we invite UK and international guests, to come together in London share examples of successful involvement in dementia, towards bringing common understanding of the emerging science of patient involvement. This inclusive meeting will allow anyone wishing to share their experiences of patient involvement in research through the interactive sessions.
Objectives
Share innovative practice of how people are being involved in research

Discuss the impact of patient involvement

Take away practical ideas that delegates may expand in their research or organisation

Build connections globally to researchers interested in the impact of involvement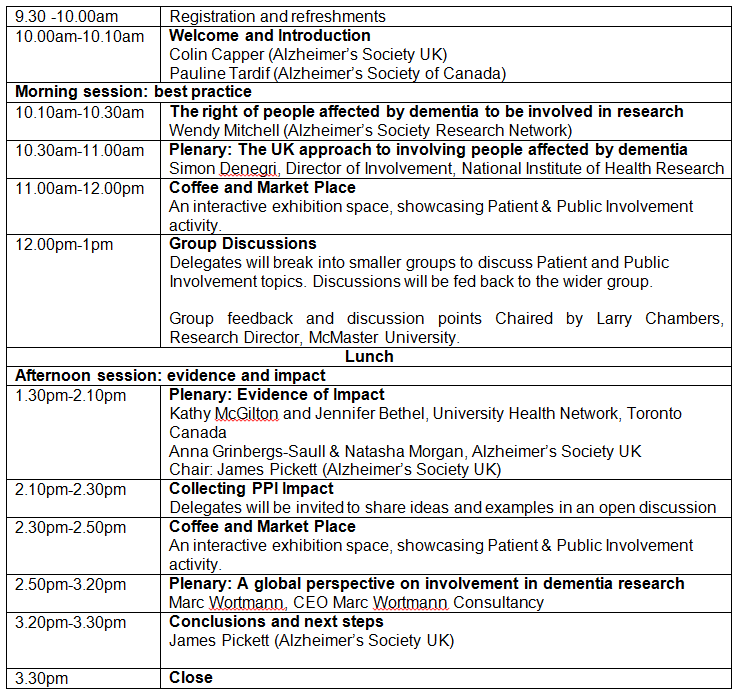 The Market place sessions are open to all delegates and offer the opportunity for you to discuss your experiences of patient involvement with small audiences. If you have been involved in a project or initiative, then this is the chance to share your experience. If you would like a space in the market place, please contact ResearchNetwork@alzheimers.org.uk with a brief summary of your activity. Please also indicate whether you need a wall space or a table.
Registration for this event is free, although places are limited, and will include lunch and refreshments. Unfortunately, we will not be able to reimburse travel expenses.