Description
What is your time worth? - Lessons from sole fundraising with Adrienne Gregory
As fundraisers, we spend so much time getting people to say yes, sometimes we are not paying enough attention to the opportunities where we should have said no. This is no truer than as a sole fundraiser, where the whole field of fundraising is potentially on the table. Adrienne Gregory will share techniques for calculating return-on-investment, making time count in the right areas, and managing priorities from her four years of 'going solo'. With something to learn whether you are a sole fundraiser or part of a larger team, there will be a lot of hard learned lessons from years of making tough but profitable decisions.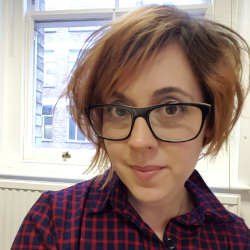 Adrienne Gregory is currently a Major Donor and Corporate Manager for Buttle UK. However, prior to this move, Adrienne spent 4 years juggling every specialisation imaginable as a sole fundraising role, first for Africa Educational Trust and then One to One Children's Fund.
Lessons learned from those four years, especially around calculating return on Investment and prioritisation, continue to define for Adrienne what it means to be a successful fundraiser, even as her time is more focused within her current role.
Follow the event on #IOFThursday
NOTES:
We are no longer offering free drinks.
Concession tickets are now considered by application, please email us if you want a concession ticket.
Impact Hub King's Cross is a cash-free venue, the bar only accepts card payments
We are unable to offer any refunds or transfers
The IoF South East & London Region are looking for speakers for First Thursday events for 2019-20. If you are interested, please use the online form to submit your details.
---
Please arrive by 6pm at the latest to take full advantage of 20 Minute Masterclass.
This is the programme for the evening:
6.00pm - Arrival
6.30pm - Introductions and 20 Minute Masterclass
6.55pm - Q&A
7.15pm - Networking with nibbles
The bar is open for you to order drinks yourself, and we provide delicious nibbles. Whether or not you've attended one of our networking meetings before, why not come along and make the most of this enjoyable social opportunity?
---
Sponsored by Eden Brown
As one of the first specialist Third Sector recruiters in London, Eden Brown have been supporting Fundraisers and have worked in partnership with charities and not for profit clients for over 25 years. We are really proud to play a part in such a special sector and feel passionate about the contribution we make to our candidates careers and to the growth and development of our clients.

Over the years we have evolved into one of the leading recruitment specialists in the sector, our charities team has grown throughout the UK and we now have dedicated regional consultants in Yorkshire, North West and the Midlands. We recruit across all income streams, from officer level up to senior appointments and have four specialist consultants in our London office who support income generation based roles, both temporary and permanent.
---
Sponsored by Zaffo
Zaffo are the only 'digital first' society lottery and raffle company in the UK. At the heart of everything they do is a sophisticated software platform which has been built from the ground up to meet the specific needs and challenges of this successful and fast-growing style of fundraising. The friendly Zaffo team of experts will help you get your raffle, lottery or prize draw campaigns up and running in no time. They can even help your existing offline lottery or raffle grow faster, and be even more cost-effective.
---
Where possible, we book reserve speakers for each First Thursday. These speakers will be able to give the 20 Minute Masterclass on a similar topic if our speaker is no longer able to attend. If due to unforeseen circumstances, the speaker at a First Thursday event is unable to attend, we will notify you, and give you the details of the reserve speaker. We will email you via the address provided on the booking form as soon as possible. All those who have booked for the particular First Thursday will be able to cancel their place up to 2pm on the day of the event. If we are unable to confirm an alternative speaker for a First Thursday event, we will still go ahead and will facilitate a group discussion in place of the 20 Minute Masterclass followed by a networking session.
---
Privacy Notice
The Institute of Fundraising of Charter House, 13-15 Carteret Street, London SW1H 9DJ is the Controller. Our Groups are run by volunteers who are members of the Institute of Fundraising. Eventbrite is the Controller for information you provide when paying by card.
The information you provide will be used in the following ways:
a. To administrate your attendance at the event
b. To gain follow-up feedback from you about the event you have attended – this may be sent by e-mail post event or be collected in hard copy at the event
c. If you agree, we will contact you about other specific Institute of Fundraising services which may be of interest to you
d. For analysis and research to help us improve our services and event management
For further information on how your information is used, how we maintain the security of your information and your rights of access to information we hold on you, please see our privacy policy on www.institute-of-fundraising.org.uk/privacy-policy/.
If you would like to know more about the Institute of Fundraising's services including our regional and special interest groups, courses, events and mentoring schemes, please visit our registration page at www.institute-of-fundraising.org.uk where you can register or manage your preferences.
You don't have to be a member of the Institute of Fundraising to register and we will only contact you in relation to the options you have selected.
You can unsubscribe or change your preferences at any time.
Organiser of IoF South East & London - First Thursday (5th December 2019)