Description
Welcome to ION_BRU, Scotland's Nanopore User Group.
This page is to sign up for our June meeting. Anyone is welcome to come whether or not they sign up, but if you intend to eat the provided lunch and drink tea & coffee please do sign up so we buy enough!
There will be an optional new user discussion group from 11:00 for those who are new to the technology. This meeting we will discuss the Nanopore Community website and what resources and tools are available to you on it. This session will be particularly useful for those who do not yet have access to the website and will be followed by a tea & coffee session in which further discussion on other topics can take place.
This will be followed by welcome tea & coffee at 11:30 open to everyone.

The main meeting will run from 12:00-14:30 and will include talks from Mike Gallagher, Melanie Clerc & Rebecca Dewar, Stefan Rooke, Aine O'Toole, Thorsten Forster and Amanda Warr, and there will be opportunities for networking (and more tea & coffee). Additionally members of ION_BRU who attended Nanopore's London Calling conference will share their highlights from the meeting and discuss the most useful information they learned there.
There will be another optional discussion group immediately following the main meeting from 2:30pm-3pm for current users to discuss what they are working on with other users and there will be opportunities to seek general advice & exchange ideas.
We're curious about the yields and read lengths any current users have been obtaining. Please make a note of the read length of your longest read*. If you are using standard MinION flow cells (NOT PromethION) please make a note of the highest yield you have obtained from a flow cell. There are trophies and bragging rights to be won! The trophies are currently held by Dami Oresegun with a max read length of 97,767 and max yield of 7.11GB.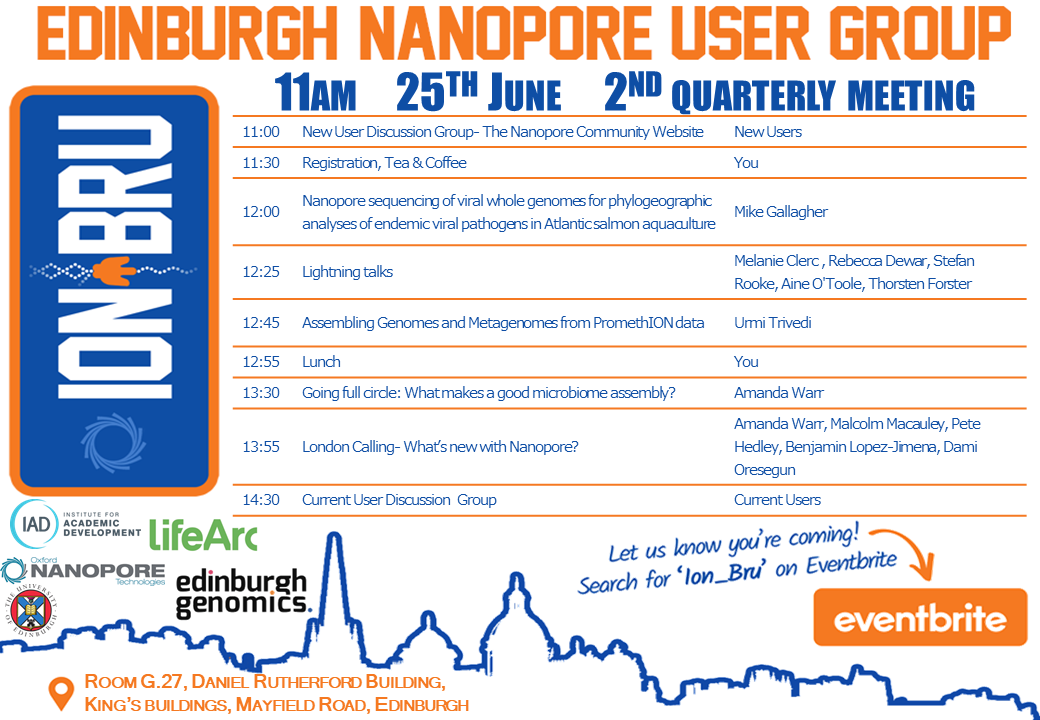 *Read must align to a reference, "read length" here is the length of the sequence itself and not the length of the region it maps to, use of whale_merge.py (https://www.biorxiv.org/content/10.1101/312256v1) acceptable and encouraged.
Topics of lightning talks are:
Establishing methods to use minION sequencing as a rapid diagnostic tool for respiratory infections in intensive care settings
Sequencing plasmidomes in Busia, Kenya
Developing MinION surveillance methods for Norovirus outbreaks in a clinical setting
Accessing resources for translating NGS-based diagnostic ideas into clinical us