Description
READ FULL EVENT DESCRIPTION HERE.
We are thrilled to have with us three leading companies in the IoT cloud sector who will share invaluable insights and exceptional advices. Join us on the 6th of April to learn from:

- The multinational technology company who developed the question answering computer Watson and the cloud platform Bluemix (IBM).
- The corporation behind one of the leading IoT cloud platforms on the market today, Azure IoT Suite (Microsoft).
- The company who develops the only enterprise-ready technology platform that enables innovators to rapidly develop and deploy smart, connected solutions for the Internet of Things (ThingWorx).

See agenda below for full info about the speakers.

Drinks will be served throughout the night.
Hardware Pioneers is kindly sponsored by Intel and Cocoon Networks.
---
About the speakers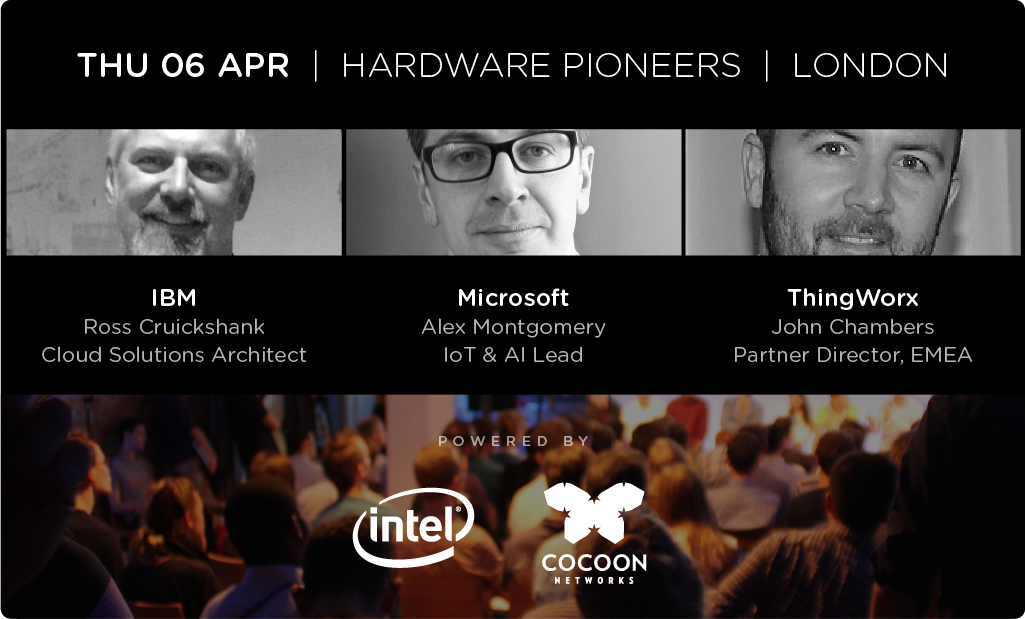 Ross Cruickshank - Cloud Solutions Architect at IBM
Talk title: TBC
About the speaker:
About the company: IBM is an American multinational technology company headquartered in Armonk, New York, United States, with operations in over 170 countries. IBM manufactures and markets computer hardware, middleware and software, and offers hosting and consulting services in areas ranging from mainframe computers to nanotechnology. Inventions by IBM include the automated teller machine (ATM), the floppy disk, the hard disk drive, the magnetic stripe card, the relational database, the SQL programming language, the UPC barcode, and dynamic random-access memory (DRAM).
IBM Launches new global HQ for Watson IoT - Video
IBM Insights for a Connected World for Electronics - Video
Alex Montgomery - IoT, AI & Advanced Analytics Lead at Microsoft

Talk title: Data-driven Systems of Intelligence
About the speaker: Alex has spent more than 18 years in the technology industry, the last 7 of which have been at Microsoft in a number of product, sales and strategy roles. He has a background in business applications and has a passion for helping customers drive transformational outcomes through the use of technology. In his current role, Alex holds accountability for product strategy across Microsoft's IoT offerings and cloud based analytics capabilities - which include the Cortana Intelligence Suite and cognitive data services.
About the company: Microsoft is an American multinational technology company headquartered in Redmond, Washington, that develops, manufactures, licenses, supports and sells computer software, consumer electronics and personal computers and services. On October 2008 Microsoft announced Azure, a cloud computing service for building, deploying, and managing applications and services through a global network of Microsoft-managed data centres.
Tap into the Internet of Your Things with Azure IoT Suite - Video
Azure IoT Developer Overview - Video
John Chambers - Partner Director EMEA at ThingWorx
Talk title: Connecting the dots with Partners in the IoT Ecosystem
About the speaker: Psychologist turned Sales Guy/Tech enthusiast. Working for one of the leading Industrial IoT Platform having worked in Telco and IoT Roles for 10 years. Personally interested in how technology can support physical health outcomes through behaviour change but my day job is working with our Major Partners who use ThingWorx to build IoT Solutions.
About the company: ThingWorx, a PTC Technology, provides the leading Internet of Things (IoT) application platform and development tools with the most advanced cloud-based service and software for managing connected products and machines.
Vital Herd and ThingWorx Powering an IoT Ecosystem - Video
Why ThingWorx Was Founded - Video
---
Agenda
6:30pm - Arrival and registration.
6:40pm - Drinks and networking.
6:50pm - Event opening.
7:00pm - Ross Cruickshank - Cloud Solutions Architect at IBM
7:20pm - Alex Montgomery - IoT, AI & Advanced Analytics Lead at Microsoft

7:40pm - John Chambers - Partner Director EMEA at ThingWorx
8:00pm - Community announcements and demos: This is your time. If you would like to share what you are working on with the community or make any sort of announcement. You have 2 minutes max for a short shoutout.
8:20pm - Drinks and networking.
9:30pm - Event ends.
---
Local partners
ihorizon - London based accountants specialising in outsourced accounting and finance solutions to entrepreneurs and tech startups in the UK and US.
---
About Hardware Pioneers
Discover more about Hardware Pioneers on our website.
Get notified about future events by subscribing here.
Check out what people say about @HdwPioneers on Twitter!