IoT Day Slam 2020 Internet of Things Conference; On-Demand Access
Event Information
Refund policy
Refunds up to 30 days before event
Description

IoT Community's IoT Day Slam 2020 VIRTUAL conference, in celebration of World IoT Day 2020 #IoTDay
--------
Welcome to the Second Annual IoT Day Slam 2020 conference, in celebration of World IoT Day 2020 and the Internet of Things Community's eleventh international conference - which took place on April 9th, 2020 held virtually on-line. Purchase your exclusive access to this amazing event now!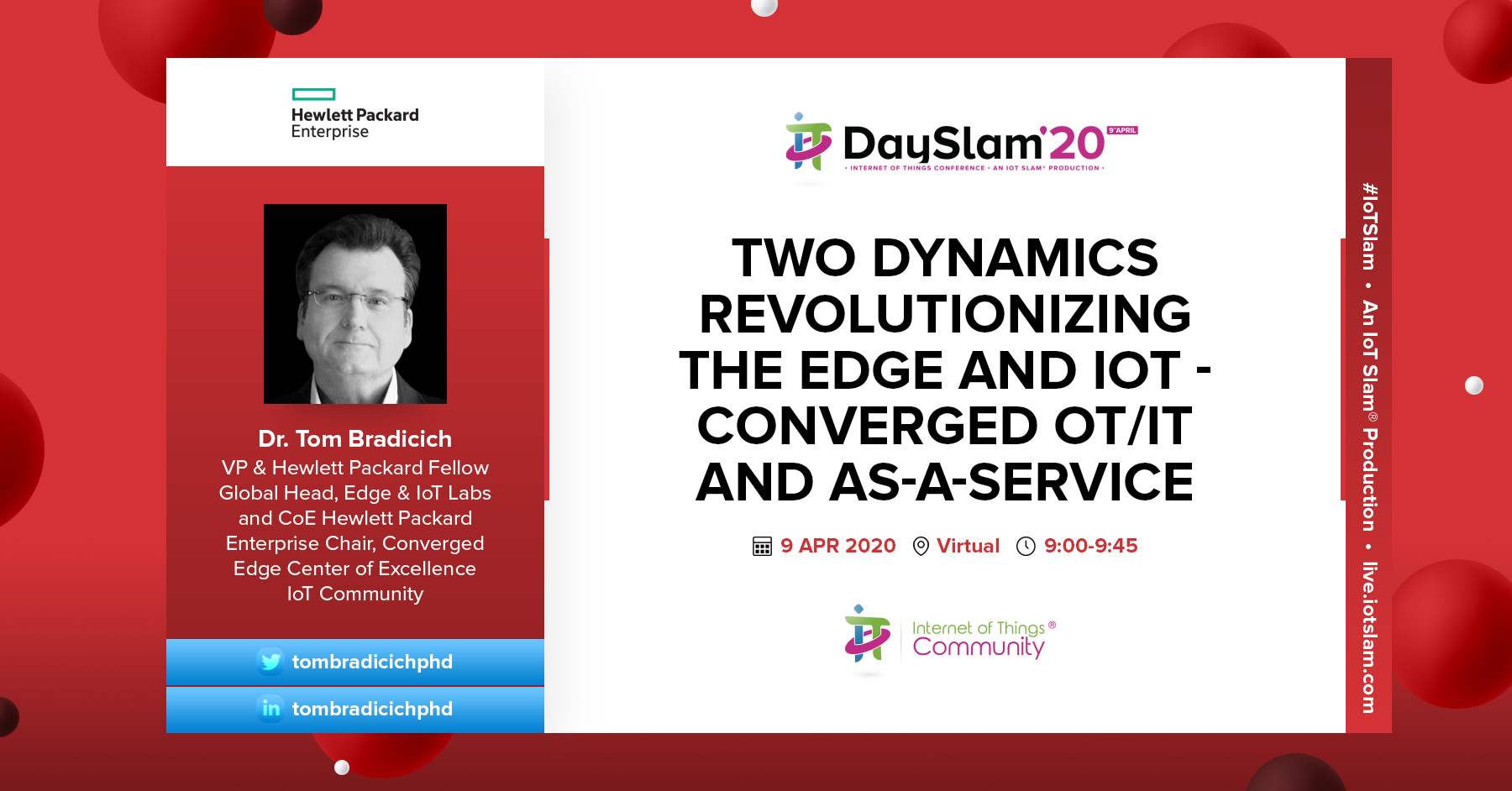 The theme of the Conference is "Internet of Intelligent Things". The papers, presentations, and events at the conference are focused on contributions to nurture, cultivate, enhance and accelerate the adoption of IoT technologies and applications for the benefit of society. In the past year, the Internet of Things has experienced significant growth in the number of deployments, in the resource investment from both industry and governments, and in attention from technologists in almost every discipline. The term IoT captures the vision of a connected world where things, people, and their institutions can interact purposefully to create better lives and sustainable stewardship of the planet.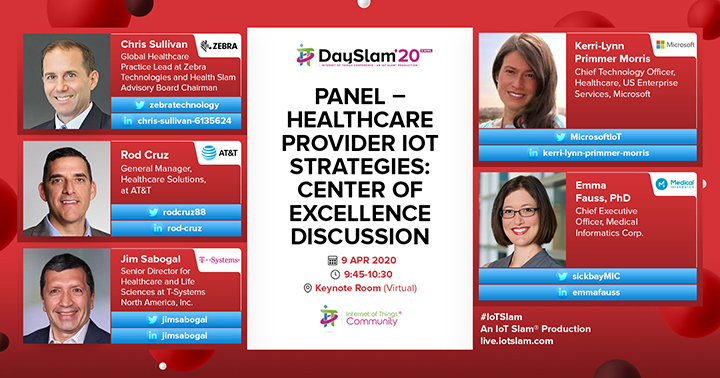 IoT Community curated the April 9th event and present it's Second Annual IoT Day Slam 2020, in celebration of World IoT Day, delivering its eleventh marquee IoT Slam conference broadcast virtually to thousands of IoT practitioners and enterprise / IIoT professionals.
Register for on-demand access to see world class keynote speakers, engaging panel topics and panelists, on-topic user centered content, interactive workshops and meaningful tutorials to provide insight, results, and key takeaways that can be leveraged post event.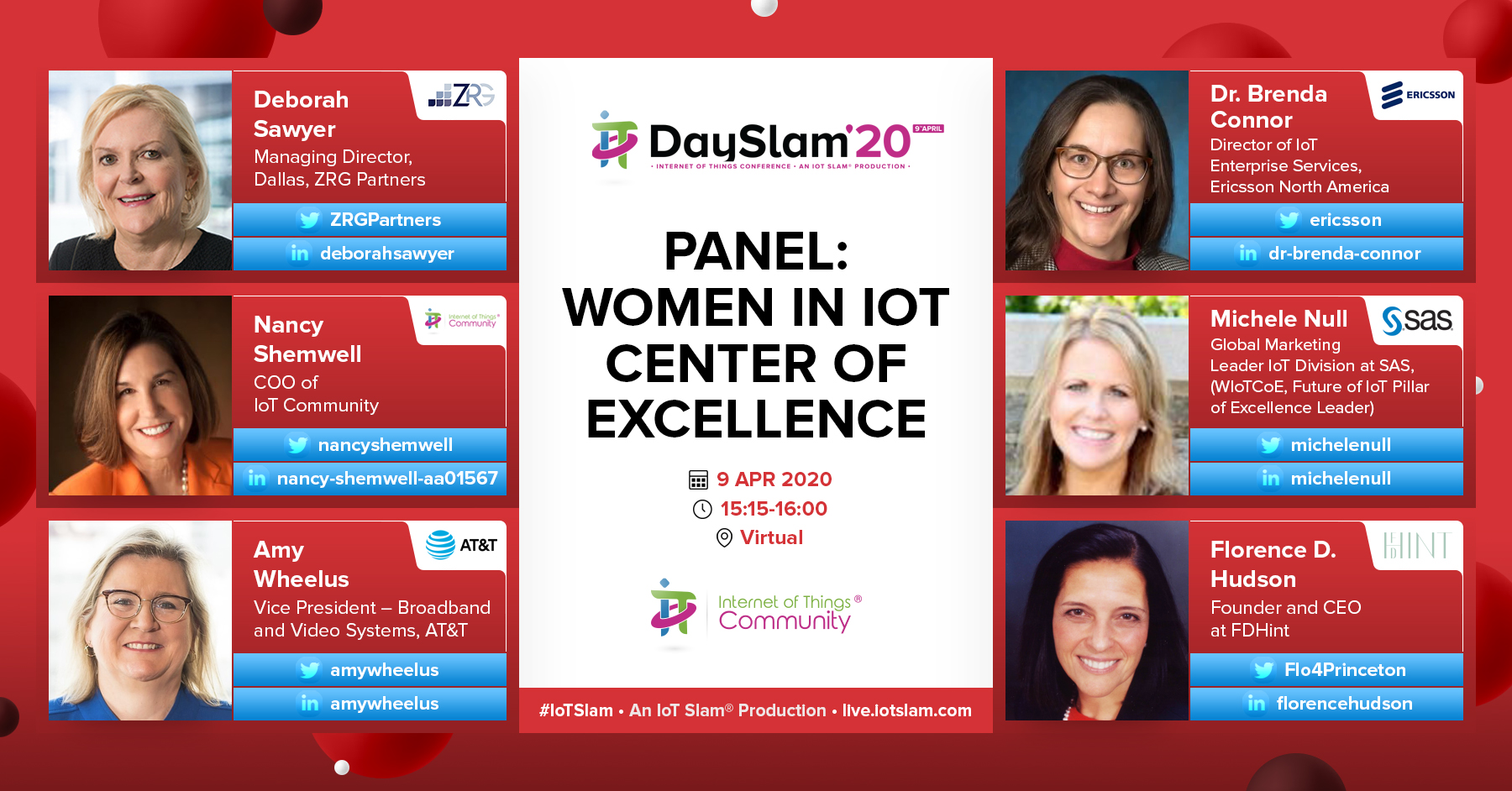 Who should attend IoT Slam?
Software and hardware—engineers, researchers, roboticists, makers, developers, designers, founders of startups, and innovators— to join us in New Orleans, USA – to explore what lies ahead as software increasingly interacts with the physical world.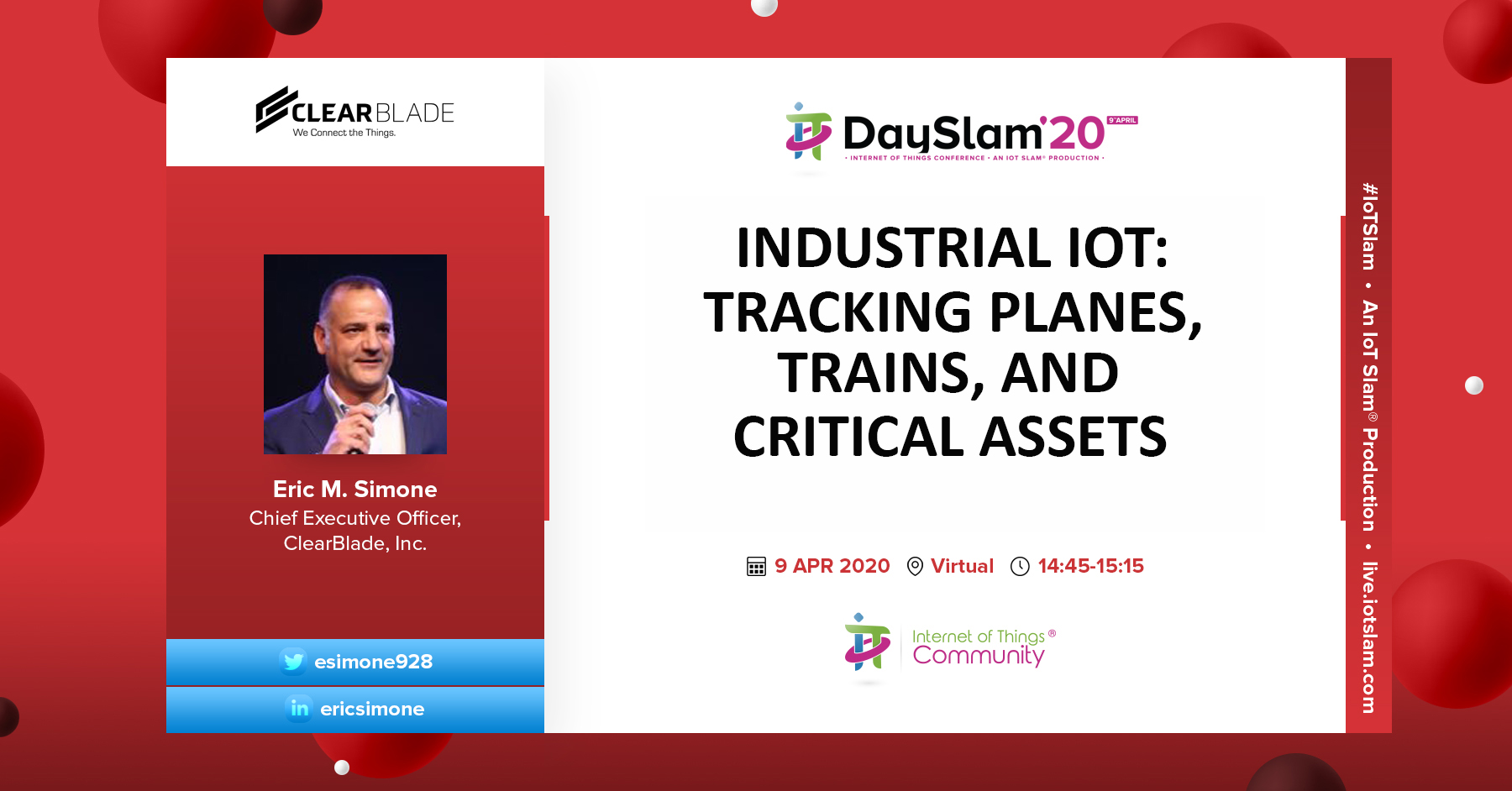 This includes:
Company leaders who want to; understand the actual revolutionary interruption of IoT, keep competitive, and understand a uncharted enterprise model involving IoT exactly where end-points can also be solutions.

Business Line Executives who are seeking to leverage the power of IoT and take ownership of driving change within their enterprise cultures.

IoT Practitioners who want to learn how to implement and benefit from IoT

Hardware designers who want to better align their IoT strategy to be connected, smart, and adaptive.

Software programmers who produce smart, cost-effective, and intelligent applications.

Innovators and Start-ups creating the latest solutions to improve efficiencies, increase productivity, attract finance, and mature across the partner eco-system

Government Policy Makers and Regulators who define, legislate, implement, and build smart / connected infrastructure to improve the consumer way of life.

Investors who want to find their next big investment opportunity and stay ahead of their competitors.
Horizontal Audience focused content aimed at following industries: Retail, Manufacturing, Healthcare, Banking & Finance, Insurance, Life Sciences, Government / Public services, Telecommunications, Automotive, Media & Entertainment, Utilities, Engineering, Construction, Retail / CPG, Pharmaceutical, Consumer Electronics, Business Services amongst others.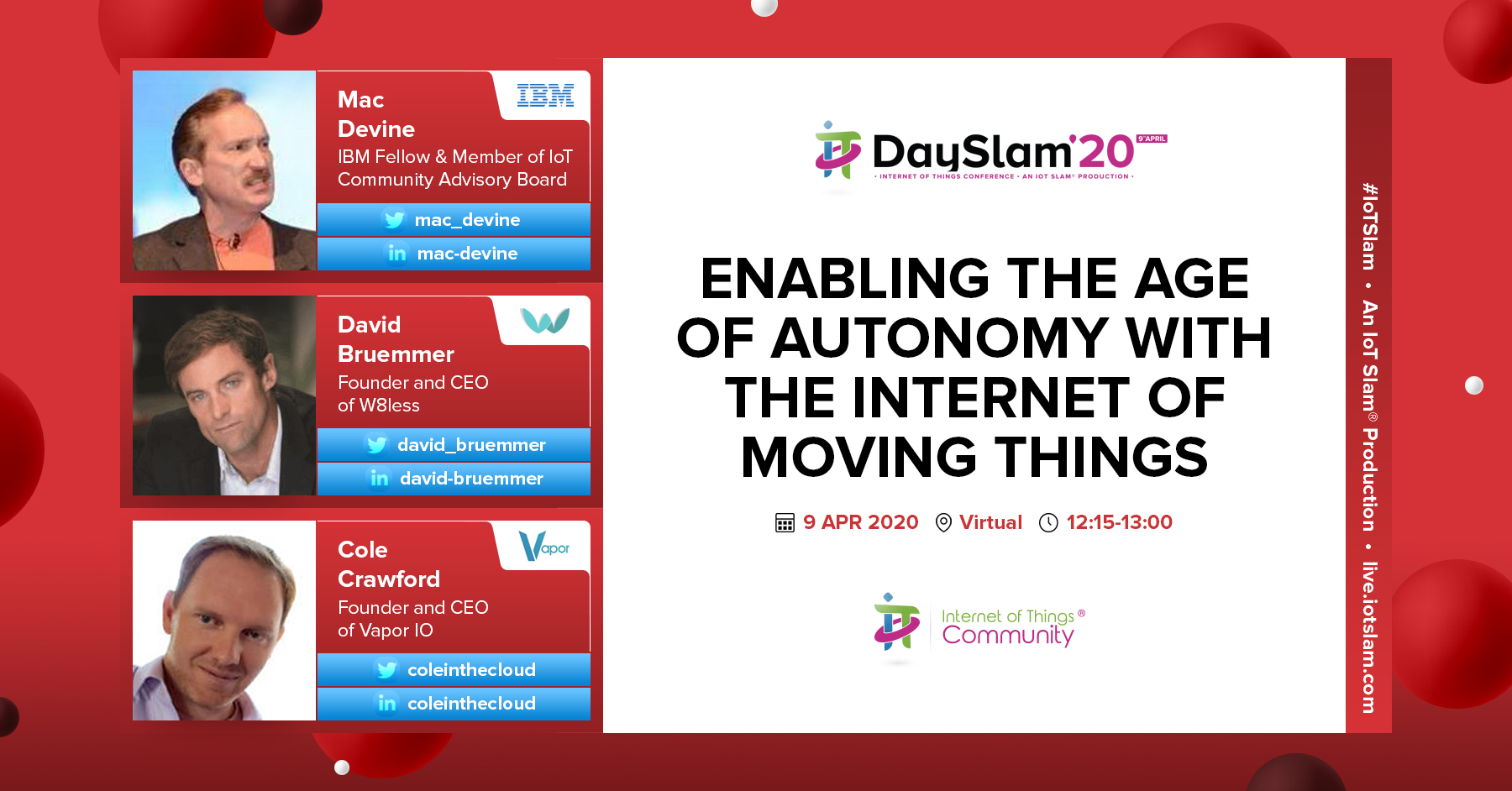 The event is an essential resource for IoT practitioners, Enterprise IT and Business Line executives, in the following positions and functions:
CEO, CIO, CTO, CFO, CSO, CRO, CISO, Co-Founder, Chief Architect, Chief Innovation Officer, Head of IoT projects, M2M Director, Chief Scientists, Managing Director, Director of MIS, Director of Communications, Systems Software Managers, Facilities Manger, Director of GRC, Data Center Manager, Security Manager , Compliance Manager, Risk Manager, VP of Information Technology, Head of Business Systems, VP Applications, EVP Sales, EVP of Marketing, Head of Networking, VP of Communications, VP Finance, VP Strategy , General Managers, VP Operations, Cloud Computing, VP Administration, Head of Client Support, Head of Production , VP of Product Management, Head of Security , Head of Disaster Recovery, VP Data Center, Head of Services, VP Software Development, Ecosystem Solutions Architect, Software Architect, Software Engineer, Software Specialist, Solutions Marketing, Senior Program Manager , Software, IP & Delivery Systems, Senior Director, Senior Engineer, Customer Business Transformation, Infrastructure Architect, Analyst, Architect, Advisor amongst others.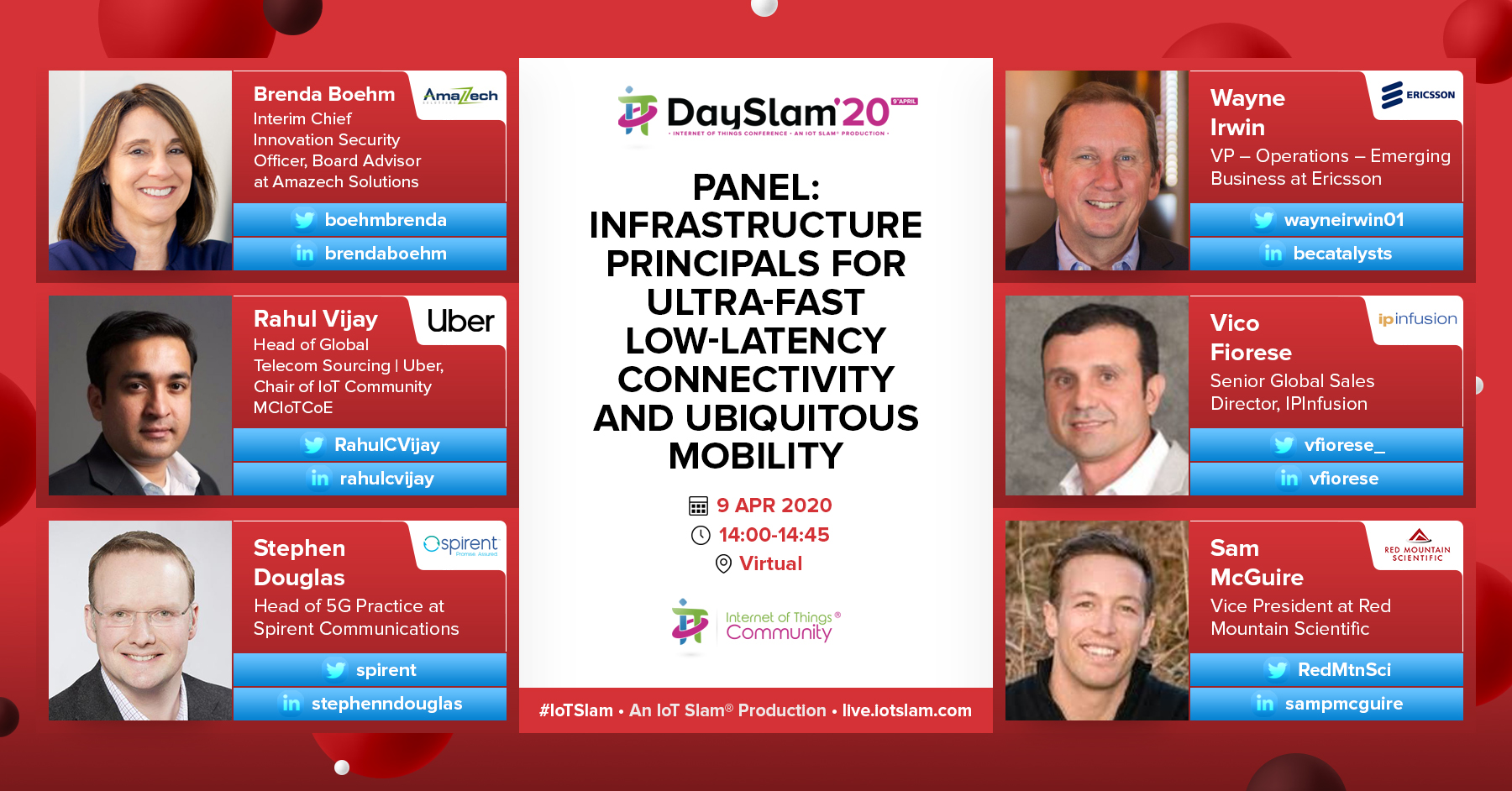 Themes & Topics:
IoT Vertical Sessions
Agriculture

Energy and Power

Environment and Ecology

Healthcare

Industry and Manufacturing

Smart Cities
IoT Topical Area Sessions
Artificial Intelligence and Machine Learning

Communications and Connectivity (including RFIDs)

Computing and Information Processing

Data and Data Engineering

Security and Privacy

Sensors and Sensor Systems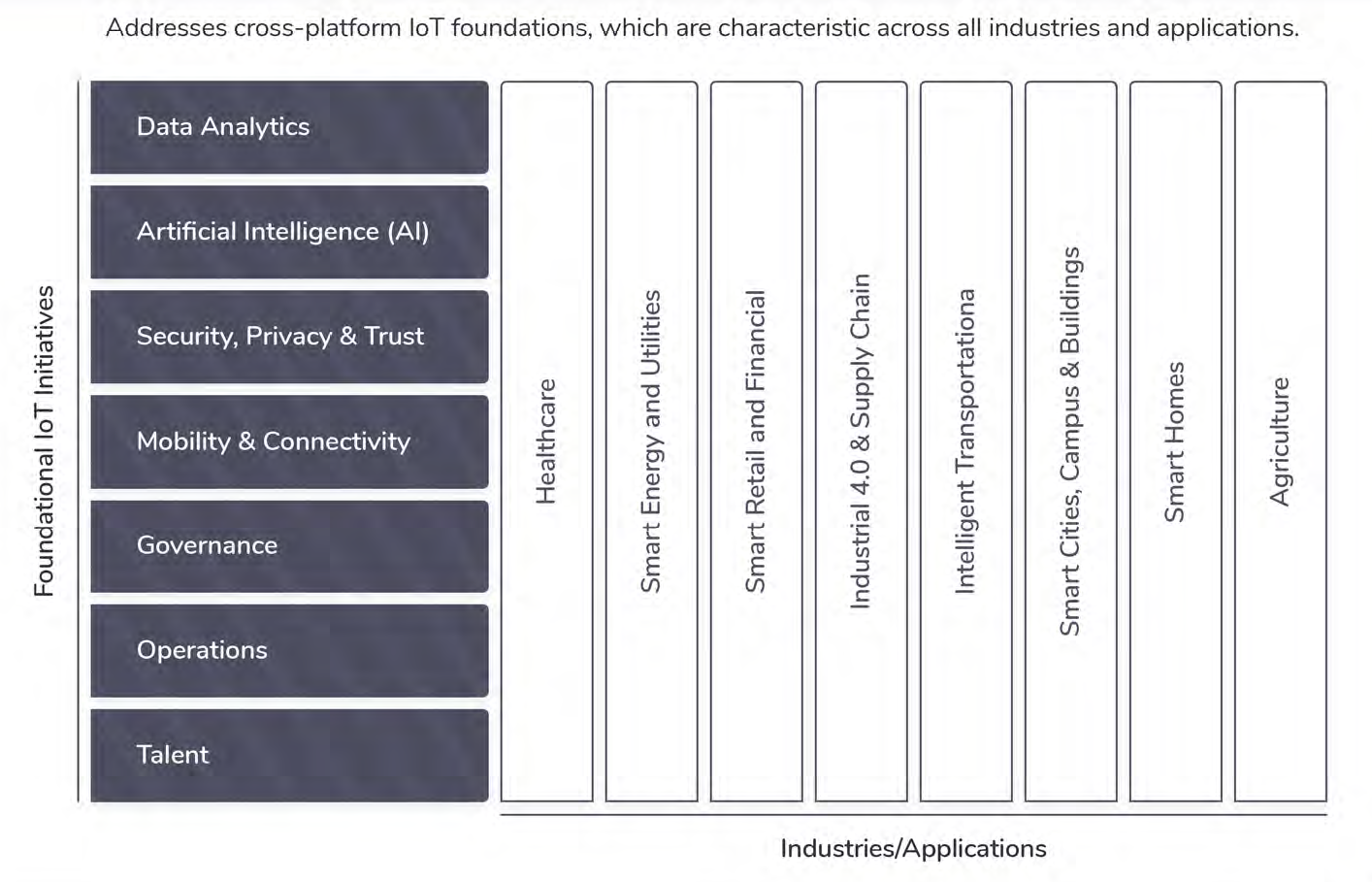 For full details about IoT Slam 2020, please visit:
https://live.iotslam.com
If you require any assistance registering, please send us a mail to info@iotslam.com
By registering to the event, you agree to our terms and conditions - full details can be found at https://iotslam.com/privacy-policy/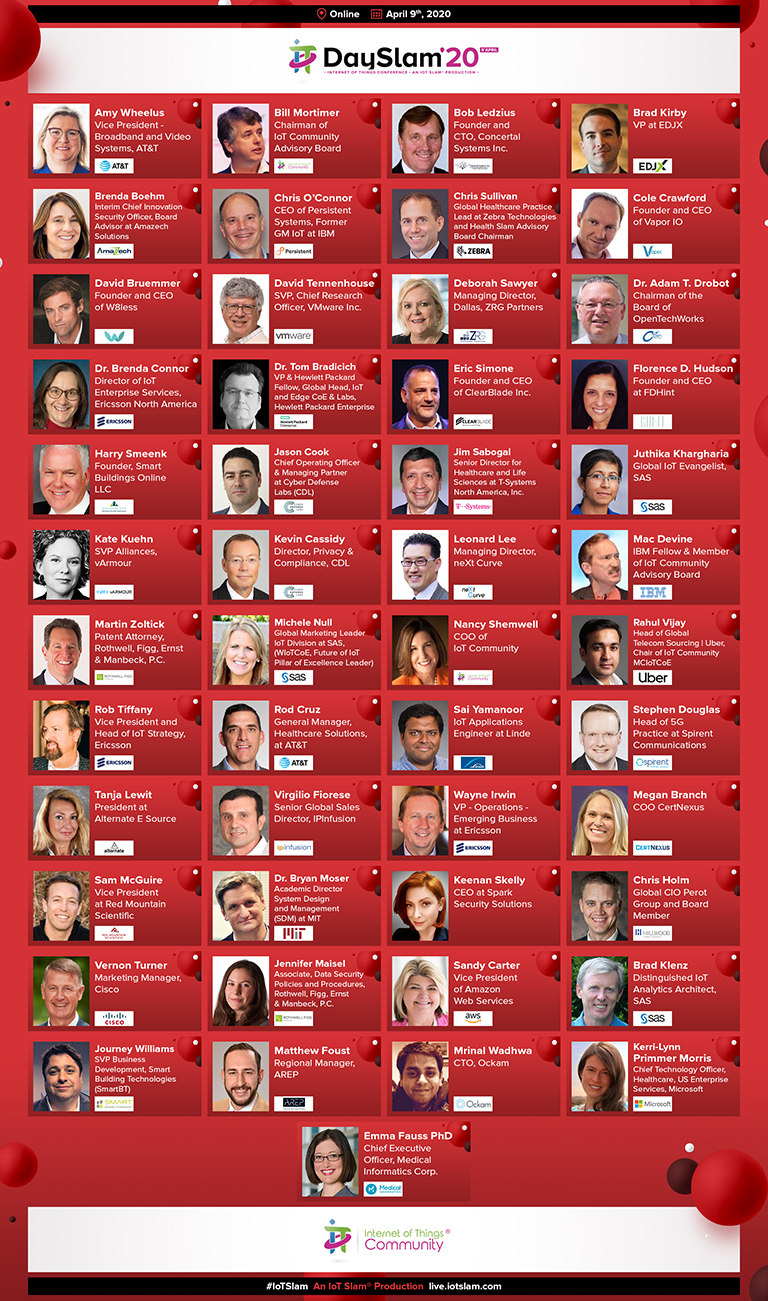 Date and time
Location
Refund policy
Refunds up to 30 days before event
Organiser of IoT Day Slam 2020 Internet of Things Conference; On-Demand Access