Description
Hosted by Alyson Scurfield, chief executive of the TSA (Teleservices Association) this event will explore the past, present and future of telehealth and telecare. This is an opportunity to learn how Leeds City Council is using telecare services to help people with support needs to live well at home, as well as what the future holds for the next generation of proactive and responsive telecare, exploiting Internet of Things capabilities. We will hear about the European Union funded Activage project which aims to promote sustainable active and healthy ageing supported through Internet of Things, Wearables and Phones which is being delivered in partnership with Samsung. Last but not least, we'll hear from Street Lane Medical Practice about their telehealth eReception, education and signposting services in primary care.This event will be of interest to telecare and telehealth providers along with anyone interested in the potential of Internet of Things and related developments in the health and care sphere. We hope to see patients, citizens, health and care practitioners, service delivery managers, policy makers and health tech entrepreneurs and companies for an engaging and informative conversation about the past, present and future of telehealth and telecare.

Speakers:
Alyson Scurfield CEO, TSA
Alyson is a proven entrepreneurial, visionary leader of service transformation, service delivery and business development in Telecare, Telehealth, Support and Care, Customer Service and Housing Management.
Her career within Telecare commenced in 2002, she has held both operational and strategic positions within the Telecare Industry and is currently the Chief Executive for the TEC Services Association C.I.C. (TSA). Alyson has led strategic development, implementation and risk management of the Association's aspirational vision to grow the Industry at scale and enable the improvement of individual lives through technology.
Alyson is passionate about demonstrating how the use of technology enabled services can support health, housing and social care to simultaneously achieve local outcomes for the sector and individual outcomes for service users and their families and carers.
Suzanne Morton
Suzanne is a development professional with 10 years' experience developing and managing projects and services across health and social care.
She currently works in a partnership role across Leeds Beckett University and Leeds City Council, and manages two Horizon2020 projects as part of the IoT strand of funding from the EU, one relating to older people self-managing their health and another on crowd safety and noise control at public events. This is as well as a pop-up project working to drive both innovation and inclusion through co-design sessions relating to assistive technology.
Street Lane Practice (Dr Lesley Sunderland and Dr Guy Baker)
Street Lane Practice is an innovative practice in North Leeds. We are completely committed to the idea that technology can fundamentally transform the NHS. We have radically improved the quality of care for patients alongside practice sustainability by harnessing technological initiatives.
Enhance Primary Healthcare (http://www.enhanceprimaryhealthcare.uk) is our spin-off company, through which we have built 'e-Reception'. This on-line application has been the lynch pin in digitally transforming the practice by automating all of the functions of traditional patient receptions.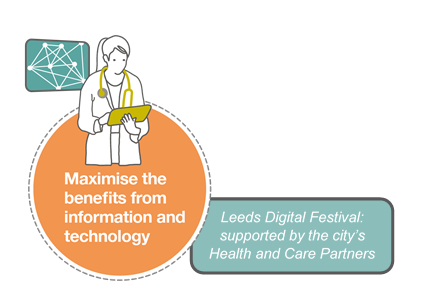 Our city's Health and Wellbeing Strategy 2016-2021 sets out a clear vision that 'Leeds will be a healthy and caring city for all ages, where people who are the poorest improve their health the fastest'. This includes maximising the benefits from information and technology as a key priority. The health and wellbeing strand of the Digital Festival is a celebration of the diverse and innovative work taking place to help us achieve our shared, bold ambition for Leeds to be the best city for health and wellbeing.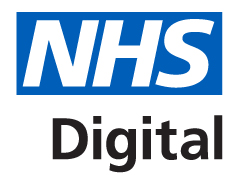 Based here in Leeds, NHS Digital is harnessing the power of technology and data to improve the use of health and care resources and make lives better.
As the national IT partner to the health and social care system, we provide a range of services and expertise including infrastructure that keeps services working 24/7, data security services, more than 200 official statistical publications and vital information that helps patients, doctors and nurses every single day.
We are one of the largest employers in not only this city, but nationally as a leading organisation for technologists, analysts and specialists from a spectrum of fields, from communications to finance, who want to make a difference.
We will be taking part and hosting events throughout the festival so come along and find out about what we do, why it matters and how you can get involved.