Description
READ FULL EVENT DESCRIPTION HERE.
We are thrilled to have with us three special guests from the IoT ecosystem who will share invaluable insights gained from their long-lasting career in the sector. Join us on the 8th of March to learn from:

- The company behind the best selling British computer, selling more than 10M units before the end of 2016. (Raspberry Pi).
- One of the leading electronics distributor in the world (RS Components).
- A US fabless semiconductor company that develops silicon, software and tools for the Internet of Things (Silicon Labs).
Drinks will be served throughout the night.
Hardware Pioneers is kindly sponsored by Intel and Cocoon Networks.
---
About the speakers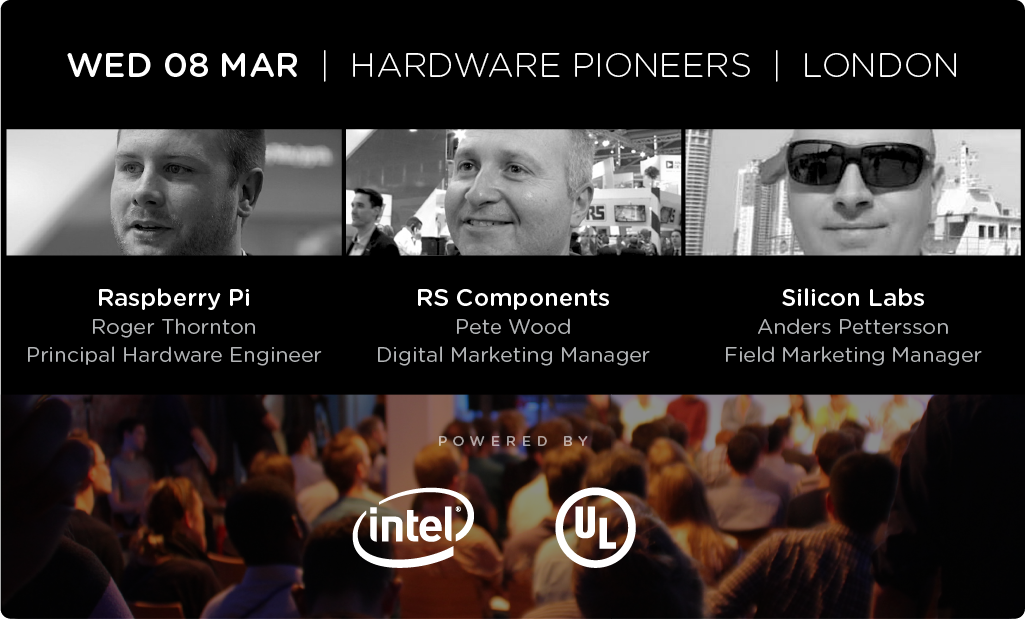 Roger Thornton, Principal hardware Engineer at Raspberry Pi
Talk title: How Raspberry Pi has been successfully used (and can be used) as a platform to power commercial IoT devices
About the speaker: Roger works for Raspberry Pi as Principal Hardware engineer where oversees design, test, compliance and production for Raspberry Pi products. He also has experience of the Smart Home and IoT markets from his time working in a consultancy where he helped deliver a series of dedicated Smart Home energy monitoring and automation chips to market.
About the company: The Raspberry Pi Foundation works to put the power of digital making into the hands of people all over the world, so they are capable of understanding and shaping our increasingly digital world, able to solve the problems that matter to them, and equipped for the jobs of the future.
Meet the experts: Roger Thornton on '10 million reasons why Raspberry Pi is the ultimate start-up' - Video
The Expert's Interview: Roger Thornton, Raspberry Pi - Video
Pete Wood, Digital Marketing Manager at RS Components
Talk title: How RS and DesignSpark Support IoT Applications
About the speaker: Pete manages DesignSpark, the Engineering Community of RS Components with over 500,000 registered engineers around the world. The majority of Pete's time is spent networking with engineers, creating and facilitating content around products and applications, new technologies and design practice. DesignSpark's tools and content is tailored to help engineers create leading edge applications.
About the company: RS Components is part of the Electrocomponents group, which distributes more than 500,000 products, including electronics, automation and control, test and measurement, electrical and mechanical components, to over one million customers.
RS Components: The Engineers' Playground - Video
Interview to RS Components CEO Lindsley Ruth - Video
Anders Pettersson, Field Marketing Manager at Silicon Labs

Talk title: From Sensor to Cloud
About the speaker: Anders Pettersson has been in the semiconductor industry since 1999 and was part of the Cortex Mx adaptation and participated in making it a global standard. Today Anders focus is on wireless technologies where the MESH protocols are about to standardise the Smart Home market.
About the company: Silicon Labs is worldwide fabless semiconductor company headquartered in Austin, Texas, that develops silicon, software and tools for the Internet of Things, Internet infrastructure, industrial automation, consumer and automotive markets. Its products include microcontrollers, wireless SoCs, timing devices, low-power sensors, and broadcast solutions.
Keynote by Silicon Labs CEO Tyson Tuttle: Engineering the IoT - Video
Silicon Labs advances IoT ecosystems: Embedded World 2016 - Video
---
Agenda
6:30pm - Arrival and registration.
6:40pm - Drinks and networking.
6:50pm - Event opening.
7:00pm - Roger Thornton - Principal Hardware Engineer at Raspberry Pi
7:20pm - Pete Wood - Digital Marketing Manager at RS Components
7:40pm - Anders Pettersson - Field Marketing Manager at Silicon Labs
8:00pm - Community announcements and demos: This is your time. If you would like to share what you are working on with the community or make any sort of announcement. You have 2 minutes max for a short shoutout.
8:20pm - Drinks and networking.
9:30pm - Event ends.

---
Local partners
ihorizon - London based accountants specialising in outsourced accounting and finance solutions to entrepreneurs and tech startups in the UK and US.
---
About Hardware Pioneers
Discover more about Hardware Pioneers on our website.
Get notified about future events by subscribing here.
Check out what people say about @HdwPioneers on Twitter!