IP - Use it or lose it | Eiddo Deallusol - Defnyddiwch o, da chi
About this Event
THIS SESSION WILL BE DELIVERED IN ENGLISH ONLINE. Welsh documents are available upon request.
MI FYDD Y SESIWN HON YN CAEL EI GYNNAL YN SAESNEG AR-LEIN. Mae yna ddogfennau Gymraeg ar gael os oes angen.
(Please scroll down for English)
----------------------------------------
Covid-19 a'ch Busnes Eiddo Deallusol - Defnyddiwch o, da chi
Yn y gweithdy hwn, bydd mynychwyr yn ymgysylltu â themâu allweddol maes eiddo deallusol a gwella strategaethau i elwa ohono.
Beth i ddisgwyl yn y gweithdy?
Bydd mynychwyr yn asesu ac yn trafod gwybodaeth ar nodau masnach, patentau, dyluniadau, hawlfraint a chyfrinachau masnach a dod yn gyfarwydd ag adnoddau gwybodaeth hanfodol. Bydd y gweithdy yn archwilio ac yn trafod achosion penodol, deall y berthynas rhwng arloesedd, entrepreneuriaeth a datblygiad Eiddo Deallusol, yn adnabod meysydd cyfraith Eiddo Diwylliannol sydd fwyaf perthnasol i chi. Bydd mynychwyr yn creu strategaethau Eiddo Deallusol eu hunain a datblygu eiddo deallusol newydd ac arloesol a gwella rhwydweithiau eu busnes.
Bydd y gweithdy yn cymryd tua 2 awr, gydag amser ychwanegol ar gyfer sesiwn holi ac ymateb os oes angen.
Ar gyfer pwy mae'r gweithdy hwn?
Mae'r gweithdy hwn ar gyfer pobl fusnes arloesol a phobl greadigol sy'n gwneud penderfyniadau sydd wedi'u sefydlu mewn busnes.
Cefndir y Siaradwr
Mae Dr Dan Anthony wedi gweithio fel Swyddog Gwrandawiad ac Arbenigwr Cenedlaethol ar Secondiad ar gyfer Swyddfeydd Eiddo Deallusol yr Undeb Ewropeaidd a'r DU ac yn ysgrifennu'n helaeth ar y pwnc Eiddo Deallusol.
Mae'n addysgu ysgrifennu creadigol ym Mhrifysgol Metropolitan Caerdydd ac yn ddarlithydd Addysg Entrepreneuriaeth Menter gyda Gwasanaethau Arloesedd ac Ymchwil Metropolitan Caerdydd. Mae'n ymchwilio'r berthynas rhwng eiddo deallusol a chreadigrwydd.
Mae'n awdur ffuglen. Mae ei gyfresi comedi a'i ddramâu wedi eu darlledu ar y radio a'r teledu, ac mae ei lyfrau plant yn boblogaidd iawn ymysg darllenwyr ifanc ledled y wlad.
_________________________________________________________________________________________
Covid 19 and your Business - Intellectual Property - Use it or lose it
In this workshop delegates will engage with key themes in the field of intellectual property and improve strategies to profit from it.
What will the workshop cover?
Delegates will assess and discuss information on trade marks, patents, designs, copyright and trade secrets and become familiar with crucial knowledge resources. The workshop will explore and discuss specific case studies, understanding the relationship between innovation, entrepreneurship and the development of IP identifying the areas of IP law most relevant to you. Delegates will create your own IP strategies and developed new, innovative intellectual property and enhance your own business networks.
The workshop will take approximately 2 hrs with additional time for Q and A and discussion if required.
Who is the workshop for?
This workshop is for innovative business people and creative decision makers who are set up in business.
About the Speaker
Dr Dan Anthony worked as a Hearing Officer and a Seconded National Expert for the UK and European Union Intellectual Property Offices and he writes extensively on the subject of IP.
He teaches creative writing at Cardiff Metropolitan University and is a lecturer at Enterprise Entrepreneurship Education at Cardiff Metropolitan Research and Innovation Services. He is researching the relationship between intellectual property and creativity.
He is a fiction writer. His plays and comedy series have been broadcast radio and TV and his children's books are popular with young readers throughout the country.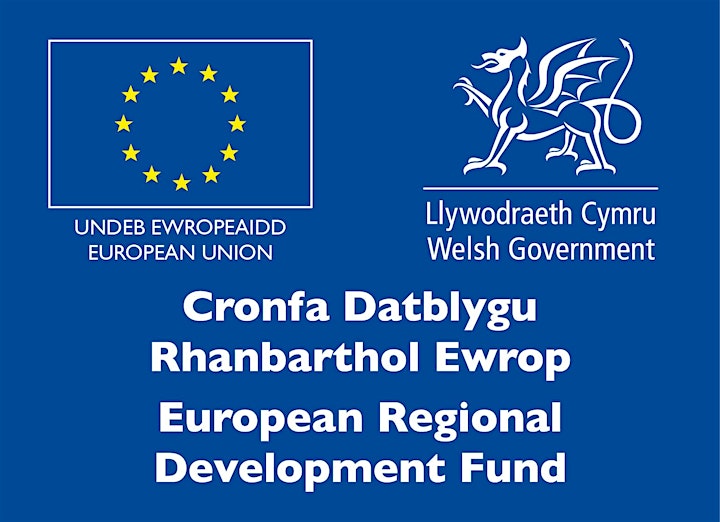 Mae Hybiau Menter Ffocws yn darparu gofod arloesol i ddeori a sbarduno busnesau newydd a'r rhai sy'n ehangu. Mae Hwb Menter Ffocws y Drenewydd a Hwb Menter Ffocws Caerfyrddin yn cael eu hariannu'n rhannol gan Gronfa Datblygu Rhanbarthol Ewrop trwy Lywodraeth Cymru
Mae'r digwyddiadau a ddarperir neu a gynhelir gan raglen Hybiau Menter Ffocws Llywodraeth Cymru am ddim ac yn agored i bobl o bob oedran, ond rhaid archebu lle ymlaen llaw. Mae'r niferoedd yn brin a disgwyliwn alw mawr am lefydd, felly archebwch yn gynnar i ddiogelu'ch lle.
Focus Enterprise Hubs are an innovative space to incubate and accelerate new, and growing businesses. Focus Newtown and Focus Carmarthen Enterprise Hubs are part funded by the European Regional Development Fund through the Welsh Government
Events delivered or hosted by the Focus Enterprise Hubs programme for the Welsh Government are free and open to all ages but must be booked in advance. Please be advised that numbers are limited and we expect high demand for places, so book early to secure your place.