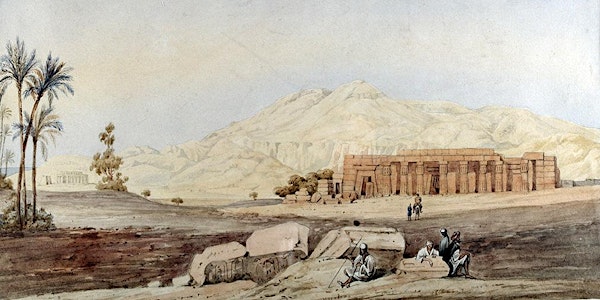 Irish Women in Egypt: Travels of Lady Harriet Kavanagh & FrancesPowerCobbe
Refund policy
Contact the organiser to request a refund.
Eventbrite's fee is nonrefundable.
Emmet Jackson, PhD Candidate - University of Exeter, discusses this aspect of his doctoral research into these extraordinary Irish Women
About this event
Welcome to the February lecture of the Bolton Archaeology and Egyptology Society. This month we welcome Emmet Jackson, PhD candidate at the University of Exeter.
Lady Harriet Kavanagh and Frances Power Cobbe are two of the more notable Irish female travellers to Egypt in the 19th century. Drawing on published and unpublished diaries and their letters from Egypt this talk will introduce the travels and antiquarian collections of these two extraordinary Irish Women.
Emmet Jackson studied Egyptology at the University of Manchester and is currently a PhD candidate at the University of Exeter with Dr Robert Morkot researching the history and development of Egyptology and the public and private collections of Egyptian antiquities in Ireland. He is a trustee for the Association of Studies for Travel in Egypt and the Near East (ASTENE) and sits on the ethics committee for the Association for Students of Egyptology.
Selecting the right ticket:
Member of BoltonAES: If you are a member of Bolton Archaeology and Egyptology Society then this event is FREE to you. No need to order a ticket via Eventbrite here, simply register on the EES website using the link in the society newsletter (You must join with the same name that you joined the society. Any problems please contact the chair on chair@boltonaes.co.uk).
Not a member of BoltonAES: If you are not currently a member the price to attend this event is just £2.50...a bargain! Select the "Non-member" ticket.
Join us and get this event FREE: If you join BoltonAES as a member, for just £10, you can then have all online events for FREE. To join, and get free attendance, select the "MEMBERSHIP" ticket.
We are only able to bring you this event with thanks to the Egypt Exploration Society. Please consider making a donation to them in order to help them continue their work in promoting and protecting Egyptian heritage. Select the "Donation to the Egypt Exploration Society" ticket in addition to your event ticket. 100% of your donations will be passed to the EES.