Description
A unique opportunity to visit the Po River valley in N Italy
Ideal for farmers growers, consultants, agency staff, and equipment suppliers involved in irrigation and drainage

We organise short professional visits to experience how water for agriculture is managed in different countries across Europe. In previous years we visited France, Spain, Israel, and Morocco. Using our network across the irrigation world we organise those special visits and get to places others cannot.
This year, thanks to colleagues at Caprari Pumps UK, the Association of Drainage Authorities, and friends in Italy, we are visiting Modena and the Po River valley in northern Italy.
We will be guests of the Burana Reclamation Consortium (Consorzio Della Bonifica Burana) and Caprari Pumps whose HQ and factory is based in Modena. This is a rare opportunity to see how pumps are made and to learn how water is managed in the Po River valley including meeting irrigation farmers and water resources managers. The Po valley is also the home of Don Camillo! (for those who remember the post-war stories of the cantankerous priest and his adversary, Peppone the communist mayor).
Modena is also the home of the famous Ferrari museum. Of course we are going!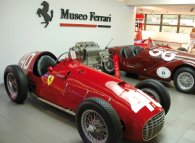 Our provisional intinerary:
Mon 16 Oct depart Stansted Ryanair FR194 08:45 to Bologna afternoon at Ferrari Museum

Tues 17 Oct Visit to Caprari Pumps and irrigating farms

Wed 18 Oct Visit to Po River Valley

Thurs 19 Oct Morning in Bologna depart Bologna Ryanair FR1195 18:15
Members and non-members welcome
Our budget estimate at the moment is £450 per person for members (£500 for non-members who will receive complementary UKIA membership). The price is all inclusive (except for air travel). it includes hotels, all meals incl breakfast, lunch, and dinner, all host costs, and transport in and around Modena, Po valley, and Bologna. We will have a firm price when we know how many are traveling. The more travellers the cheaper it gets!

Register here and pay a deposit of £50 per person

Your flight ticket is NOT included. You will need to book this direct with Ryanair - see above flight details
Places limited to 15. Our visits have proved popular in the past so please book early to avoid disappointment.