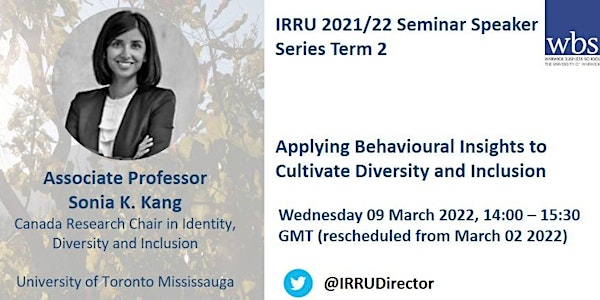 IRRU 2021/22 Speaker Series with Associate Professor Sonia Kang
Join the Industrial Relations Research Unit when we will be in conversation with Associate Professor Sonia Kang.
About this event
On Wednesday 09 March 2022 we welcome Associate Professor Sonia Kang to the IRRU Seminar Speaker series.
Sonia is will discussing, applying behavioral insights to cultivate diversity and inclusion.
Abstract: Researchers and practitioners alike are facing pressure to "move the needle" on D&I. Whereas previous efforts have focused on how to change "individuals"—whether it be by "fixing the sexists and racists" or by "fixing the women and minorities"—this talk will highlight the promise of behaviourally-informed interventions that are aimed at "fixing the system".
Dr. Sonia Kang is an Associate Professor of Organizational Behaviour and Human Resource Management in the Department of Management, and Canada Research Chair in Identity, Diversity, and Inclusion at the University of Toronto Mississauga, and holds a cross-appointment to the Organizational Behaviour and HR Management area at Rotman. She is a Faculty Research Fellow at the Rotman School of Management's Institute for Gender and the Economy (GATE) and Chief Scientist, Organizations in Behavioural Economics in Action at Rotman (BEAR). Sonia is also Special Advisor on Anti-Racism & Equity at the University of Toronto Mississauga. Sonia's research has been published in journals including the Academy of Management Journal, Journal of Personality and Social Psychology, Psychological Science, Administrative Science Quarterly, and the Journal of Experimental Social Psychology, and has been featured in media outlets such as The Globe and Mail and The Atlantic. Sonia also hosts the popular podcast For the Love of Work.