Tune in, and learn more about the trending topic in business: Is Hybrid Working?
About this event
Feeling overwhelmed by the disruption COVID-19 has had on or within your business?
Unsure how to adapt to the hybrid working business model that businesses everywhere seem to be talking about?
Join
Kelly Drewery, Business Psychologist and Founder of Talent Glue
Lizzie Bradbury, Marketing Manager at COEL
Sharon Livermore, Founder and Director of Kameo Recruitment
Learn more about:
Whether hybrid working is working
How to adapt to your teams changing dynamics
Practical implications for workplace design
How to attract and retain the right people for your organisation
This session, fuelled by research, is full of thoughts about how to make sense of our new working world!
Schedule for the session:
9:30 – Sharon Livermore, from Kameo Recruitment, to introduce the session
9:35 – Kelly Drewery, from Talent Glue (overview and research findings)
9:50 – Lizzie Bradbury, from COEL (practicalities in the workplace)
10:05 – Kelly (implications for HR)
10:25/30 – Sharon (wrapping up, how have Kameo adapted, business perspective)
10:30 - 11:00 - Questions and farewell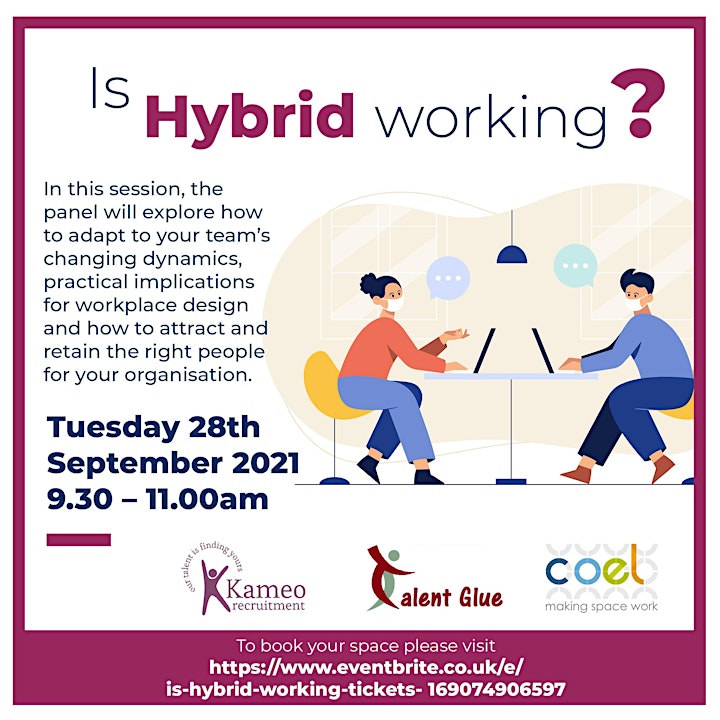 Organizer of Is Hybrid Working?
Kameo Recruitment is an independent agency supplying both permanent and fixed term solutions throughout East Anglia, specifically focusing on Cambridgeshire, Suffolk and the surrounds.
At Kameo Recruitment we understand that whether you are searching for your next position or looking to expand your team, it can be both a daunting and time consuming process. We offer a personal, yet professional service where our aim is to get to know you to be able to assist you in making the right decisions.
At Kameo Recruitment our aim is to build genuine, long lasting relationships which are built on trust, integrity and a consultative approach.