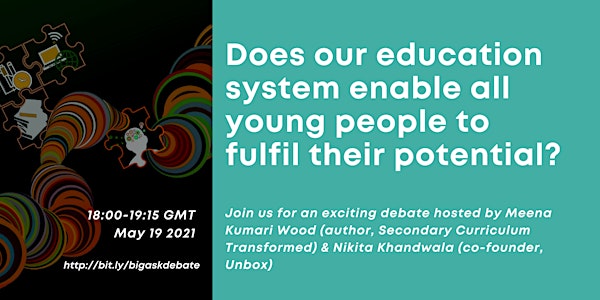 Is our education system helping all young people fulfil their potential?
The Big Ask: Does our education system enable all young people to achieve their potential?
About this event
All too often, conversations about the state of education are had without the input of the stakeholders whose future it will shape–the young people. With this event, we aim to create a space where policymakers, entrepreneurs, educators and students can come together for a stimulating discussion around what measures we can take to empower all students, regardless of their background, to achieve their aspirations and potential.
Against the backdrop of a rapidly evolving labour market, we aim to question just how effectively the English curriculum is preparing our young people to succeed in higher education, training schemes, apprenticeships and the wider world of work.
We have a social, educational and economic imperative to level the playing field in the secondary education system. We truly believe through this event, the influencers in responding to the 'Big Ask' can shape and stimulate a diverse range of conversations and action going forward.
We will be joined by:
Chris Bagley - Director of Research at States of Mind and a lecturer, tutor and doctorate research supervisor at The Institute of Education, UCL.
Ellie Costello - Director of Square Peg. She joined Square Peg CIC as a Director to develop her interest in shifting paradigms to effect whole-system, cultural, systemic change on behalf of all children, young people and families who experience barriers to school attendance.
David Harkin - CEO of 8billionideas. 8billionideas is an award-winning education company which exists to give every student the skills and belief to change the world.
Georgina Klein - Education Lead at BecomingX. Georgina leads on education content, strategy and research at BecomingX. She is a former education consultant for leading education companies, specialising in cognitive science and teacher development.
Dr. Kulvarn Atwal - Executive Headteacher. For the past nine years, he has been Head Teacher at Highlands Primary School in Ilford. Between 2017 and 2020 Highlands was recognised by the Mayor of London, Sadiq Khan, as one of the highest performing primary schools in London for pupil progress.
Rachel McFarlane - Director of Education Services at Herts for Learning. From 2007- 2018 she was a National Leader of Education, serving as Headteacher of three contrasting schools over a sixteen year period.
Geoffrey Fowler - CEO & Principal at London Design & Engineering UTC.
William Carter - PhD student at the University of Berkeley, California. Featured on the BBC as a neurodiverse student, William has been awarded the London Schools and the Black Child outstanding achievement award. He hopes to become a professor of political theory and black geographies, and then go into politics to change "a system in disrepair".