Is Tech Making Us Miserable?: Policymaking for the Psychosocial Impact of S...
Event Information
Location
Webb Library
West Court
Jesus College, Jesus Lane
Cambridge
CB5 8BL
United Kingdom
Refund Policy
Refunds up to 7 days before event
Description
An extensive, but still emerging, body of interdisciplinary research is trying to understand the effects of technology on our physical and mental wellbeing. Some of this research suggests an unambiguous connection between screen use and lower attention spans, increased loneliness, and greater self-reported stress, anxiety, and depression. Despite mounting correlations, causation has yet been established. Yet it is hard to ignore trends that suggest social media, the gig economy, and desk-bound jobs aren't making us any healthier, or indeed happier. Without definitive scientific evidence though, can we afford to ignore these correlations?
While many advise self-monitoring or 'digital hygiene' in the absence of scientific consensus, the NHS has made clear that a public health approach is needed now. Evidence-backed policy might be the gold standard, but in the face of suggestions that mental health services are at their 'breaking point' in the UK, do we have enough information to justify precautionary policy interventions? After all, what is at stake is the health of the population, particularly the health of children and young adults. We know from earlier examples that industry has manipulated and influenced public policy debates when their products posed health risks. The Tobacco Industry did just this in relation to cigarettes causing cancer. But the power wielded by Big Tech, particularly in light of their funding of clinical research into the effects of their services, raises questions about the influence they are having on shaping scientific opinion and dissemination of results. If what we require is evidenced-based policy, can we trust the evidence base?
Is Technology Making Us Miserable is a one-day workshop, co-hosted by Dr Christopher Markou (Faculty of Law, Cambridge), Dr Sarah Steele (POLIS, Cambridge) and the Intellectual Forum at Jesus College. It will bring together legal and public policy researchers with clinicians, policy makers, and civil society organisations to explore what we know about the psychosocial effects of technology, what we don't know, and how much more we need to know before appropriate policy interventions can be justified. One component of this workshop will be exploring the design of a 'Code of Best Practices' for clinical research into digital wellbeing, and ensuring that industry funded research does not unduly influence or have a chilling effect upon researchers.
This Conference is kindly supported by the University of Cambridge Public Policy Strategic Research Initiative and the University of Cambridge Trust & Technology Strategic Research Initiative.

---
How do I get to West Court, Jesus College?

The entry to West Court is directly on Jesus Lane, near to the intersection with Park Street. Please DO NOT ENTER through the main entrance to the Porters' Lodge, known as "the Chimney". A map is included below to assist you in finding our entrance.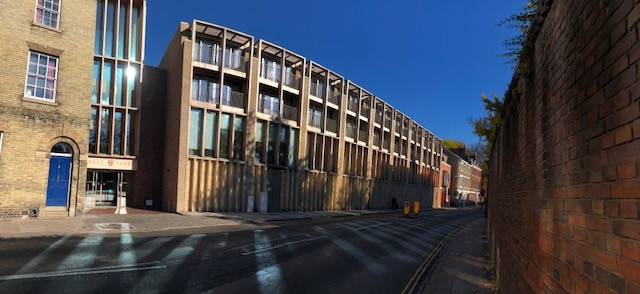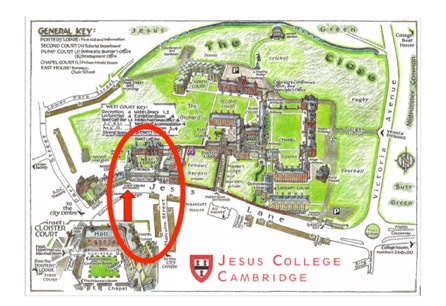 What transport options do I have?

There is no on-site car parking at Jesus College for those attending our events. There is limited on-street parking outside the College and the Park Street Car Park is very close. There are also multiple Park and Ride options to the City Centre, a short walk from the College.
A regular train services runs to Cambridge from London's Kings Cross Station, London Liverpool Street Station and many other mainline UK stations. The College is located approximately 2 miles (3.2 kilometres) from the railway station. Buses run about every 10 minutes and there is a taxi rank outside the station and one here in the city centre for your return.

What if I have access requirements?
West Court is access friendly and there are hearing loops. Please let us know about any access requirements at least three days in advance of any event via if-coordinator@jesus.cam.ac.uk. There is limited permit disabled parking, and again this must be prearranged. The building has extensive access-friendly bathroom facilities, and some limited seating in the waiting area.
Filming, social media and data protection
The Intellectual Forum often films and live-streams its events. Notices about any filming will be placed around the venue, and if you have any concerns please contact if-coordinator@jesus.cam.ac.uk.
By signing up to attend this event, those attending give permission to the Jesus College Intellectual Forum and those authorised by Jesus College to record images and/or sound at the event by photograph and/or video/film and/or recording. A full waiver we be required in the ticketing process.
You can find information on how we manage your data at https://www.jesus.cam.ac.uk/college/about-us/data-protection.
How to cancel your ticket
Many of our events are oversubscribed and we operate a wait list. In order to allow the maximum number of people to be in attendance, we ask that if you find you can no longer attend, please cancel your order. Instructions on how to cancel your ticket can be found here: https://www.eventbrite.com/support/articles/en_US/How_To/how-to-cancel-your-free-registration
Date and Time
Location
Webb Library
West Court
Jesus College, Jesus Lane
Cambridge
CB5 8BL
United Kingdom
Refund Policy
Refunds up to 7 days before event