Event Information
Location
Frankopan Hall
West Court
Jesus College, Jesus Lane
Cambridge
CB5 8BL
United Kingdom
Description
***THIS EVENT WILL BE LIVE-STREAMED HERE***
Modern life has provided us with many comforts: we live longer; have ubiquitous access to information and entertainment; and by almost every metric are more 'prosperous'. So much so that the rest of the world seemingly wants to emulate the 'prosperous' Western model. Then why are we so unhappy?
Technology has always had a differential effect in society; it can benefit some at enormous cost to many. However the technology that has built this prosperity might be doing something terrible to us. Scholars such as Sherry Turkle, Tristan Harris, Jaron Lanier and others have sounded the alarm about the dangers of technology and the toll it takes upon our health, happiness, and sense of meaning and belonging in the world. Despite a prevailing sense that technology is 'bad', there exists a gulf between evidence and practice: if these dangers are as real as some suggest, how do we catalyze a healthier and more equitable relationship to technology?
In a bid to make customers more conscious of their consumption companies such as Apple have introduced tools such as Screen Time to let users self-regulate their relationship with technology. But what constitutes a 'healthy' relationship with technology? How much screen time is too much? This interdisciplinary talk draws insights from educational theory, psychology, law and social policy, among others, to synthesize these issues and explore what might be possible to achieve.
The panel includes:
Professor Raian Ali is a Professor in Computing at Bournemouth University, UK. He received his PhD in Software Engineering from the University of Trento, Italy. His research focuses on the engineering of digital motivation solutions (Gamification, Persuasive Technology, Incentive Centred Design, etc.), the elicitation and management of transparency requirements in information systems as well as the design of systems which are receptive and responsive to the feedback of their users, preferably called citizens. Raian has a keen interest in software designs and development processes to help users in combatting

Digital Addiction

including gaming, social media and gambling. He has been a holder of a European FP7 Marie Curie Grant on the Engineering of Socially-Adaptive Systems (the SOCIAD Project 2013-2017) is leading the EROGamb project funded by GambleAware and Bournemouth University and meant to enable a more intelligent and real-time behavioural awareness technique to prevent and combat problem gambling. Raian is also co-leading the Raian is a founder and coordinator of the Engineering and SOcial informaTICS Research Group (ESOTICS) a Bournemouth University.
Dr Daria Kuss is a Chartered Psychologist, Chartered Scientist and Senior Lecturer in Psychology at Nottingham Trent University, and Programme Leader of the new MSc Cyberpsychology. She has an international reputation as Internet addiction expert, and publishes prolifically in this field, with her new books

Internet addiction – Evidence-based practice in psychotherapy

(Hogrefe) and

The Oxford Handbook of Cyberpsychology

(OUP) coming out in 2019. Her research has been covered in international news outlets, including the

New York Times,

The Washington Post, and the

BBC. Daria will talk about the impact of technology and social media use on mental health and wellbeing. She can be found on Twitter via @Dr_Kuss

Dr Christopher Markou is a Leverhulme Fellow and Lecturer at the Faculty of Law and a post-doctoral fellow of Jesus College, The University of Cambridge.

He is course director of the LLM course 'AI, Law & Society' at King's College London School of Law.

His Leverhulme research project 'Artificial Intelligence and Legal Evolution' examines how AI and Big Data are changing the nature of legal practice, education, and challenging the conceptual foundations of the legal system. Christopher's writing on technology law and policy has been featured in outlets such as Scientific American, Newsweek, and The Guardian.He can be found on Twitter via

@cpmarkou

Dr Sarah Steele

is a Senior Research Associate at Jesus College, Cambridge and an Affiliated Researcher at the Department of Politics and International Relations. She has written previously on clinician use of social media, and explores the pitfalls of social media in the healthcare setting for services and individuals. She often also reflects on gender, celebrity and social media in her work, and has engaged in reflective practice about online micro-aggressions and violence following a backlash to her own work. She can be found on Twitter via

@drsarahsteele

.

Tyler Shores is a PhD student at the Faculty of Education, University of Cambridge and Affiliated Researcher at the Intellectual Forum, Jesus College. He has previously worked at Google, first in online marketing, and then running the

Authors@Google online lecture series

, served as director of an international educational nonprofit organization, and most recently worked in online education at Stanford University. He has previously written on the interaction between technology and the social and researches the experience of print and digital mediums, digital technology in education, and the cultural impact of social media. For more on his work, he can be found on Twitter via

@tylershores

.
How do I get to West Court, Jesus College?

The entry to West Court is directly on Jesus Lane, near to the intersection with Park Street. Please DO NOT ENTER through the main entrance to the Porters' Lodge, known as "the Chimney". A map is included below to assist you in finding our entrance.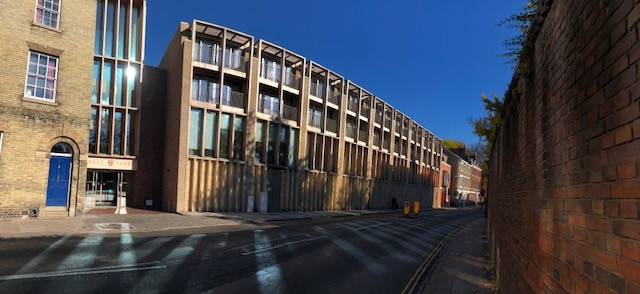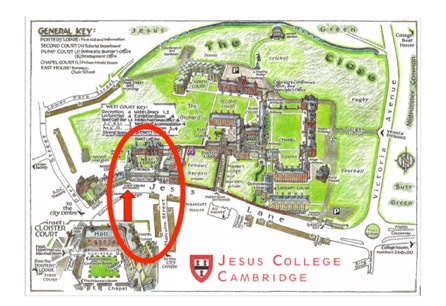 What transport options do I have?

There is no on-site car parking at Jesus College for those attending our events. There is limited on-street parking outside the College and the Park Street Car Park is very close. There are also multiple Park and Ride options to the City Centre, a short walk from the College.
A regular train services runs to Cambridge from London's Kings Cross Station, London Liverpool Street Station and many other mainline UK stations. The College is located approximately 2 miles (3.2 kilometres) from the railway station. Buses run about every 10 minutes and there is a taxi rank outside the station and one here in the city centre for your return.

What time do I need to arrive?
We ask that you arrive 15 minutes before the event and doors will close at the face time on your ticket. We may not admit latecomers, especially if seating is now full or filming is taking place. Our staff will be on site to validate tickets and so it would be helpful to have either an electronic or printed form of your ticket with you. Please also bring photographic ID for validation.
Does my ticket guarantee entry?
Unfortunately not everyone who receives a ticket turns up on the day and so we have to over-issue tickets to ensure a full event. We decide carefully how many tickets to issue as it is important to have a full event but the last thing we want to do is disappoint people. In order to be as fair as possible we admit ticket holders on a first come first served basis. It is helpful to us if you cannot attend that you cancel your ticket. More accurate numbers mean less overbooking in the future and reduce the risk that people with tickets will be denied entry. For some events we may be able to ticket at the door and this will be advised to the waitlist. Please join the waitlist if the event is sold out and we will let you know if this will be an option.

What can I bring with me?
There are coat hooks around our building, but there are no storage or coat minding facilities and we cannot take any responsibility for items left unattended. Mobile phones are allowed, but must be silenced or placed on airline mode during the event. Flash photography is prohibited.
What if I have access requirements?
West Court is access friendly and there are hearing loops. Please let us know about any access requirements at least three days in advance of any event via if-coordinator@jesus.cam.ac.uk. There is limited permit disabled parking, and again this must be prearranged. The building has extensive access-friendly bathroom facilities, and some limited seating in the waiting area.
Is there food or drink available?
For refreshments, our College Cafe or Bar will often be open across the courtyard selling drinks and food around our events. Details of the opening times for the cafe can be found at https://www.jesus.cam.ac.uk/college/life-jesus/food-and-drink/cafe and for our bar can be found at https://www.jesus.cam.ac.uk/college/life-jesus/food-and-drink/bar.
Filming, social media and data protection
The Intellectual Forum often films and live-streams its events. Notices about any filming will be placed around the venue, and if you have any concerns please contact if-coordinator@jesus.cam.ac.uk.
By signing up to attend this event, those attending give permission to the Jesus College Intellectual Forum and those authorised by Jesus College to record images and/or sound at the event by photograph and/or video/film and/or recording. A full waiver we be required in the ticketing process.
You can find information on how we manage your data at https://www.jesus.cam.ac.uk/college/about-us/data-protection.
How to cancel your ticket
Many of our events are oversubscribed and we operate a wait list. In order to allow the maximum number of people to be in attendance, we ask that if you find you can no longer attend, please cancel your order. Instructions on how to cancel your ticket can be found here: https://www.eventbrite.com/support/articles/en_US/How_To/how-to-cancel-your-free-registration
Date and Time
Location
Frankopan Hall
West Court
Jesus College, Jesus Lane
Cambridge
CB5 8BL
United Kingdom