Description

Oxford Technology & Media Presents
---
Spring Networking Event
"

Is the Future of Gaming on the Move?

"
Monday 5th March 2018, 6.00pm to 9.00pm
Venue: The Story Museum, 42 Pembroke Street, Oxford, OX1 1BP
First Person Shooter games have been the genre that has driven billions of dollars of revenues. It remains the number one gaming format more than a decade after game consoles became mainstream.
But is all this about to change?
What if you could take that level of engagement and participation out of the living room or bedroom and into the streets? What if you could play with friends? What if you could trade weapons and make actual money from it?
In September 2017 Reality Clash became the first game to launch their own crypto token using an Initial Coin Offering.
The coin buys limited edition weapons and armour but unlike any other coin it is a crypto currency that can ultimately be traded for cash.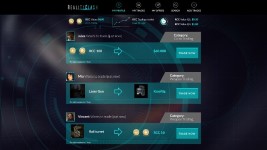 Its augmented reality and location-based technology takes it into a whole new world.
Oxford Technology and Media is delighted to welcome Tony Pearce, CEO of Reality Clash. A veteran of gaming and social media industry, Tony will share his learning from a fascinating career, show us in depth how Reality Clash breaks new ground in the gaming industry and explore what this means for the future of gaming – is it really on the move?
---
This event is free of charge for OTM members - contact us for more details if you don't have your special link for the free ticket. Non-members can attend for £30. (Amounts are subject to Eventbrite fees). The event will be held in the centre of Oxford at The Story Museum, 42 Pembroke St, OX1 1BP. Click here for directions.
6.00pm – Event Opens, Networking, Coffee & Refreshments
Buffet food and drinks will be available after the event
9pm - Close
---
Speaker Biography
---
Tony Pearce - CEO, Reality Clash


I've worked in the technology sector forever! Starting back in the early days of video gaming, then mobile apps and more recently developing a new mobile AR game using crytocurrency and blockchain technology.
I am an entrepreneur and investor and have been involved in many start ups. Over the past 15 years I have raised over $15m in VC funding, launched two (over subscribed) crowdfunding campaigns and recently closed a successful ICO (Initial Coin Offering). Most recently I co-founded Reality Clash, a new augmented reality mobile combat game. I continue to run TeePee Games, which launched the award winning social network for gamers called GamesGRABR followed by BookGRABR. The company now offers a complete SaaS business allowing brands, retailers and publishers the ability to launch their own social networks, connecting them directly to their customers.
Previously I co-founded Player X, a mobile games publisher and distributor which I successfully sold to Spanish mobile content company Zed in 2009.
Prior to Player X I joined Digital Bridges (now I-Play) and was instrumental in launching mobile phone games into the operators and carriers around the world - way before App stores were even invented!
In 2009 I also co-founded an executive networking event called the Centurions which is aimed at the digital entertainment industry and we now hold events all over the world, past events have been in London, Istanbul, Munich and New York with new events planned for Singapore and Australia.


---
Oxford Technology & Media exists to
Stimulate a debate and business thinking on key topics and markets. Read some of the latest articles on our website.

Help network members build a local network for support, personal development and mentoring on an individual basis.
Help local startups and businesses find the people, connections and resources they need to flourish.
Provide a catalyst for Oxfordshire expertise to challenge Cambridge's status as the UK's leading high technology cluster.
Membership is by invitation or application but if you're connected to Oxford and in a leadership position in one of our key business areas, you're welcome to attend the speaker events to get a taste.
We're gradually introducing the new name for The Oxford Technology Media & Finance Network - simply Oxford Technology & Media.
---
Acknowledgement: Oxford Technology & Media Network would like to thank Grant Thornton LLP for their kind support of both this event and Oxford Technology & Media Network programme. Photographs courtesy of Reality Clash.
---

---