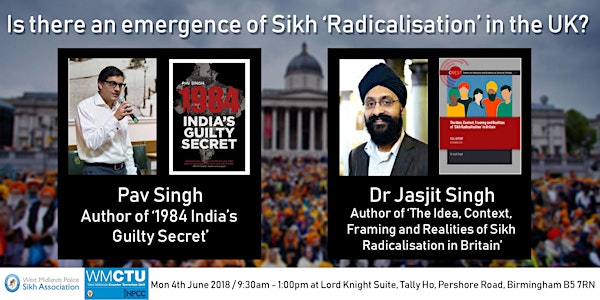 Is there an Emergence of Sikh Radicalisation in the UK?
Event Information
Location
Tally Ho Conference & Banqueting Centre
Lord Knight Suite
Pershore Road
Birmingham
B5 7RN
United Kingdom
Description
The West Midlands Police Sikh Association and West Midlands Counter Terrorism Unit (Prevent) cordially invite you to an event in which we ask the question 'Is there an emergence of Sikh Radicalisation in the UK?'
Dr Jasjit Singh will present his findings from his recent research project which investigated the nature of "Sikh 'radicalisation' in Britain", an issue which has received much political and media attention, but little academic attention to date. The results of this research help us understand how Sikhs in Britain learn, interpret and act upon events in Britain and in other parts of the Sikh diaspora, and the nature and types of Sikh activism in Britain.
Pav Singh is the author of '1984 India's Guilty Secret'. he spent a year in India researching about the Sikh genocide which took place in 1984, following the assassination of the then Indian Prime Minister; Indira Gandhi. The effects and trauma of which the Sikh community still feel today. Pav will speak about his journey in writing his book, which will also be available to purchase on the day.
Guest Speakers Biography
Pav Singh was born in Leeds, England, the son of Punjabi immigrants. As a member of the Magazine and Books Industrial Council of the National Union of Journalists, he has been instrumental in campaigning on the issues surrounding the 1984 massacres. In 2004, he spent a year in India researching the full extent of the pogroms from which members of his extended family narrowly escaped) and the subsequent cover-up. He met with survivors and witnessed the political fall-out and protests following the release of the flawed Nanavati Report into the killings. His research led to the pivotal and authoritative report 1984 Sikhs' Kristallnacht, which was first released in the UK Parliament in 2005 and substantially expanded in 2009.
Dr Jasjit Singh is a Research Fellow in Religious and Cultural Transmission based at the University of Leeds and a recognised expert on Sikhs in Britain. His research examines religious identity and processes of religious and cultural transmission among British South Asians with a focus on British Sikhs. His research interests include Religion and Youth, Religion and Media, Religious Identity, Sikh Studies and Religion in Diaspora. Jasjit has an emerging track record in publications including peer-reviewed journals and edited collections. He regularly presents his work in both academic and non-academic contexts including at national and international conferences, public lectures and on national and Sikh media. Jasjit is a visiting fellow at the Faiths & Civil Society Unit at Goldsmiths University of London and is a member of a number of academic networks including 'Sikhs in Europe', 'Religious Literacy Leadership in Higher Education' and the 'Religion and Diversity Project' in Canada.
Date and time
Location
Tally Ho Conference & Banqueting Centre
Lord Knight Suite
Pershore Road
Birmingham
B5 7RN
United Kingdom