Description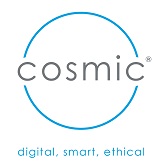 Discover where your business currently lives – in the analogue or digital world? Reflect on your own position on digital and explore the benefits of becoming a digital business.
This fun and interactive session will showcase new digital business models, and simple ways to think and become more digital, even for the most analogue of businesses!
Delivered by Kate Doodson who is the Joint Chief Executive of Cosmic and the Get up to Speed Project, one of the leading social enterprises in the South West. Kate has delivered workshops and lectures nationally and internationally on the subject of "digital" in the business world.
This is an opportunity to meet other local SME's and network over light refreshments in a welcoming atmosphere.
We look forward to meeting you!