Description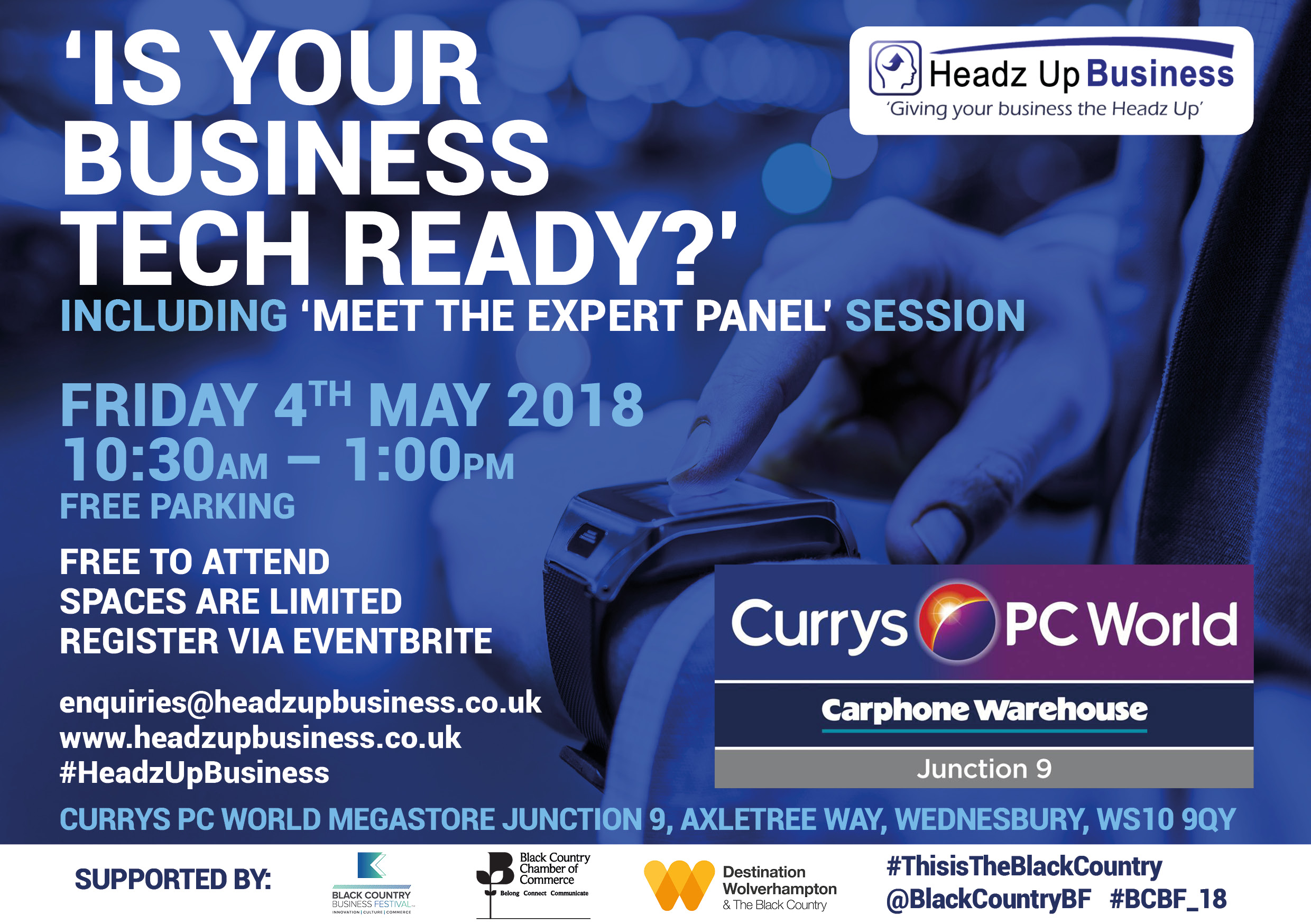 Headz Up Business is proud to be supporting Black Country Festival run in association
with the Black Country Chamber of Commerce, with hosting 'Is Your Business Tech Ready,' supporting, encouraging businesses to take a look at the latest tech to help, support and grow their business. Connect, and join in the conversation with the following social media handles:
@HeadzUpBusiness @BlackCountryBF #ThisisTheBlackCountry #BCBF_18
Limitd to 100 spaces. FREE Parking, Network over complimentary lunch.
Who is the event FOR:
Business Owners, Business Professionals, Marketing Managers/Executives, Sales professionals and Entrepreneurs.
What to Expect:
Schedule:
10am-11.00am: Registration, each delegate will receive a colour sticker so that can be split into groups later for the LIVE demos by the tech suppliers.
11.00am-11.15: Introduction/PC Curry World.
11.15am-11.45am: Q & A panel
11.45am-12.15am: Delegates to be split and tech suppliers from Apple, HP, Sony, Samsung & Google to provide10 min/mini demos of the latest tech for business.
12.15am-1pm: Networking over complimentary Buffet Lunch/Refreshments.
Join us for an exciting morning involving 'live' demos from PC Curry's World on the latest must have tech for your business. The event includes a ' Q & A session' involving a 'Meet the Expert' panel session. There will be plenty of opportunities for attendees to connect, engage and network on the day.
James White, BBC Apprentice Winner 2017. Founder of Time Recruitment. @James91White :

@rt_recruitment Right Time Recruitment was founded by after having many successful years within both Business and IT recruitment across the UK. James decided to build a company that focuses on working in partnership with clients and candidates alike, instilling the company ethos that the key to success comes from our relationships we build. Right Time Recruitment is an IT Recruitment Partner which focuses on "careers that work". We pride ourselves in meeting the needs of our candidates and clients in order to provide the right solution first time around


Leon Streete: @leonstreete : MD of Business Owner Elevation

,

International Speaker and Marketing Coach, who has lead hundreds of business owners to marketing success using proven direct response principles and online marketing funnels.


Amrik Singh:

@Vibrant2014 : Technical Director, Vibrant Networks : Technology solutions company whose focus to make organisations grow through effective use of the latest technology. Provide companies all sizes and industry with IT support, Wi-Fi, Web Design, VOIP Telephone System, Cyber Security.


Perm Bassi:

@UniqueTherapies : Founder at Unique Therapies. Bio Resonance energy balancing technologies. Cutting edge solutions, treatment for total mind and body wellbeing.


Naseem Iqbal

@mobytap : MD Mobytap,

The World's First Public Verifiable, Mobile Video Review App. Leave Inspirational Video Reviews For Your Favourite Eat-Outs. Helping Small UK Businesses succeed.

Naseem will be explaining why connecting with people through the palm of their hand delivers, personalisation and how Video Feedback offers the potential to deliver a message in a format that is increasingly being used. With nearly 20 years of experience in the IT industry Naseem has supported many businesses to increase their visibility online and grow their business through digital and mobile technology.
MobyTap and leaving a review. The best reveiw will be chosen on the day, you will have to be in attendance to collect the prize. https://mobytap.com/
Spaces are limited to100, to avoid disappointment please register Today.