ISES 2021 Advancing Equestrian Practice to improve Equine Quality of Life
ISES2021 Advancing Equestrian Practice to Improve Equine Quality of Life - a free event showcasing how research can enhance horses' lives.
About this event
We are delighted to be able to tell you about the upcoming equitation science conference which will be held online on 20-22nd of October. The theme of the conference is Advancing Equestrian Practice, with three days of talks over four themed sessions namely:
1. Tools for Change - where scientists and practitioners will come together to explore the latest research about equine training cognition and performance,
2. Science with Impact – focussing on methods for measuring and monitoring the effects of different training approaches, use of equipment and rider psychology,
3. Communication for Change - covering approaches to advancing equitation and performance through effective dissemination of evidence-based information, and,
4. Education for Change – opportunities to empower existing and future generations through challenging thinking and practices and developing knowledge about equine welfare needs.
This conference aims to bring together and engage with horse riders, pony clubs and riding clubs, coaches and trainers, and equine students as well as academics, researchers and scientists to showcase how using evidence-informed approaches can advance equestrian practice and improve equine quality of life.
Thanks to the generosity of our sponsors, we are really pleased to be able to offer the conference as a free event - we hope you will join us.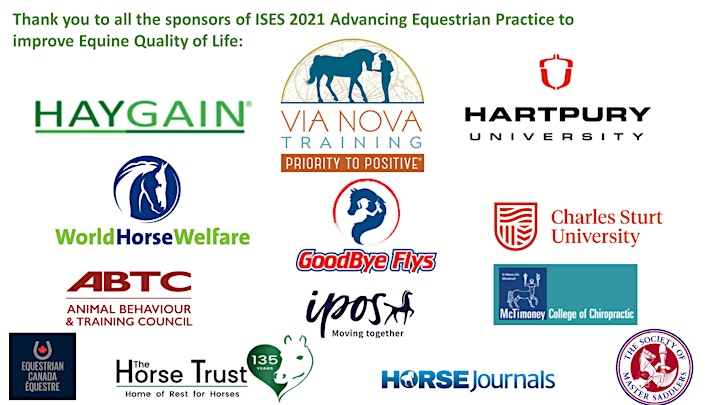 Organiser of ISES 2021 Advancing Equestrian Practice to improve Equine Quality of Life