Isha and Taraweeh at AMIC booking for 10-11 May (Book each day & a time)
Isha and Taraweeh Salah at Aberdeen Mosque and Islamic Centre
About this event
Anyone without ticket will not be permitted entry. Please do not attend if you do not have a ticket.
We will Insha'Allah be having 2 Isha and Taraweeh Jammah for Ramadan
Prayer timings are:
1. 10.30pm - 11.15 pm
2. 11.45 pm - 00:30 am
Jazzakamullahu Khairan,
Aberdeen Mosque and Islamic Centre, Imam & Board of Trustees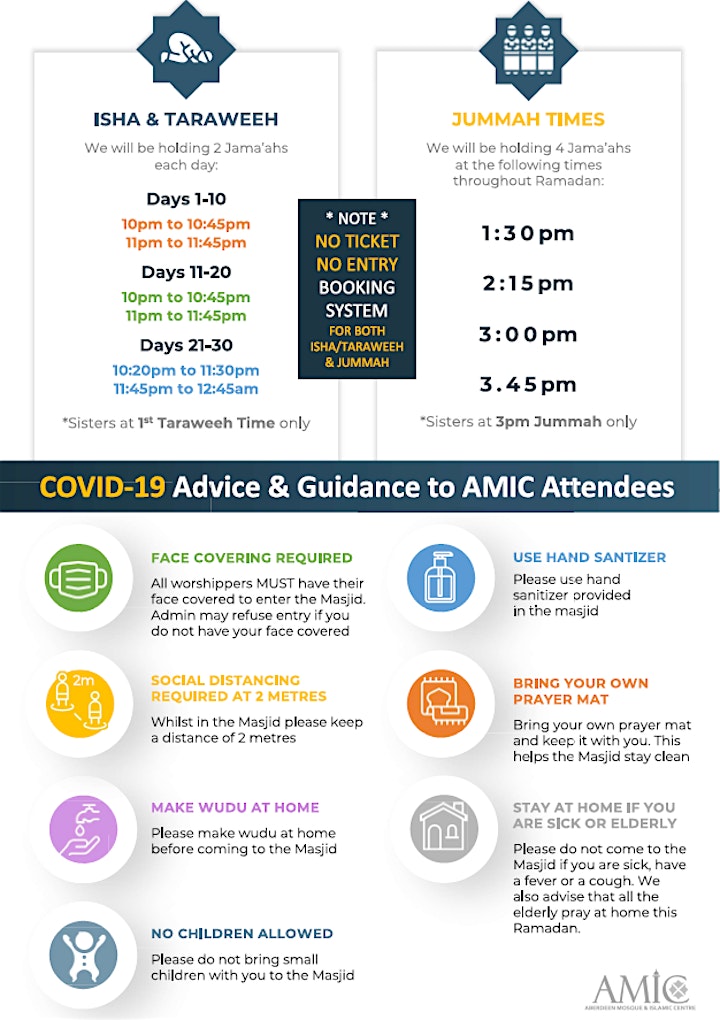 We will be operating with restricted numbers - there is a maximum cap as per rules attendees who will need to be pre registered and have a ticket.
Attendees will need to:
- come 15 mins before prayer.
- do wudhu at home
- pray sunnah at home
- sanitize hands on arrival
- bring their own face mask
- bring their own prayer mat
- place shoes in bag & keep.
- adhere to social distancing
- leave immediately after the prayer
- follow our Covid 19 officer's directions.
PLEASE NOTE:
1. The wudhu area and toilets will not be open.
2. Tickets are available on a first come first serve basis. Only those over 12 years old in age are permitted to attend.
3. Entry will not be allowed if you are not on the registered list.
4. PLEASE DO NOT BOOK IF YOU ARE NOT SURE YOU WILL ATTEND - OR DOUBLE BOOK. PLEASE BE CONSIDERATE TO OTHERS. IF YOU BOOK & DO NOT ATTEND YOU WILL NOT BE ABLE TO BOOK IN FUTURE.
5. IF YOU DO NOT ARRIVE 5 MINS BEFORE THE START TIME FOR YOUR BOOKING YOUR PLACE WILL BE RELEASED AND YOU WILL LOSE YOUR SPACE. DOORS WILL BE CLOSED AND LOCKED ON TIME.
Jazzakamullahu Khairan,
Aberdeen Mosque and Islamic Centre, Imam & Board of Trustees
Organiser of Isha and Taraweeh at AMIC booking for 10-11 May (Book each day & a time)