Islamic World International Conference Presents: The Spirit of Good Morals
Description
LEARN AT THE FEET OF WORLD RENOWNED ISLAMIC SCHOLARS!
The first 100 registrants who sign up for any paid package session will gain complimentary access to a private session with MAWLANA IMAM CHEIKH TIDIANE CISSE. This private session has limited seating. Register now to take advantage of this special opportunity.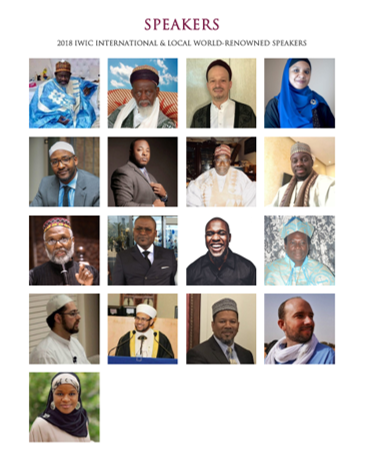 IWIC Speakers Pictured Above (1st Row L-R: Mawlana Imam Cheikh Tidiane Cisse, Sheikh Osmanu Nuhu Sharubutu, Ustaz Zachary Wrighy, Umm Zakkiya, 2nd Row L-R: Imam Mansoor Sabree, Imam Saafir Rabb (DC), Cheikh Diery Cisse, Cheikh Seydi Ali Tidjanie Cisse, 3rd Row L-R: Imam Johari Abdul-Malik, President Ibrahima Ciss, Amir Sulaiman, The Eminent Ansah Jamson, 4th Row L-R: Shaykh Ibrahim Hakim, Imam Fakhruddin Owaisi, Dr.Talib M. Shareef , Ustaz Joseph Hill, 5th Row L-R: Ieasha Prime)
Attendees will engage in an intensive two-days of Islamic Teachings in a traditional style setting that includes interactive Q & A Forums. Classes will be facilitated by international & local world-renowned scholars. The intensive sessions will include the following topics:
Wasatiyya-Moderation: The Solution to Extremism

Harmony & Interfaith Cooperation: Love Thy Neighbors

Wasatiyya: Social Justice and the Prophetic Model

Etiquette on The Path of God

Halal Money (Lawful Money): A Roundtable Discussion About Earning, Building & Sustaining Wealth
HOST HOTEL
Courtyard Largo Capital Beltway Special Rate $139 (See website for more details)
Accomodations also available at the Diyanet Center of America (Contact register@islamicconference.org for more info)
All packages include access to all sessions (with the private session with MAWLANA IMAM CHEIKH TIDIANE CISSE available for the first 100 attendees)..
Organiser of Islamic World International Conference Presents: The Spirit of Good Morals
The Islamic World International Conference (IWIC) is an event created to accomplish a two fold purpose. The convention will revive the Islamic spirit for Muslims all over, but will also educate and inform non Muslims on the true purpose and beliefs of Islam, hence the theme, "Eradicating Islamophobia". While this convention is an event to encourage and inspire Muslims to strengthen their faith and their understanding of Islam, it is an event that will significantly serve as an educational mechanism for those who have limited knowledge and grasp of what Islam is all about.
In these times of turmoil and struggle for all people, there is a need for all people to learn to respect one another and the ways of their fellow brothers and sisters. In order for us to rise up from the valleys of hate, confusion, disrespect, and greed and reach this harmony, we must be willing to be educated. The IWIC will be a major showing for those of the Muslim faith. People from all walks of life and cultures will be able to come together and immerse themselves in the positivity and peace that Islam speaks to. Islamic World International hopes to inspire and up lift the spirit of the community, restore the strength of family, and showcase prolific rising, and current well known speakers and leaders in the Islamic faith.,